Andrew Gillum Responds to DeSantis's 'Monkey This Up' Comments, Says He's Not Going Into Gutter with Trump and His Opponent
Tallahassee, Florida, Mayor Andrew Gillum—the Democratic nominee in the race to become Florida's next governor—responded to comments on Wednesday from his opponent warning voters not "monkey this up" and elect Gillum.
Gillum—who ran on a progressive agenda and was endorsed by Vermont Senator Bernie Sanders—made history by becoming the first black nominee for governor in Florida with his surprising election win on Tuesday. The Tallahassee mayor was interviewed by Fox News' Shepard Smith on Wednesday, just hours after his opponent, Representative Ron DeSantis, made the comments on the same network.
"It's very clear that Mr. DeSantis is taking a page directly from the campaign manual of Donald Trump, but I think he's got another thing coming to him if he thinks that in today's day in age Florida voters are going to respond to that level of derision and division—they're sick of it," Gillum said. "What we're trying to offer in this race is a north star for where we want to go as a state."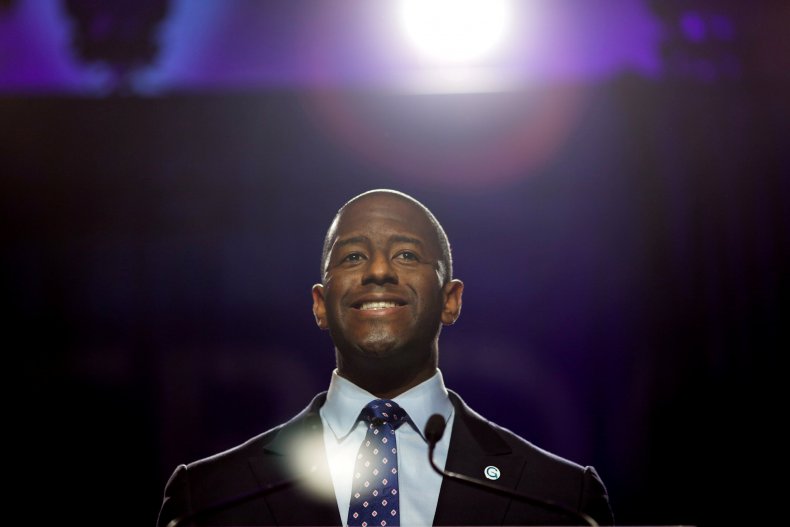 Later, Smith asked if Gillum felt the comments were racist or a figment of speech. Gillum responded:
"Well, in the handbook of Donald Trump they no longer do whistle calls—they're now using full bullhorns. And what I've got to say about that is that we've got to make sure that we stay focused, I think, on the issues that confront everyday people. I'm not going to get down in the gutter with DeSantis and Trump—there's enough of that going on. I'm going to try and stay high and try to talk about what the north star and the future is for the state of Florida and the people of this state. And I think that's what people want. They're just so sick of this divisive, derisive politics that have been coming out of Washington and has now infiltrated the politics of this state vis-a-vis Ron DeSantis. He's very clear, on Day 1, that he's willing to go down to the gutter. In our opinion, we're going to win this race because we're going to stay high and we're going to remind Floridians of what the true spirit of the American way is and that's what I'm going to do as governor—help us reach that high mark as a state so that we're a leader again and not a back of the pack state."
The "monkey this up" comment from DeSantis came as he was saying he would continue the legacy of Governor Rick Scott, who is running for Senate.
"Let's build off the success of we've had [under] Governor Scott," he said. "The last thing we need to do is to monkey this up by trying to embrace a socialist agenda with huge tax increases and bankrupting the state."
DeSantis campaign defended the comments, saying they were not related to race.
"Ron DeSantis was obviously talking about Florida not making the wrong decision to embrace the socialist policies that Andrew Gillum espouses," Stephen Lawson, communications director for the DeSantis campaign, said in a statement. "To characterize it as anything else is absurd."