Florida Governor Race: Andrew Gillum Tells Ron DeSantis to Show Him 'Respect,' Stop Calling Him 'Andrew'
Tallahassee Mayor Andrew Gillum, the Democrat running against former GOP Congressman Ron DeSantis for Florida governor, wants his opponent to show him some "respect" and to stop addressing him as "Andrew."
"I met him for the first time the other night, and all of a sudden, without invitation, he was calling me Andrew," Gillum said Thursday afternoon speaking to students at Florida Memorial University, according to video of the event. "Between the two of us, he quit his job in Congress. I'm a sitting mayor, and he had the nerve to address me only as Andrew?"
Throughout the candidates' two debates in the past week, DeSantis consistently referred to Gillum as "Andrew." Gillum has referred to DeSantis as either "Mr. DeSantis" or "the congressman."
Gillum is still mayor of Tallahassee, the state's capital city. In September, DeSantis resigned from his role as congressman for Florida's 6th Congressional District because he would likely miss the remaining sessions of Congress and felt it would be "inappropriate" to accept a salary.
Gillum said he "wanted to correct him" during their past debates, but refrained from doing so for fear of being "petty."
The DeSantis campaign did not immediately respond on Friday to Newsweek's request for comment.
"Had the situation been reversed," Gillum told the crowd, "I never would have ever reduced myself to referring to him in such familiar terms."
The two men met each other for the first time face-to-face during Sunday night's debate hosted by CNN in Tampa. It appeared as though the two men had developed a degree of dislike for one another by the end of their second and final debate Wednesday night, which consisted of a war of words featuring personal attacks.
During their Wednesday night debate, Gillum said even the "racists believe he's a racist," citing a second round of racist robocalls made against Gillum. If elected, Gillum would be the state's first black governor.
At another point, DeSantis said Gillum, if elected, would not turn over individuals to the federal government who are in the U.S. illegally and convicted of a crime. DeSantis suggested a "child molester" would get released "back onto the streets" and would "reoffend and someone's son or daughter in Florida will end up paying the price."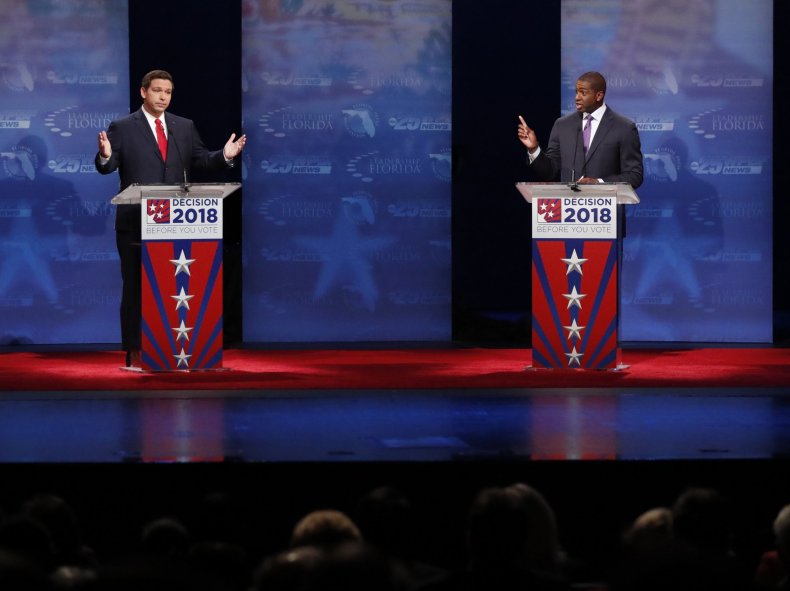 DeSantis also pressed Gillum on recent text messages, made public from a Florida Ethics Commission investigation, that showed Gillum knowingly accepted tickets to the Broadway show Hamilton during a trip to New York that he believed were from a business developer. The tickets, however, were actually from an undercover FBI agent. Gillum has denied he knew they came from the supposed businessman and added he thought they came from his brother.
Gillum again made reference to DeSantis's past statement on Fox News where he said Florida voters had better not "monkey this up" by electing Gillum.
In recent days, Gillum has made multiple campaign stops in major Florida cities with former Vice President Joe Biden and Democratic Senator Bill Nelson, who is facing a tough re-election battle against GOP Governor Rick Scott. Civil rights activist and Democratic Congressman John Lewis of Georgia appeared with Gillum at Florida Memorial University Thursday afternoon.