Andrew Gillum, Stacey Abrams Will Be 2020 Election Contenders If They Win in 2018 Midterms, Says Ex-Trump Campaign Manager
If Andrew Gillum wins his gubernatorial race in Florida on Tuesday, he has a good chance of being on the Democratic presidential ticket in 2020, said Corey Lewandowski, President Donald Trump's former campaign manager, on Sunday.
Lewandowski, who officially parted ways with the Trump campaign in 2016, has been touring the country with the president and Vice President Mike Pence this month, flying with the pair on Air Force One to rallies intended to drive Republican support in Tuesday's midterm elections. "I'm very close the president; I talk to him on a regular basis," he explained.
In an exclusive sitdown with Newsweek, Lewandowski said that the outcomes of the gubernatorial races in Florida and Georgia could have consequential outcomes in the next presidential election.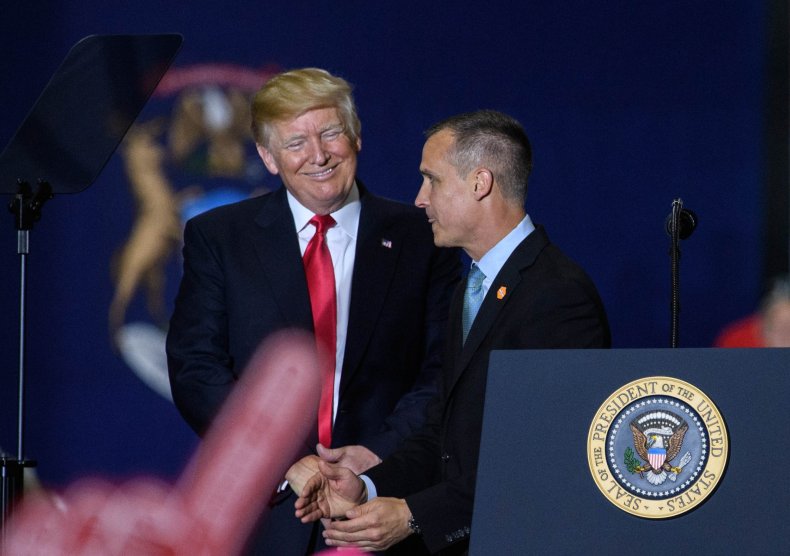 If Gillum wins his election he'd be "the governor of the third-largest state in the country, he's African-American and he pulled off a significant upset. I think he would be a contender for Vice President, at least," said Lewandowski. Stacey Abrams of Georgia would also be a top contender for the Democratic ticket, he said.
Lewandowski didn't feel as strongly, however, about Texas senatorial candidate and Democratic sweetheart, Beto O'Rourke's chances. "Beto O'Rourke is going to lose, and the problem is once you're a loser, no one wants to elect you," he said.
O'Rourke is currently polling a few points behind Republican incumbent Senator Ted Cruz, but Texas hasn't seen a Democrat elected to state office in a quarter of a century. "Beto O'Rourke has raised more money in a race he's going to lose than Donald Trump spent becoming the Republican nominee for president of the United States," said Lewandowski.
Trump's former adviser also expressed fear over Minority Leader Nancy Pelosi using the power of subpoena if Democrats take control of the house. If the left wins a majority of seats on Tuesday, they will gain the power to call any Trump administration official to testify before Congress, something Pelosi has called, "a great arrow to have in your quiver in terms of negotiating on other subjects."
"That's not the job of Congress to threaten people with subpoenas to get their agenda done, that is exactly what the people don't want," said Lewandowski, who brought up the fear of White House officials being subpoenaed many times over the course of the conversation.
Most analysts agree that Democrats will gain back the House this election, but the battle for Senate remains uphill, with Republicans likely to retain control if not gain seats.