Andrew Gillum Staffer Who Called for Donald Trump's Execution in Old Tweet Fired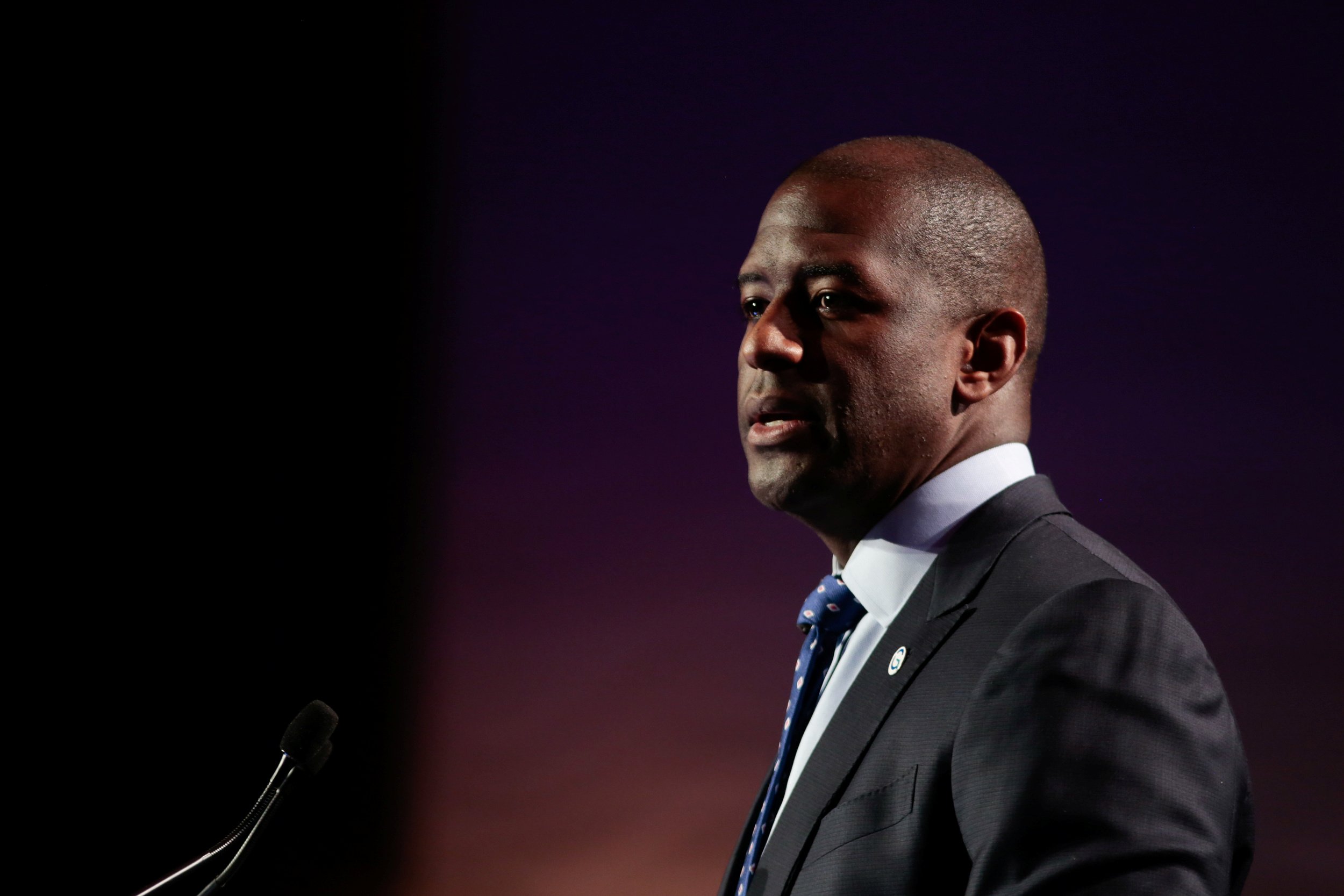 After a series of old tweets, including one aimed at President Donald Trump, came to light, Manny Orozco-Ballestas, the youth director for Florida gubernatorial candidate Andrew Gillum's campaign, was fired from his position.
Orozco-Ballestas was hired about two weeks ago, according to the Tampa Bay Times, but almost immediately after joining Gillum's team, people called for his termination. During the 2017 summer, Orozco-Ballestas posted a photo on Instagram of himself wearing a t-shirt that divided the country into two separate areas.
Blue states indicated those that voted for Democratic Candidate Hillary Clinton and were labeled "The United States of America." Red states symbolized those that voted for President Donald Trump and were identified as "Dumbf***istan."
"The anti-Trump shirt he wore before he was hired wasn't funny or in any way related to our campaign and we've addressed that with him," Gillum spokesperson, Carlie Waibel, told the Tampa Bay Times.
Blaise Ingoglia, chairman of the Republican Party of Florida, told The Washington Times that it's "hypocritical" for Gillum to "endorse the same kind of hateful, intolerant speech that he likes to denounce."
On Saturday morning, Orozco-Ballestas's social media past became the present when tweets dating back to 2012 and 2013 surfaced. Jacob Engels, the author of Conservative blog, the Central Florida Post, posted screenshots of the tweets on his own Twitter. In one dated May 2013, Orozco-Ballestas responded to one of Trump's tweets with the comment, "You need to be executed."
Another tweet Orozco-Ballestas posted in December 2012 recommended that anyone weighing over 300 pounds stop posting fattening food pictures on Instagram. Another tweet focused on criticizing a 20-year-old female college student who had more leg hair than Orozco-Ballestas. Other tweets encouraged women to engage in repetitive sexual behaviors if they wanted to keep their husband or boyfriend happy.
Following the tweets coming back around, Gillum campaign spokesperson Joshua Karp told the Tampa Bay Times that Orozco-Ballestas was no longer working with the campaign because the "type of language" used on his social media is "unacceptable."
Orozco-Ballestas's Twitter account was taken down as of Monday morning and in a statement to the Tampa Bay Times, he expressed regret for how he behaved on social media in years past.
"I took social media for granted when I was younger and I am now facing the consequences," he said. "I'm so sorry to all those I let down, especially Mayor Gillum and my team. What I tweeted as an immature student many years ago is not a reflection of the man I am today."
Gillum, a Democrat, is currently serving as mayor of Tallahassee, Florida, and is in a heated race to become Florida's governor. He's running against former senator of Florida and Republican gubernatorial candidate Ron DeSantis. A poll released by the Orlando Sun-Sentinel on Wednesday showed that Gillum led DeSantis 54 percent to 45 percent.