Andrew Giuliani Backs Version of Florida 'Don't Say Gay' Bill for New York
GOP gubernatorial candidate Andrew Giuliani would support a Florida-style "Don't Say Gay" bill for New York if elected in November, he said on Sunday.
Florida Governor Ron DeSantis has faced criticism over the new legislation that prevents discussion of sexual orientation and gender identity for younger children in schools across the state. LGBTQ advocates say the law is meant to silence members of the community while supporters of it argue that it prevents children from being taught about sexuality at too young of an age.
Giuliani, who is the son of former New York City Mayor Rudy Giuliani, defended the law during an appearance on Newsmax.
"Basically, what this is saying is simply something that as a father I completely agree with," he said. "We should not be teaching sexualization to our kids at five, six, seven, eight years old. I don't care if that's heterosexuality, homosexuality—whatever it is, it's inappropriate at such a young age."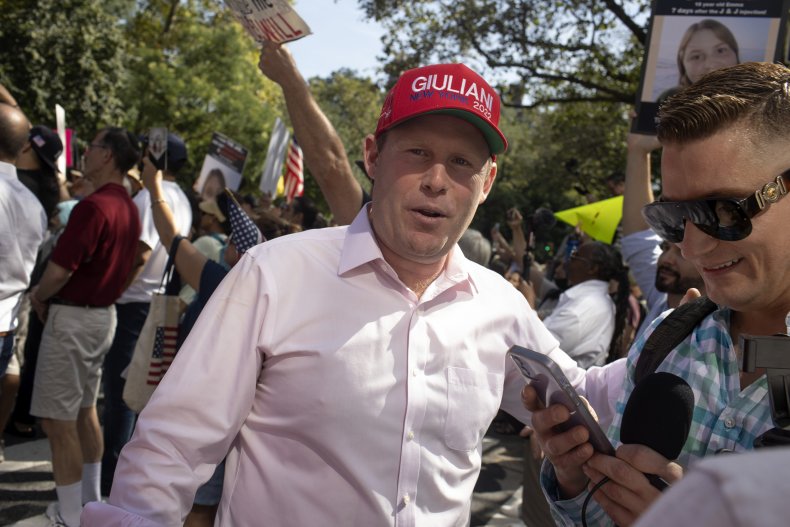 He defended the law as upholding parents' rights to educate their children as they see fit, adding that he "looks forward" to signing similar legislation into law if he becomes governor.
However, Giuliani or any other candidates pushing for a "Don't Say Gay" law in New York may face some hurdles, as the state's electorate is overwhelmingly Democratic. President Joe Biden won the state with more than 60 percent of the vote.
The state's Democratic Governor Kathy Hochul is unlikely to face a serious GOP challenger in November, according to several polls, and the state's legislature also remains solidly Democratic.
In a statement to Newsweek, Giuliani wrote: "We can't play politics with our children's lives. This is not about scoring political points for a party, this is all about making sure that our kids are not sexualized as toddlers. I will always push whatever is best for New York's children! I will absolutely push similar legislation in NY that Governor DeSantis signed into law in FL."
New York political leaders have widely condemned the law, with Hochul saying it is "cruel and bigoted."
"To the LGBTQIA+ young people this bill aims to harm—we see you, we stand with you, and New York will do everything in our power to support you," she tweeted last month.
New York City Mayor Eric Adams announced a new campaign last week inviting members of the LGBTQ community, who live in Florida, to move to New York. A digital billboard campaign, which will read "come to the city where you can say whatever you want" will be prompted in five markets in Florida.
"This political showmanship of attempting to demonize a particular group or community is unacceptable," Adams said during a press conference announcing the initiative. "And we are going to loudly show our support and say to those who are living in Florida: 'We want you here in New York.'"
DeSantis' team hit back, accusing Adams of "wasting money on headline-grabbing stunts."