Andrew Gruel is a famous chef and former star of Food Network's Food Truck Face Off. He's also not a fan of Gavin Newsom, especially with how the governor is handling the ongoing pandemic in California.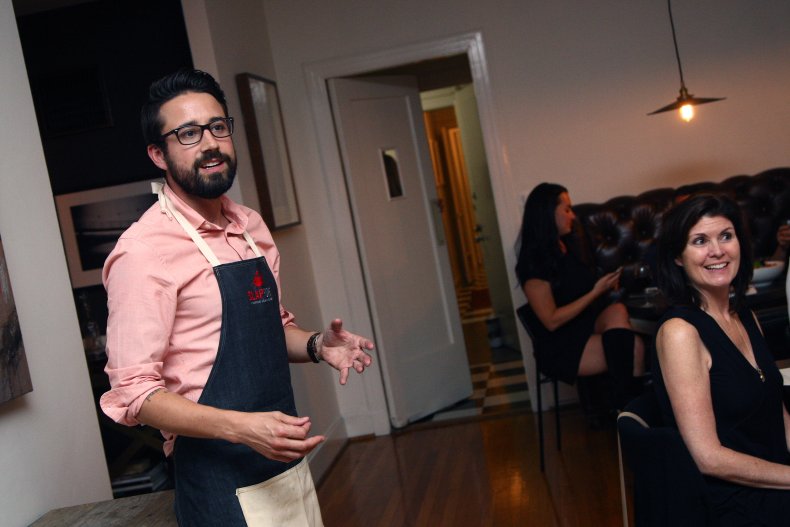 The founder, CEO, and executive chef of seafood restaurant Slapfish in California's Huntington Beach has been vocal about his issues with Newsom's latest restrictions on businesses in the state. After numerous tweets, he laid out his full thoughts on restaurant closings in a video, where he openly defied the shutdown and stated he plans on keeping Slapfish open for outdoor dining. He also pointedly stated, "I'm not an a**hole, the governor is."
"Okay, I've got everybody blowing up my replies right now, saying I'm a grandmother-killer, and that we don't take this pandemic seriously. So I'm just going to address it all right here, so that I actually don't have to individually go back and forth and box with every single one of these fake accounts," Gruel says at the beginning of the video in a somewhat understated way before gradually becoming more heated.
"So, here's the situation...Do we take the pandemic seriously? Of course we do. Am I saying that we shouldn't close outdoor dining? Yes, I am. At every single juncture along the way here, from the beginning shut-down to today, we've listened to all of the advice from our government officials, only to be shut down over and over and over again, and then not compensated for the elements that we put in place in our businesses in order to protect our customers."
"We shut down indoor dining. No problem. I got a warehouse full of plexiglass right now. Okay? We went outdoors. All right? Now that's getting shut down. I just put thousands of dollars into outdoor heaters."
At this point, Gruel starts to show his frustration more. He continues, "There is zero scientific evidence that proves that outdoor dining is contributing to a rise in cases related to this, all right? I am only saying that we are going to continue dining outdoors, because I can get on an airplane, and I can fly and eat and do whatever I want — and don't tell me it's the HEPA filters, okay? Because that's not the case. You don't turn those on until you get onto the plane. Before that, everybody's fornicating on top of each other. I can go into WalMart. Heck, I don't even have to wear pants. Nobody wears a mask at WalMart. I can go get a pink cockatoo for my Christmas tree, but I can't go and dine outdoors at a restaurant."
He notes that big businesses like Target and Amazon, in addition to WalMart, are "getting rich" during the pandemic while smaller businesses, especially restaurants, are suffering.
The video, which clocks in at a little more than a minute and a half, ends with Gruel concluding emphatically: "We're staying open outdoors. It's that simple. I'm not an a**hole, the governor is."
Elsewhere on his Twitter account, Gruel mockingly claimed that people should order as much pizza as possible before Newsom bans it and further questioned the safety of airplanes from spreading COVID-19.
When Newsom announced the new shutdown plans on Thursday, he said that most regions in the state be placed under the order "as early as the next day or two...as early as next week," , while the Bay Area region "may have a few extra days." Huntington Beach, the location of Slapfish, is along the Southern California coast in Orange County.