Andrew Lloyd Webber Brings 'Oz' to the West End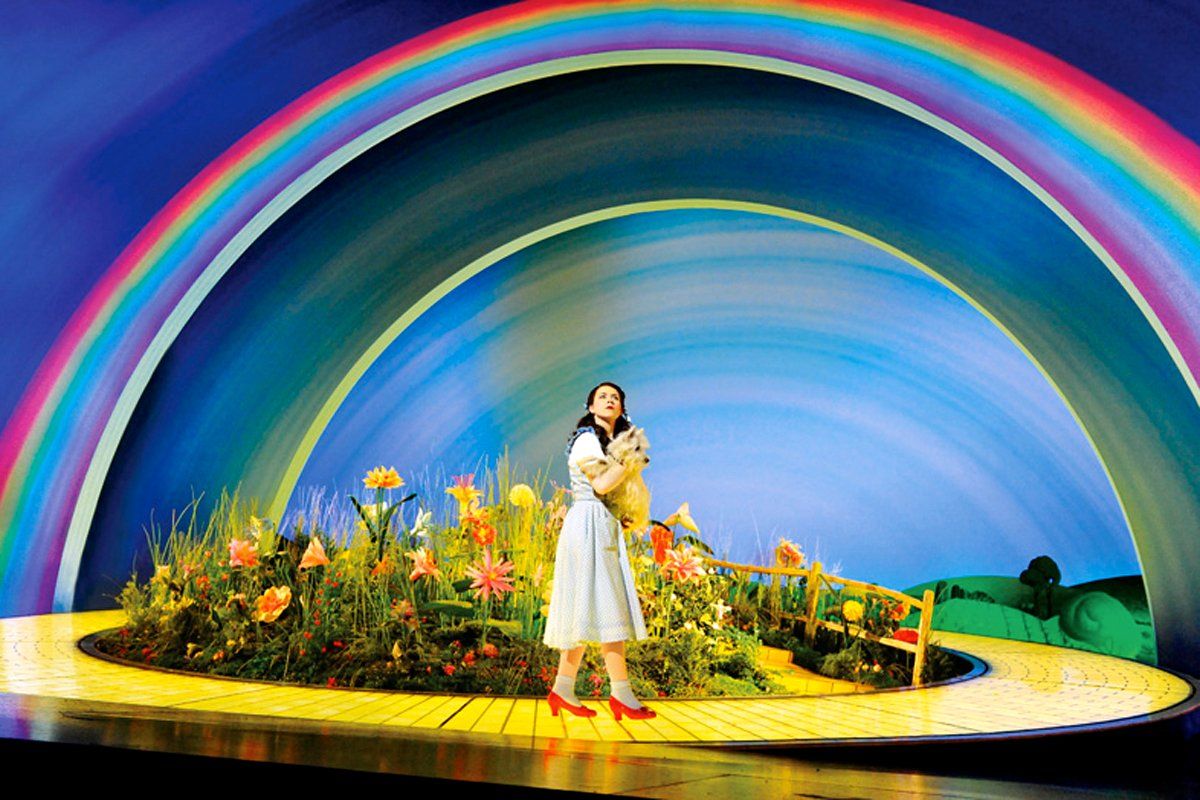 Andrew Lloyd Webber is in a buoyant mood. His schedule is busy—he keeps his own London taxi on standby—and that's the way he likes it. On one recent night, the composer attended both a hospital fundraiser and a debate at the House of Lords, of which he is a member. This morning, sporting a hard hat, he's inspecting the restoration work at London's 100-year-old Palladium theater, a treasured possession that he's returning to its original ornate glory. "I might be bust by the time it's finished but I don't care," he says with characteristic enthusiasm. "It's a labor of love." He will honor that passion with a fitting tribute: the first big show at the refurbished theater will be his own production of The Wizard of Oz, which goes into previews Feb. 7 featuring a stellar cast stepping out on the yellow brick road.
The show marks the latest stop on the 62-year-old composer's own gilded career path. The Wizard of Oz is Lloyd Webber's 18th musical, and follows closely on the heels of Love Never Dies, which opened last year. It also represents, ironically, the culmination of his latest creative experiment: in television. In recent years he has served as a judge—seated on an outsize throne—in a series of British television talent shows to find unknowns to star in big-name West End musicals. As the TV audiences grew, so did the queues of young hopefuls. Some 12,000 auditioned for the part of Dorothy in the upcoming show—ultimately awarded to an 18-year-old named Danielle Hope—a gratifying response for a lifelong devotee of the musical. "What took me by surprise was that I found that I could communicate through TV in a totally different way," he says. "The [TV shows] have got a whole new generation thinking about theater. They have made musicals cool again."
If anyone could make The Wizard of Oz cool again, it's Lloyd Webber. The production will be much more than a simple transfer to the stage of the classic 1939 movie. "You can't just put a movie on the stage," says Lloyd Webber. "It doesn't work." He's added a few new songs, with lyrics by Oscar winner Tim Rice, his partner in a run of blockbusters, who has reunited with his old friend for the first time in decades. The Oz story has spawned numerous stage adaptations—including a version by the Royal Shakespeare Company and the 1975 African-American retelling, The Wiz, which garnered seven Tonys—but none has entirely succeeded, at least not by Lloyd Webber's standards. "I would be worrying if it had iconic status as a stage show, but it doesn't," he says. "In the past it has just been plonked on the stage with a few songs that were cut from the movie." He found some of the score's omissions glaring; there's no big song for the wicked witch or for Professor Marvel, for example. "I am just plugging the gaps," says Lloyd Webber.
Still, it's a challenge. Love it or not, The Wizard of Oz occupies a prized place in American culture and moviegoers' affections. The original 1900 novel by L. Frank Baum was an established favorite long before it reached the big screen. The movie's Harold Arlen songs, notably "Over the Rainbow"—which Lloyd Webber calls "arguably the best song of the 20th century"—helped turn the young Judy Garland into a star. The film also brilliantly showcased MGM's invention of Technicolor, beginning and ending in black and white but presenting Dorothy's dream of Oz in vibrant hues. Generations of fans have invested the simple tale with rich, allegorical significance. Lloyd Webber himself sees a moral purpose in Dorothy's adventures. "It's about finding another world, being tested—and coming out the other end enriched."
Perhaps he can relate. His 45-year career has brought just about every award that the entertainment world can offer, including seven Tonys, seven Oliviers, three Grammys, and an Oscar, among others. Almost since quitting his degree course at Oxford to make his way as a composer, he's been filling theaters around the world. It's estimated that The Phantom of the Opera has played to more than 20 million, and Cats ran for 21 years in London. At home, success has brought a private fortune estimated at £700 million, and the kind of recognition that usually escapes composers. Next up for Lloyd Webber: he's agreed to parlay his newfound talent for TV into hosting a TV documentary about the pre-Raphaelites, the 19th-century artists whose works he collects.
Musical talent runs deep in the Lloyd Webber blood; his father was a professor of music, his brother Julian is a cellist. And the tunes flow easily for him; all he needs is a supply of plots. "Melodies have never really been a problem," he says. "Because I am story-driven, the difficulty is just where to place them." But his sheer facility as a tunesmith means he's always been suspect to the highbrows, and an easy target for derision. "The difficulty is that they don't understand that I can write a musical about trains on skates and then a requiem mass" (as he wrote for his father), he says. "It doesn't seem odd to me. My mind flits, flits, flits."
Indeed, there's a restlessness to Lloyd Webber that even a recent brush with prostate cancer—now successfully treated—or a run of unspectacular shows hasn't diminished. It's sometimes led him into projects that he's later come to regret. He took on The Woman in White, his unsuccessful 2004 show, he says, largely because he wanted a new project to fill his time. And like any honest composer, he knows that his music alone will never guarantee a show's success. "Theater is really one the most collaborative forms," he says. "In the end it could come down to the choreography or the design."
Still, he can take comfort from the return of his old partner. Lloyd Webber was a teenager when he met Rice, and the partnership led swiftly to Joseph and the Amazing Technicolor Dreamcoat and Jesus Christ Superstar, only to end after Evita in 1978. The split was never personal, and Lloyd Webber's admiration for his partner remains undimmed. "Tim is just unlike anyone else," he says. "You can spot a Tim lyric a mile away." Maybe the reunion will mean a return to the glory days. With a little confidence and plenty of energy, to quote that favorite song, "the dreams that you dare to dream really do come true."