Andrew McCabe Says Jeff Sessions's 'Racist Comments,' Immigration Obsession Made Intel Briefings 'A Challenge'
Former acting FBI Director Andrew McCabe put Jeff Sessions on blast during an interview on Tuesday, saying that the former attorney general's obsession with immigration and race made it "a challenge" to present him with intelligence information.
"The conversations I had with Attorney General Sessions were unlike anything I had seen from any other attorney general," McCabe said during an appearance on The View. The interview focused on McCabe's tell-all memoir The Threat: How the FBI Protects America in the Age of Terrorism and Trump.
"It was a challenge to try to make sure that the attorney general was getting the benefit of the intelligence we were presenting him," McCabe said.
He added that Sessions would often make "offhanded racist comments" and had an "obsessive focus on immigration," even when those topics were not relevant to a given discussion.
McCabe also said that while immigration has been a top priority for the Trump administration, it is "not the primary focus of the day-to-day work of trying to keep the country safe when you are an intelligence office, a law enforcement officer."
The View co-host Sunny Hostin, after reading several direct quotes from McCabe's upcoming book, commented that the author had painted an "unflattering picture" of Sessions throughout the memoir. McCabe describes Sessions as someone who "rarely read his intelligence briefings" and would often "confuse classified information with what he had read in the paper."
In one excerpt mentioned by Hostin, McCabe wrote that Sessions once said the Justice Department was better off it only hired people of Irish descent.
"Was he an appropriate person to lead the Department of Justice?" Hostin asked McCabe, to which the former acting FBI director said that while he was worked with many attorney generals what he saw from Sessions was "unlike anything" he'd ever seen before.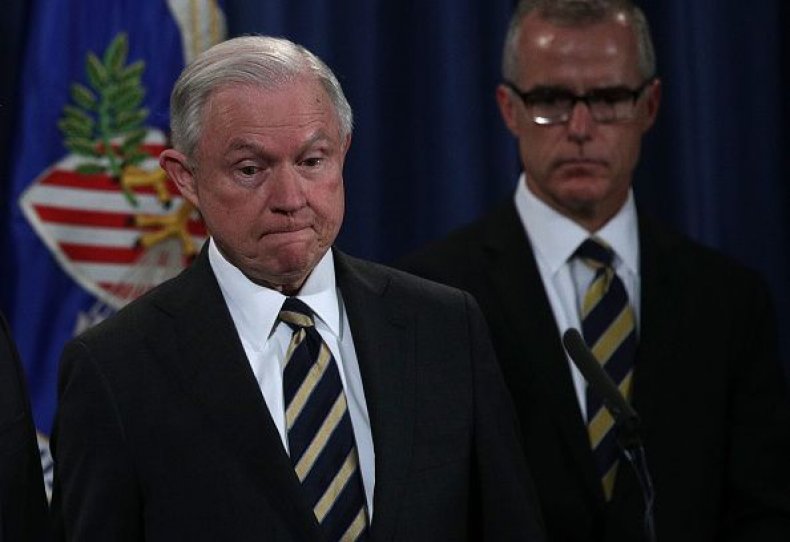 McCabe worked at the FBI for over two decades before being dismissed in 2018 for "lack of candor" in discussing a media leak during the agency's probe into the Clinton Foundation. The firing came just before McCabe's scheduled retirement.
In his memoir, McCabe also alleges that Trump often took the word of Russian President Vladimir Putin over the information offered by his own intelligence agencies. In an excerpt published by The New York Times, McCabe writes, "Let me state the proposition openly. The work of the FBI is being undermined by the current president."
Trump responded to McCabe's claims in a tweet on Monday morning, in which he called the former acting FBI director "disgraced" and a liar.
"Wow, so many lies by now disgraced acting FBI Director Andrew McCabe. He was fired for lying, and now his story gets even more deranged. He and Rod Rosenstein, who was hired by Jeff Sessions (another beauty), look like they were planning a very illegal act, and got caught.…" the president wrote.