Donald Trump Called Andrew McCabe's Wife a 'Loser' in Phone Call With Ex-FBI Official, Book Claims
Former acting FBI Director Andrew McCabe said that in his first phone call with Donald Trump after bureau chief James Comey's dismissal, the president talked about McCabe's wife's failed bid for the Virginia's Senate, calling her a "loser."
"He said, 'How is your wife?' I said, 'She's fine,'" McCabe details in an excerpt from his new book, The Threat: How the FBI Protects America in the Age of Terror and Trump, published by The Atlantic on Thursday.
"He said, 'When she lost her election, that must have been very tough to lose. How did she handle losing? Is it tough to lose?'" McCabe wrote of the conversation. He responded to the president that it's "tough to lose anything," and that his wife, a pediatric emergency physician, had "rededicated herself to her career" and their family.
"He replied in a tone that sounded like a sneer. He said, 'Yeah that must've been really tough. To lose. To be a loser," McCabe said, adding that he wrote a memo detailing the conversation "that very day" following the call.
Jill McCabe ran for the Virginia state senate in 2015 but lost to her Republican opponent by roughly 2,000 votes. During her campaign, she received hundreds of thousands of dollars in donations from a political organization connected to the Clintons.
McCabe said his conversation with Trump occurred directly after the firing of former FBI director James Comey in May 2017. McCabe served as director for less than a year before he was fired himself.
Trump hit back at McCabe's account with a tweet on Thursday morning in which he called the former director a "disgrace to our Country."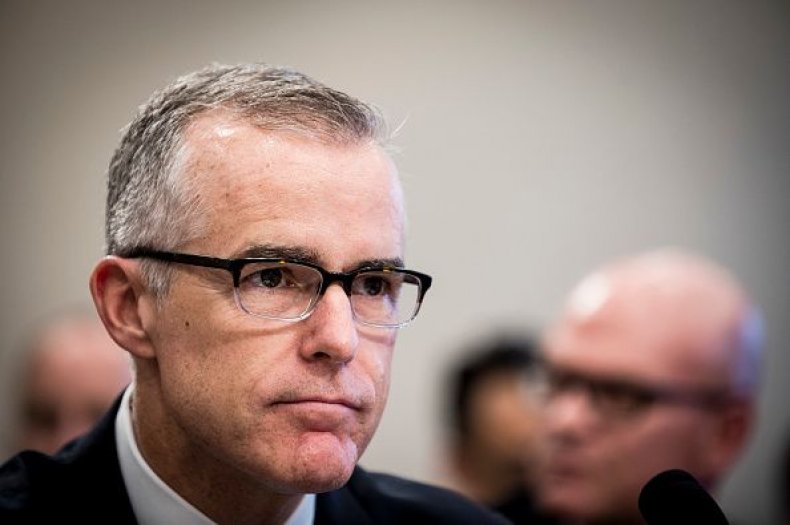 "Disgraced FBI Acting Director Andrew McCabe pretends to be a "poor little Angel" when in fact he was a big part of the Crooked Hillary Scandal & the Russia Hoax - a puppet for Leakin' James Comey. I.G. report on McCabe was devastating. Part of "insurance policy" in case I won…" Trump wrote.
In the next post, Trump commented further on Jill McCabe's campaign, writing that "McCabe's wife received BIG DOLLARS from Clinton people for her campaign - he gave Hillary a pass. McCabe is a disgrace to the FBI and a disgrace to our Country. MAKE AMERICA GREAT AGAIN!"
McCabe also revealed in an interview with CBS's Scott Pelley, which will air in full on Sunday on 60 Minutes, that the Department of Justice discussed removing Trump from office by invoking the 25th Amendment. He also told Pelley that he had ordered an investigation into whether Trump obstructed justice out of concern that the president would try to undermine the ongoing Russia probe, an inquiry the White House has called "completely baseless."
"I was very concerned that I was able to put the Russia case on absolutely solid ground, in an indelible fashion," McCabe said. "That were I removed quickly, or reassigned or fired, that the case could not be closed or vanish in the night without a trace... If somebody came in behind me and closed it and tried to walk away from it, they would not be able to do that without creating a record of why they made that decision."