FBI Deputy Director Andrew McCabe Was Warned About Conflicts of Interest, But Not For Clinton Email Probe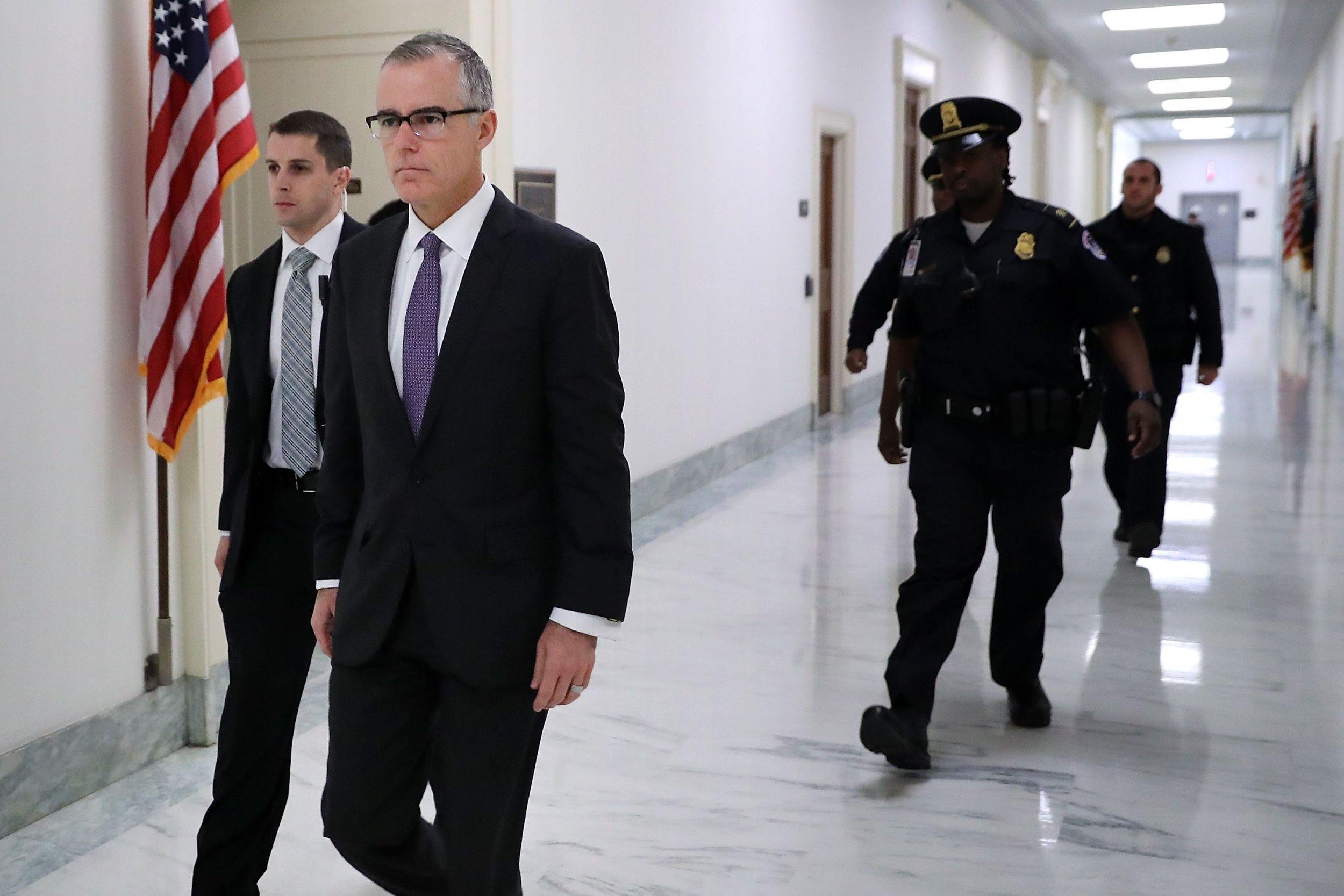 Updated | The FBI once warned Deputy Director Andrew McCabe that his Democrat wife's 2015 political campaign could create conflicts of interest for him, but he then acted to avoid such conflicts, according to documents the Bureau released online Friday amid criticism that its probe of Hillary Clinton's use of a personal email server was tainted by partisanship.
Republicans, including President Donald Trump, have accused McCabe of being biased towards Clinton in the FBI's investigation of her. Those allegations began in October 2016, when The Wall Street Journal reported that McCabe's wife received contributions for her state senate campaign from Virginia Governor Terry McAuliffe, a close political ally of Clinton.
Related: Trump Says McCabe 'Got $700,000' From Clinton. Is it True?
On Friday, the FBI revealed that on April 29, 2015 it had informed McCabe, then the assistant director in charge of the bureau's Washington field office, how he should act given that the "potential conflict of interest" of his wife's state senate campaign. The memo, "Protocol Regarding Potential Conflicts of Interest," also "identified several areas where [McCabe's] disassociation would be appropriate." It also referenced that his wife was being "supported by the governor of Virginia" and that McCabe had proactively approached Bureau colleagues for guidance.
The FBI investigation into Clinton's emails began in July 2015, prior to the end of McCabe's wife's loss in November of that year. According to an internal memo released by the FBI on Friday McCabe only began overseeing the Clinton investigation in 2016, four months after his wife's defeat at the polls.
But that timing is crucial, given that the FBI had already warned McCabe that his wife's political patron was the Clinton-allied governor of Virginia. The FBI had completed the Clinton email investigation by the time The Wall Street Journal story came out. But days later, then-FBI Director James Comey announced that investigators had uncovered new evidence about Clinton, and soon after, McCabe recused himself from the probe.
The Republican condemnations of McCabe seem part of a larger effort to discredit the FBI and the Department of Justice. That effort coincides with the progression of Special Counsel Robert Mueller's probe into Russia's election meddling and possible coordination with the Trump campaign. In early December, Trump retweeted a post saying FBI Director Christopher Wray needs to "clean house."
The Justice Department inspector general and several congressional committees are reviewing the FBI's handling of the Clinton email probe. The conservative watchdog group Judicial Watch and likely others have sued the government for documents related to McCabe.
"We're only finding how he ended up recusing himself a week before the election, which suggested his prior involvement was inappropriate," said Tom Fitton, president of Judicial Watch. Just because his wife's campaign ended before the Clinton probe began does not mean there was no bias, according to Fitton. "I don't know if three months makes a difference if your wife is indebted politically to a Clinton crony to the tune of $700,000," he said. A spokesperson for Governor McAuliffe was unavailable to respond.
But Friday's release also came amid reports that the FBI is investigating the Clinton Foundation. To find out whether the foundation received donations in exchange for political favors during Clinton's tenure as secretary of state, agents have questioned people tied to the foundation, The New York Times reported Friday afternoon.
McCabe, 49, reportedly plans to retire soon. Bureau employees can retire with benefits after serving at least 20 years or reaching age 50, whichever comes later. McCabe has been at FBI since 1996. He turns 50 in May, but President Trump has joked that McCabe may not make it to his full boat pension.
"FBI Deputy Director Andrew McCabe is racing the clock to retire with full benefits. 90 days to go?!!!" the president tweeted last month.
This article has been updated to include comments from Tom Fitton.