Andrew McCabe Confirms He Was Interviewed by Robert Mueller, Provided Trump Memos to Special Counsel
Former acting FBI Director Andrew McCabe confirmed Tuesday that he had been interviewed by special counsel Robert Mueller and provided him with memos detailing his interactions with President Donald Trump.
Speaking with ABC's The View, McCabe confirmed reporting by Axios from March 2018 that after Trump had McCabe fired, he was interviewed by Mueller's team. Asked if the memos and information he provided to the special counsel could help federal prosecutors or lead to Trump's impeachment, McCabe said he did not know.
"I don't know that I can answer that," he said. "The information I have, including the memos I wrote, I've given all that to the special counsel's team."
McCabe has been on a media blitz since writing his new book, The Threat: How the FBI Protects America in the Age of Terror and Trump.
In his interview with Mueller, McCabe reportedly provided details about the firing of former FBI Director James Comey in May 2017, which elevated McCabe to acting FBI director. Last week, McCabe confirmed to CBS 60 Minutes the previous reporting by The New York Times that he and other top law enforcement officials met at the Department of Justice after Comey's firing to discuss invoking the 25th Amendment to remove Trump from office. Such an act would require the approval of the vice president and the majority of the president's Cabinet.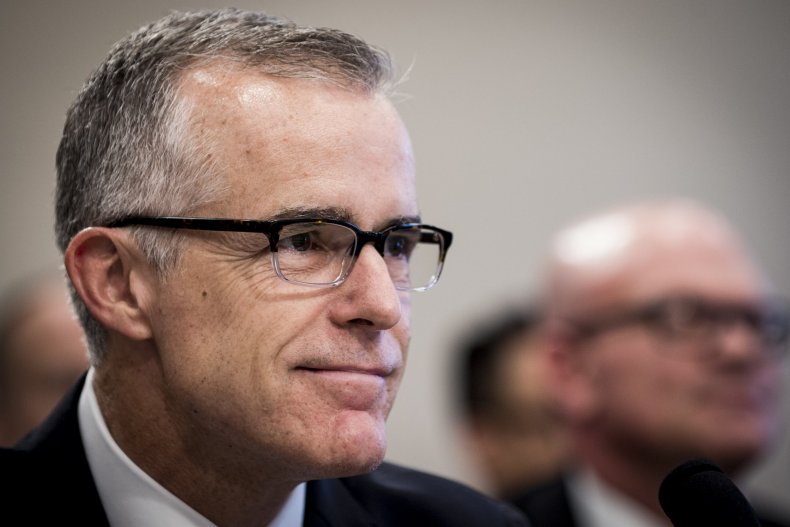 McCabe also confirmed that he initiated FBI obstruction of justice and counterintelligence investigations into the president following Comey's firing. He also confirmed that Deputy Attorney General Rod Rosenstein had considered wearing a wire in meetings with Trump.
Such revelations by McCabe led congressional lawmakers—both Republicans and Democrats—to tell Newsweek last week that they wanted McCabe to testify before the Senate Judiciary Committee. Republicans reiterated committee chairman and GOP Senator Lindsey Graham's concerns about "bias against President Trump," while Democrats wanted to know more about the evidence that could have led McCabe and others to consider removing the president from office.
"What's most important to me is why he thought the 25th Amendment should be invoked. What specific facts led him to that terrifying conclusion?" Democratic Senator Richard Blumenthal told Newsweek. "To think about wearing a wire or invoke the 25th Amendment is not normal, not customary, not precedented. It's terrifying."