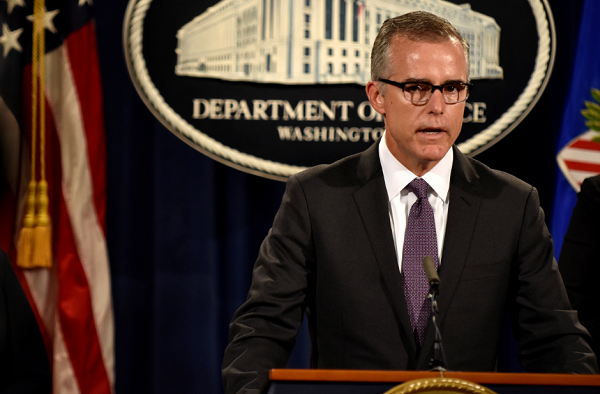 James Comey was fired Tuesday from his position as director of the Federal Bureau of Investigation after he gave an inaccurate testimony regarding the nature of emails sent from Hillary Clinton's top aide Huma Abedin to her husband Anthony Weiner. In the wake of Comey's firing, it is most likely deputy director of the FBI Andrew McCabe will step up as Comey's successor.
In January 2016, Comey appointed McCabe as the bureau's deputy director following former Deputy Director Mark Giuliano's retirement. As the deputy director, McCabe oversees all of the agency's domestic and international investigations, as well as all matter pertaining to intelligence activities. McCabe is also responsible for standing in for the FBI director in his absence.
McCabe has been with the FBI for nearly 21 years. He joined the agency in 1996 at the New York Field Office. As a new agent, McCabe worked on investigations associated with organized crime, and over the course of his career, he landed top positions in the Counterterrorism Division, the National Security Branch and the Washington Field Office.
Although the FBI's line of succession mandates the deputy director to work as acting director in the case of a director's removal, it is unclear if or how long McCabe will serve as the director of the FBI. In the White House's statement announcing Comey's termination, President Donald Trump said, "a search for a new permanent FBI director will begin immediately."
Trump's decision to dismiss Comey from his position came after the recommendations of Deputy Attorney General Rod Rosenstein and Attorney General Jeff Sessions.
"The FBI is one of our Nation's most cherished and respected institutions and today will mark a new beginning for our crown jewel of law enforcement," Trump said.
The last time a deputy director of the FBI acted as a director was back in 1993 when President Bill Clinton fired former Director of the FBI William Sessions. Floyd Clarke served as Sessions' replacement for 44 days until Clinton appointed Louis Freeh as the new director.