Andrew Napolitano Files Countersuit Alleging Extortion Against Sexual Assault Accuser
On Tuesday, Andrew Napolitano, senior judicial analyst for the Fox News Channel, filed a countersuit against a man who sued him on September 11 over allegations of sexual abuse.
Napolitano's accuser Charles Corbishley, accused the former judge of forcing Corbishley to perform oral sex on him when Corbishley stood accused of arson as a 20-year-old in Napolitano's court in the 1980s. Corbishley seeks $10 million in restitution under the New Jersey Child Victims Act, but Napolitano has denied his allegations.
Corbishley claimed the alleged sexual assault occurred at a home in Hackensack, New Jersey. He said Napolitano wore a trench coat and said, "You could be going away for a long time," before he allegedly told Corbishley to "be a good boy" by performing oral sex on him.
"At this moment, Plaintiff was paralyzed with fear," Corbishley's lawsuit against Napolitano states. "He wanted desperately to stop Defendant Napolitano's sexual assault, but he was terrified about what Judge Napolitano would do to him if he resisted or fought back."
Corbishley further claimed that his own lawyer at the time, who is now deceased, arranged the meeting between him and Napolitano, and that Corbishley had visited the home where the alleged assault took place to shovel snow in the judge's driveway in an attempt to gain Napolitano's leniency.
However, Napolitano's countersuit said the judge lived in a 26th-floor condo at the time. Corbishley later claimed that Napolitano may have rented or borrowed the property for their encounter.
Although Corbishley avoided jail time, being sentenced by Napolitano to probation and community service instead, the other co-defendant accused in the arson case received several years in prison.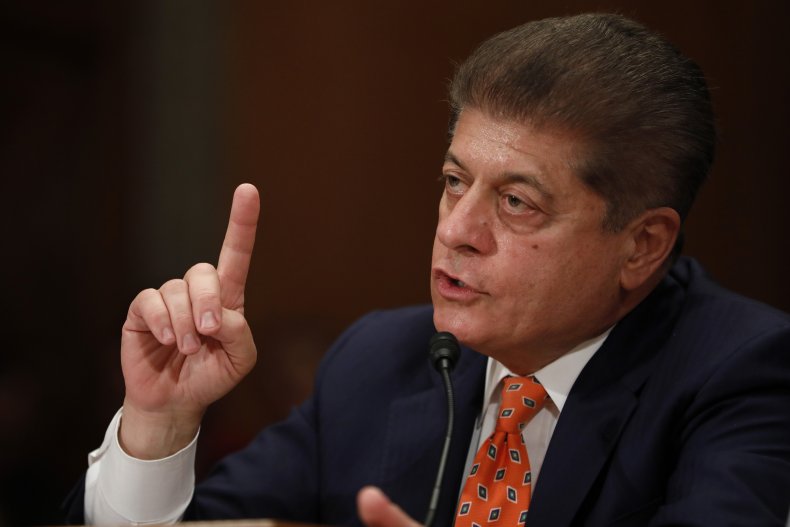 Napolitano's countersuit called Corbishley's lawsuit an "extortionate scheme and defamatory smear campaign" made of "fabricated and baseless accusations" from a "convicted felon with a criminal record that spans three decades."
"After a failed months-long campaign to extort a settlement, Defendant filed a lawsuit against Former Judge Napolitano setting forth his fabricated sexual assault story in graphic detail and demanding $10 million," the countersuit states.
Napolitano's court filing alleges that Corbishley and lawyers sent an extortionate demand letter detailing the assault allegation to Former Judge Napolitano on December 2, 2019.
The countersuit also alleged that Corbishley repeatedly publicized his allegations "to numerous media outlets in an attempt to garner publicity for himself and his suit to coerce and oppress Former Judge Napolitano" in paying for the case's dismissal.
Napolitano's countersuit seeks compensatory damages for "reputational and economic harm" as well as an "award of punitive damages."
From 1987 to 1995, Napolitano was a New Jersey Superior Court judge. He began working as a media commentator from 1998 before starting his work with the Fox network in 2006, first as a radio co-host and later as a Fox News personality.
Newsweek reached out to Corbishley's lawyer, Jon Norinsberg, for comment.