Andrew Sullivan: Why Gay Marriage is Good for America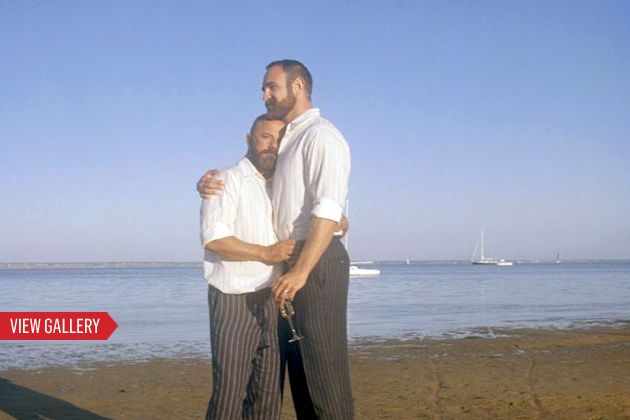 As a child,when I thought of the future, all I could see was black. I wasn't miserable or depressed. I was a cheerful boy, as happy playing with my posse of male friends in elementary school as I was when I would occasionally take a day by myself in the woodlands that surrounded the small town I grew up in. But when I thought of the distant future, of what I would do and be as a grown-up, there was a blank. I simply didn't know how I would live, where I would live, who I could live with. I knew one thing only: I couldn't be like my dad. For some reason, I knew somewhere deep down that I couldn't have a marriage like my parents.
It's hard to convey what that feeling does to a child. In retrospect, it was a sharp, displacing wound to the psyche. At the very moment you become aware of sex and emotion, you simultaneously know that for you, there is no future coupling, no future family, no future home. In the future, I would be suddenly exiled from what I knew: my family, my friends, every household on television, every end to every romantic movie I'd ever seen. My grandmother crystallized it in classic and slightly cruel English fashion: "You're not the marrying kind," she said. It was one of those things that struck a chord of such pain, my pride forced me to embrace it. "No, I'm not," I replied. "I like my freedom."
This wasn't a lie. But it was a dodge, and I knew it. And when puberty struck and I realized I might be "one of them," I turned inward. It was a strange feeling—both the exhilaration of sexual desire and the simultaneous, soul-splintering panic that I was going to have to live alone my whole life, lying or euphemizing, concocting some public veneer to hide a private shame. It was like getting into an elevator you were expecting to go up, the doors closing, and then suddenly realizing you were headed down a few stories. And this was when the future went black for me, when suicide very occasionally entered my mind, when my only legitimate passion was getting A grades, because at that point it was all I knew how to do. I stayed away from parties; I didn't learn to drive; I lost contact with those friends whose interest suddenly became girls; and somewhere in me, something began to die.
They call it the happiest day of your life for a reason. Getting married is often the hinge on which every family generation swings open. In my small-town life, it was far more important than money or a career or fame. And I could see my grandmother's point: the very lack of any dating or interest in it, the absence of any intimate relationships, or of any normal teenage behavior, did indeed make me seem just a classic loner. But I wasn't. Because nobody is. "In everyone there sleeps/A sense of life lived according to love," as the poet Philip Larkin put it, as well as the fear of never being loved. That, as Larkin added, nothing cures. And I felt, for a time, incurable.
You can have as many debates about gay marriage as you want, and over the last 22 years of campaigning for it, I've had my share. You can debate theology, and the divide between church and state, the issue of procreation, the red herring of polygamy, and on and on. But what it all really comes down to is the primary institution of love. The small percentage of people who are gay or lesbian were born, as all humans are, with the capacity to love and the need to be loved. These things, above everything, are what make life worth living. And unlike every other minority, almost all of us grew up among and part of the majority, in families where the highest form of that love was between our parents in marriage. To feel you will never know that, never feel that, is to experience a deep psychic wound that takes years to recover from. It is to become psychologically homeless. Which is why, I think, the concept of "coming out" is not quite right. It should really be called "coming home."
In the end, I had to abandon my home in order to find it again and know the place for the first time. I left England just after my 21st birthday for America and its simple foundational promise: the pursuit of happiness. And I gave myself permission to pursue it. I will never forget the moment I first kissed another man; it was as if a black-and-white movie suddenly turned into color. I will never forget the first time I slept next to another man—or rather tried to sleep. Never for a moment did I actually feel or truly believe any of this was wrong, let alone an "intrinsic evil," as my strict Catholicism told me that it was. It was so natural, so spontaneous, so joyous, it could no more be wrong than breathing. And as I experienced intimacy and love for the first time as an adult, all that brittleness of the gay adolescent, all that white-knuckled embarrassment, all those ruses and excuses and dark, deep depressions lifted. Yes, this was happiness. And America for me will always represent it.
And that is why marriage equality is, to my mind, the distillation of America. If you're a heterosexual reading this, have you ever considered for a millisecond that your right to pursue happiness did not include your right to marry the person you love? And that is why, over the centuries, the U.S. Supreme Court has upheld the right to marry for everyone, citizen or even traveler, as a core, inalienable right, bestowed by the Declaration of Independence itself. The court has ruled that the right to marry precedes the Bill of Rights; it has decided that prisoners on death row have a right to marry, even if they can never consummate it. It has ruled that no limitations may be put on it for anyone—deadbeat dads, multiple divorcées, felons, noncitizens. Hannah Arendt wrote in 1959 that "the right to marry whoever one wishes is an elementary human right … Even political rights, like the right to vote, and nearly all other rights enumerated in the Constitution, are secondary to the inalienable human rights to 'life, liberty and the pursuit of happiness' proclaimed in the Declaration of Independence; and to this category the right to home and marriage unquestionably belongs." And, of course, after a long struggle, interracial marriage was finally declared a constitutional right, in perhaps the most sweeping ruling ever, with the court declaring that civil marriage was one of the "basic civil rights of man, fundamental to our very existence and survival." Barack Obama is a historic American figure not because he is black, but because he is the son of a black father and a white mother. He is the living embodiment of the pursuit of happiness that marriage represented.
I still didn't think it would ever happen to me. I thought I was too emotionally damaged, my emotions and sexuality severed by all those years of loneliness and arrested emotional development. I thought my heart had too much scar tissue, and I could live my life well enough with just friendship and occasional sexual encounters or dates. But when I first set eyes on my husband, I knew I had lucked out. Some things you simply know. And when we finally got married, a few years later, and our mothers walked us down the makeshift garden aisle, and my sister gave the reading through tears, and one of our beagles howled through the vows, and my father put his arms around me and hugged, I did not hear civilization crumble. I felt a wound being healed. It is a rare privilege to spend your adult life fighting for a right that was first dismissed as a joke, only finally to achieve it in six states and Washington, D.C. But how much rarer to actually stumble upon someone who could make it a reality. And to have it happen to me in my own lifetime! This joy is compounded, deepened, solidified by the knowledge that somewhere, someone just like I was as a kid will be able to look to the future now and not see darkness—but the possibility of love and home. That, I realized, was really what I had been fighting for for two decades: to heal the child I had once been—and the countless children in the present and future whose future deserved, needed, begged for a model of commitment and responsibility and love.
And that is why it has been such a tragedy that conservatives decided this was a battle they were determined to fight against, an advance they were dedicated to reversing. It made no sense to me. Here was a minority asking for responsibility and commitment and integration. And conservatives were determined to keep them in isolation, stigmatized and kept on an embarrassing, unmentionable margin, where gays could be used to buttress the primacy of heterosexuality. We were for them merely a drop shadow for heterosexuality. What they could not see was that the conservative tradition of reform and inclusion, of social change through existing institutions, of the family and personal responsibility, all led inexorably toward civil marriage for gays.
Yes, the main stumbling block was religion. But we were not talking of religious marriage and were more than eager to insist, as in New York state, on the inviolable religious freedom of churches, mosques, and synagogues to retain their bans on gay marriage. We were talking about civil marriage—and in that respect, religious tradition had long since ceased to apply. Civil divorce changed marriage far more drastically for far more people than allowing the small percentage who were excluded to be included. And no one doubted an atheist's right to marry, outside of any church or any religion, just as no one doubted the marriages of childless couples, or infertile ones. In fact, every single argument against marriage equality for gays collapsed upon inspection. And when the data showed that in the era of gay marriage, straight marriage had actually strengthened somewhat, divorce rates had declined, and marriages lasted longer, even those who worried about unintended consequences conceded that the argument was essentially over. And that is why it remains so appropriate that George W. Bush's solicitor general, Ted Olson, would lead the legal fight against Proposition 8 in California; that a Reagan-appointed judge, Anthony Kennedy, would be the foremost Supreme Court justice affirming gay and lesbian equality; and that in Albany, in the end, the winning votes came from Republicans who voted their conscience.
Of course this is new and not so new. For a long time, gays and lesbians braver than I was were effectively married and lived together, risking violence and opprobrium and isolation. For decades these bonds existed, and we knew of them even if we never spoke of them. I saw them up close as a young man in the darkest years of the AIDS plague. I saw spouses holding their dying husbands, cradling them at the hour of their death, inserting catheters, cleaning broken bodies, tending to terrified souls. This proved beyond any doubt for me that gay couples were as capable of as much love and tenacity and tenderness and fidelity as heterosexual couples. And when I heard their bonds denigrated or demonized, dismissed or belittled, the sadness became a kind of spur. For so long, so much pain. For so many, so much grief compounded by stigma. But we did not just survive the plague. We used it to forge a new future. And in the years of struggle, as more and more heterosexuals joined us, we all began finally to see that this was not really about being gay. It was about being human.
Just like being gay is no longer necessarily about being an outsider. It is about being an American.