Andrew Tate Complains of Inhumane Prison Conditions: 'Trying to Break Me'
Andrew Tate has complained of the conditions he is living under in prison as he remains in custody on human trafficking charges.
The American-British influencer was arrested in Romania on December 29, along with his brother, Tristan, and two Romanian nationals, and charged with human trafficking. Initially held for 24 hours, Tate's detainment was later extended to 30 days, before it was reported that the brothers will remain in detention until February 27.
Romanian prosecutors allege that Tate and his brother coerced six women into producing pornography, with the alleged victims facing "acts of physical violence and mental coercion." It was also widely reported that Tate had been accused of rape.
As he remains behind bars, Tate, 36, recently communicated with his website subscribers via an email newsletter, in which he complained of being kept in bleak conditions that included "cockroaches, lice and bed bugs."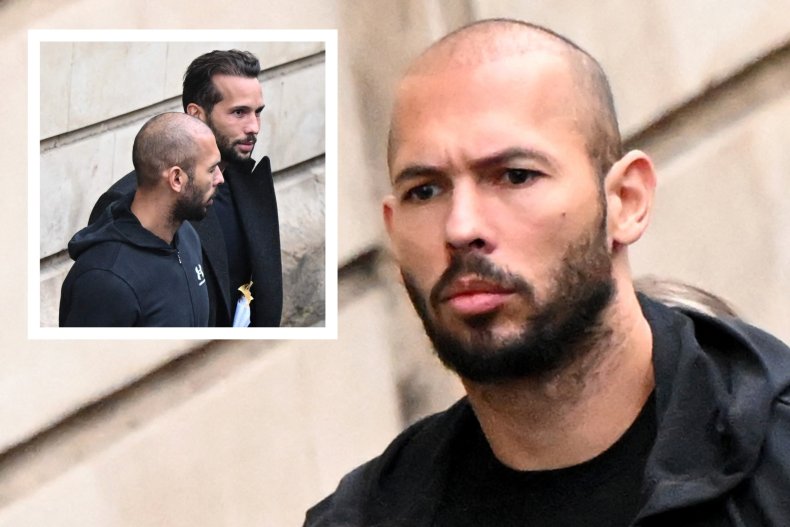 "I will send you my daily lessons from unjust imprisonment," Tate wrote. "They are trying to break me. Thrown inside a cell without light. Cockroaches, lice and bed bugs are my only friends at night.
"When the guards bring me to and from the courtroom, I stay absolutely respectful. They try to pour hatred into my heart. But Please and Thank You stick with me at all times. My prison guards are just performing their job, they have families to feed."
"In times of hardship, do not forget your manners," he went on. "They are trying to break my Iron Mind with unjust imprisonment. They can't beak me.
"My guards know I am innocent. They know it is unjust. They see I will never break and respect my resolve. Please and Thank You stick with me at all times. Such is the Way of Wudan."
Tate's Twitter account has remained active in the weeks since his detention. In a post that was shared on the platform earlier this month, former professional kickboxer Tate denied the allegations leveled against him, insisting there was "zero proof."
"Anyone who believes I am a human trafficker may as well go and take their 10th vaccine," he wrote. "There are 0 victims, 0 proof of any crime in our case file. They have arrested me to 'look' for evidence, Which they will not find because it doesn't exist."
VICE World News recently published details of text and voice messages allegedly exchanged between Tate and an unnamed woman who accused the former professional kickboxer of rape in the U.K. back in 2013. Police in the U.K. never charged him with a crime.
Amid the dozens of messages reviewed by the outlet, one attributed to Tate reads: "Am I a bad person? Because the more you didn't like it, the more I enjoyed it. I f****** loved how much you hated it. It turned me on. Why am I like that? Why?"
In another message, Tate is alleged to have written: "I love raping you."
The article included graphic details of Tate allegedly raping the woman. He was also accused of similar actions by two other women.
After his detainment, Tate was taken to a hospital earlier in January following a "routine medical check," according to Romanian news channel Antena 3 CNN.
On the same day, Tate updated his Twitter account, cryptically addressing what had happened.
"The Matrix has attacked me. But they misunderstand, you cannot kill an idea. Hard to Kill," he wrote.
He also retweeted a number of people, including one user calling for his release. Other tweets from Tate on this day included referring to himself as a revolutionary.
"It seems every generation's great revolutionaries suffer from unfair imprisonment," he wrote.
Over the years, Tate has been criticized for a number of controversial comments about women, including his 2017 claim that they "must bear some responsibility" if they get raped, during the #MeToo scandal.
According to The Guardian newspaper, in one video Tate discusses how he would react to a woman accusing him of cheating, saying: "Bang out the machete, boom in her face and grip her by the neck. Shut up b****."
Tate, who has repeatedly denied any involvement in people trafficking, has also received a wave of support over the most recent allegations, with conservative commentator Candace Owens stating she doesn't believe he's a "rapist."
Specialists from the Rape, Abuse, and Incest National Network (RAINN) sexual assault hotline are available 24/7 via phone (1 (800) 656-4673) and online chat. Additional support from the group is also accessible via the mobile app.
Do you have a tip on an entertainment story that Newsweek should be covering? Let us know via entertainment@newsweek.com.
Update 1/24/23, 5:05 a.m. ET: This story has been updated to add extra information.