Andrew Tate Reacts to Another 30 Days in Prison Amid Human Trafficking Case
A Romanian court ruled Andrew Tate must remain in custody for a further 30 days while authorities investigate accusations of rape and human trafficking.
The American-British influencer was arrested in Romania on December 29, alongside his brother, Tristan, and two women who are Romanian nationals. He has been charged with sexual assault and exploitation.
Prosecutors in Bucharest can apply to extend suspects' detention for up to 180 days after already applying for one extension to keep the brothers behind bars until February 27.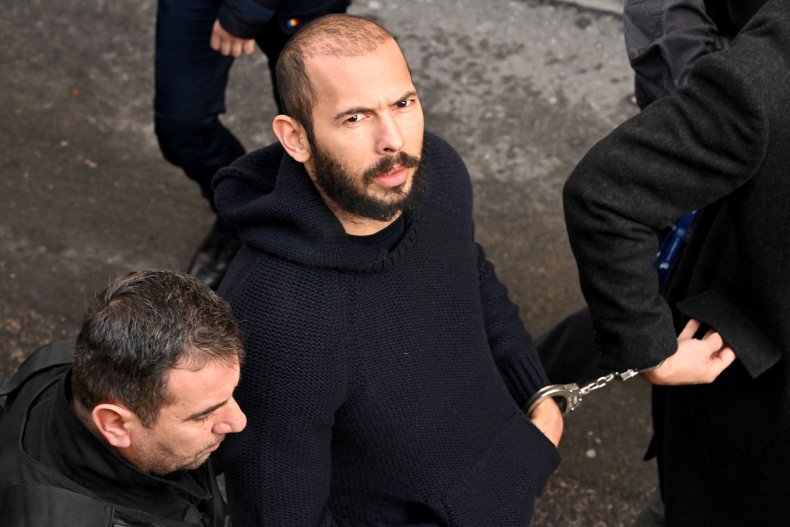 Tate broke his silence over the decision by tweeting from his account which was only reinstated in November after Elon Musk bought the company. The former professional kickboxer had been banned from most social media platforms for his controversial comments.
"I will meditate deeply over this decision," wrote the 36-year-old.
Romania's organised crime agency, Diicot, is investigating the Tate brothers and the two women for allegedly coercing six women into producing pornography through threatening "acts of physical violence and mental coercion." Tate is also facing charges of rape after allegedly sexually assaulting a woman in March last year.
All four deny culpability and while the two Romanian nationals have been moved to house arrest, Tate told his newsletter subscribers about the conditions he faces in jail.
"I will send you my daily lessons from unjust imprisonment," Tate wrote in January. "They are trying to break me. Thrown inside a cell without light. Cockroaches, lice and bed bugs are my only friends at night.
"When the guards bring me to and from the courtroom, I stay absolutely respectful. They try to pour hatred into my heart. But Please and Thank You stick with me at all times. My prison guards are just performing their job, they have families to feed."
"In times of hardship, do not forget your manners," he went on. "They are trying to break my Iron Mind with unjust imprisonment. They can't beak me.
"My guards know I am innocent. They know it is unjust. They see I will never break and respect my resolve. Please and Thank You stick with me at all times. Such is the Way of Wudan."
Tate appeared on the reality show Big Brother in the U.K. in 2016 where he became notorious for his misogynistic comments about women.
Since then he has been criticized for his opinions about women, including in 2017 at the height of the #MeToo movement when he said they "must bear some responsibility" if someone rapes them.
In one video, Tate discusses how he would react to a woman accusing him of cheating, saying: "Bang out the machete, boom in her face and grip her by the neck. Shut up b****," according to The Guardian newspaper.
In 2013, an unnamed woman accused Tate of rape in the U.K, but police never charged him with a crime. Two other women reportedly accused Tate of similar treatment according to a report on news website, Vice.
The article printed graphic details of Tate allegedly raping the woman and text messages between the pair.
"Am I a bad person? Because the more you didn't like it, the more I enjoyed it. I f****** loved how much you hated it. It turned me on. Why am I like that? Why?" Tate allegedly wrote to her.
In another message, Tate allegedly wrote: "I love raping you."
In 2019, British prosecutors declined to pursue charges against Tate over any of the allegations, Vice reported.
Specialists from the Rape, Abuse, and Incest National Network (RAINN) sexual assault hotline are available 24/7 via phone (1 (800) 656-4673) and online chat. Additional support from the group is also accessible via the mobile app.
Do you have a tip on an entertainment story that Newsweek should be covering? Let us know via entertainment@newsweek.com.