'I'm a Teacher. Andrew Tate Is Dangerous, So I'm Doing Something About it'
I have taught sociology at a school in northeast London for five years. Due to the nature of my subject, I have always discussed concepts like feminism and toxic masculinity with students, and gender as a whole has been a topic of conversation at our school for a long time.
While these discussions have always existed during my time teaching, around three or four months ago, my colleagues and I began hearing the name Andrew Tate more and more.
Tate is an influencer who gained notoriety on social media for his misogynistic views. He is being held in a Romanian prison on suspicion of organized crime and human trafficking, allegations that he denies, and has been filling young minds with his message through platforms like TikTok and Instagram.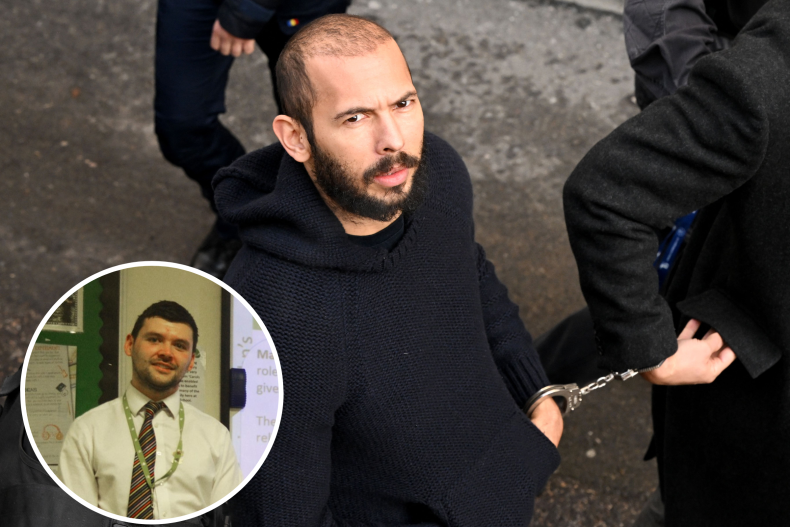 The unfortunate thing about social media is that students now have everything at the drop of a hat. So while initially they may have only touched upon this subject, now their algorithm will start promoting similar content and it's easy to get dragged into a certain viewpoint.
Since the rise of Tate's specific brand of misogyny, female colleagues have seen an increase in certain types of derogatory comments. For example, saying things like: "Women shouldn't be working. Go to the kitchen and make me a sandwich."
Our initial approach is usually to question what they're saying. To ask them: "Why are you saying that? Did your mom go to work? Would your dad say that to your mom? What would your mom do if your dad said that to her? Or vice versa? Have you got a girlfriend? Would you say that to your girlfriend? Do you think that she'd appreciate that? Do you think that would make you more attractive to that person?"
I think the equivalent when I was at school was using the word "gay" as a derogatory term. However, in my experience, using language like that would have largely been ignored, whereas now I think staff are more comfortable tackling this type of issue.
In my own classes, I have not heard derogatory comments made by students, but I have found students defending Tate and certain statements he's made.
For instance, after he claimed that women "should bear some responsibility" for sexual assault, some students said things like "oh he probably didn't mean it" or claimed it was taken out of context.
In my eyes, Tate has flipped the narrative around sexual assault, so many young male students are saying things like: "Well what about these innocent men who haven't actually raped someone, but are in the public eye so are targeted by women who want money."
They've been taught the idea that women can easily destroy your life if they chose to.
We are trying to educate our students and direct them away from Tate's narrative. We have spoken to them about the number of sexual assault cases that don't get to trial or charged due to the level of proof that is needed before a conviction.
It's imperative to us that our students feel they would be listened to should they ever be in that situation, particularly as evidence has shown that one in four women worldwide experience domestic violence before the age of 50.
While his arrest in December 2022 may have highlighted certain issues surrounding Tate that students didn't know about, I don't know whether it has fully changed their opinion of him.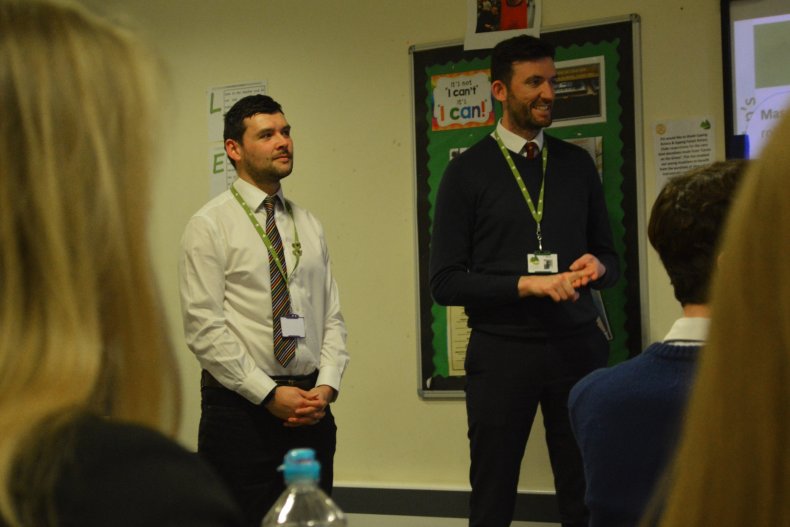 Discussion around Tate has become a lot more frequent and deemed as newsworthy by mainstream media outlets in recent months. So, while I didn't know much about him at the start, my colleagues and I did a little bit more digging into it and quickly decided this was a problem we needed to address.
Alongside my colleagues Jack Glass and Tom Wiltshire, we decided to deliver an assembly for all students at the school, not only about Tate himself, but about what masculinity is, what toxic masculinity is, and how that manifests itself. We also sent a letter home to parents, letting them know about the situation and informing them about the assembly.
My colleagues and I decided that our message would be more powerful if delivered by all of us together—three different men, who all teach different subjects, all saying: "Do you know what, boys? What Tate is saying is a toxic masculinity. We want to show you the other side of what it means to be a man. To be kind and compassionate to everyone."
We wanted to make the students think about how they would feel if these types of comments were made to their mother, their sister, their friends—or any women they love. We slowly saw them thinking about things and then the realization dawning on some of their faces.
During the assembly, my colleagues and I really wanted to make all our students comfortable. We asked general questions and made it known at the start that they were not going to be punished for anything they said. We wanted to break down what Tate was saying and who he was.
We asked what they had seen on TikTok or Twitter and whether they thought the things they had seen on social media were right. We ask: "What do you like about him? Okay, so like the fact that he is well presented, he has money in the bank and drives nice cars."
Then we dig a bit deeper and say: "Okay what about this comment? What do you think he's doing by making that comment?" Then they can see these clear links between how he appears on social media and the impact he is actually having.
Tate has created an image of money and celebrity and I believe many of our young male students are drawn to that lifestyle in the same way they would be film stars, musicians, and footballers.
When you're young you're really impressionable. In my view, many young people nowadays prioritize being famous and having money, and I feel that's a change that's happened over the last 10 or 15 years after the rise of reality television programs. It just seems to be the way it's going.
Based on what I am seeing, young people are less focused on becoming lawyers or doctors, they want to be a YouTube star or a TV personality who has a brand deal with a fast fashion company.
So I believe many young men are drawn to the fact that Tate has money. Depending on the age of the student they're solely focusing on that and almost aren't taking in the things he says.
I believe that boys from certain backgrounds feel that they don't really have a voice. Rightly or wrongly, I think they see certain groups being recognized in society and think: "What about us?"
Often they struggle to understand that these days exist to highlight groups that are and have been marginalized throughout history, and might feel like Andrew Tate is the person who is speaking for them.
I don't think Tate's message is anything new. I find these kinds of things are often cyclical and believe that in five years' time, there will be someone else making these outlandish statements who parents will need to worry about.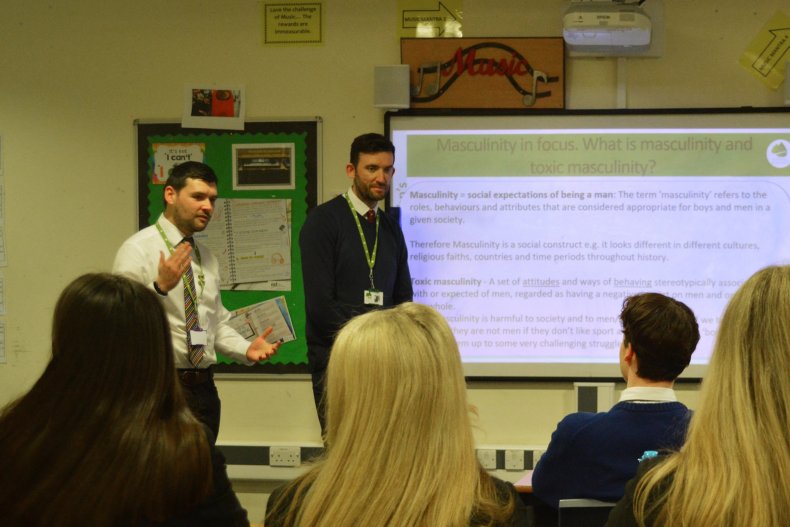 For example, when I was growing up, Tommy Robinson, a British far-right activist, was the person gaining mainstream popularity, but who you looked at and thought: "This could be really dangerous."
I do believe that social media makes Tate's message stronger because one post can be shared so quickly and reach anyone in any different country, instantly. Many boys who see this type of content won't necessarily know the underlying message in what Andrew Tate or anyone else is saying, but mimic and copy things, which can be dangerous.
I think it's hard to tell the long-term impacts of Andrew Tate and others like him at the moment. I feel it's up to us as a school to make sure this was not a one-off assembly and these are topics we keep re-visiting.
I want to deal with this; keep going forward with it rather than leaving it as a standalone assembly or brush it under the carpet and hope that it doesn't rear its head again.
Jake White is a teacher at Epping St. John's Church of England School. He started an assembly informing students of the dangers of toxic masculinity with his colleagues Jack Glass and Tom Wiltshire.
All views expressed in this article are the author's own.
As told to Newsweek's My Turn associate editor, Monica Greep.
Do you have a unique experience or personal story to share? Email the My Turn team at myturn@newsweek.com