Andrew Tate Tells Tucker Carlson 'Masculinity' Got Him Banned From Social
Controversial influencer Andrew Tate told Fox News that he was banned from social media for living a "traditionally masculine life."
Last week, Tate's accounts on Instagram and Facebook were deleted, and Meta confirmed with Newsweek that Tate was no longer allowed to use both social media platforms as a result of violating company policies, citing Meta's guidelines on "dangerous individuals and organizations."
He has since been removed from YouTube as well, and TikTok has reportedly removed an account run by Tate.
On Thursday, Tate told Fox News host Tucker Carlson that the ban was not because of any political views.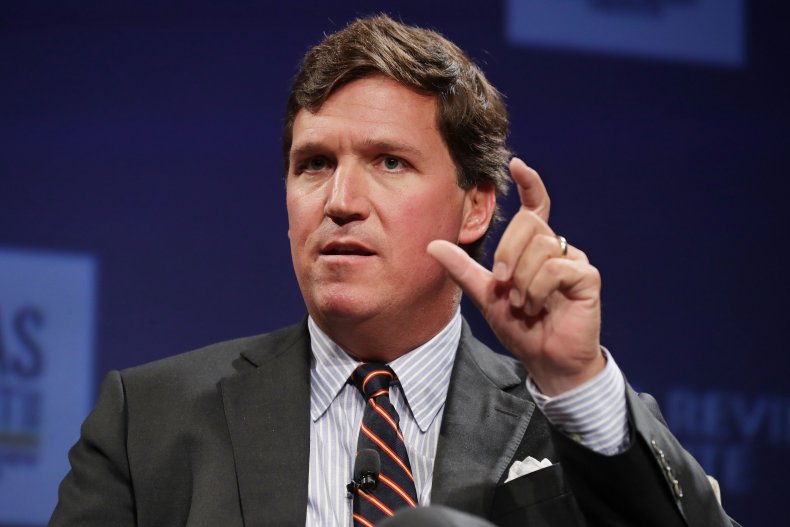 "They banned me simply because I had large swaths of the population agreeing to very traditional masculine values," Tate said. "Teenage men and young men, 20, 22, 23, 24, were looking up to me and aspiring to be like me."
He continued to say, "I live a very traditionally masculine life. I have fast cars and a big house and a lot of money and a beautiful girlfriend, and they thought they thought this was very, very threatening. And for some reason, they decided that it's better they annihilate me from the internet and replace me with somebody who's more aligned with whatever they're trying to propose."
The former kickboxer and contestant on the hit reality series Big Brother in 2016 has been widely known in the last several years for his controversial takes, which some have deemed "dangerous" and "misogynistic." Tate was also banned from Twitter in 2017, after making comments that women needed to "bear responsibility" for being sexually assaulted during the rise of the #MeToo movement.
When asked about his message to young men, Tate told Carlson, "I think that being a man is very, very difficult. I think that men's issues are largely overlooked. The people in charge of the world pretend to care, but when somebody who's championing men's issues like myself comes forward and finally manages to garner huge percentiles of the public support, I'm silenced."
"I think the reason a lot of men are so depressed is because they feel invisible," Tate said. "They feel like life is too hard. Women expect me to be strong and smart and funny and interesting with a nice apartment and a fast car and tall and well connected and funny and it's just too much for them to handle."
Tate has previously expressed thoughts on how he "doesn't believe in depression" and that men can't have feelings or show emotions.
He continued, "They think that by banning me, I'm just going to vanish and the young men are just going to go and start eating the gruel that they're fed on their YouTube feed. They don't want to see transgender people wear makeup. They don't want to see that. They want to see a man who has a bunch of money and a nice life and some fast cars and is strong and is confident. They want an action hero and that's something that large portions of the world still want to be."
He warned that being banned on platforms comes "hard and fast."
"I want to tell you something that's actually kind of scary about this banning. It all came so hard and so fast. I don't know if they all just follow each other, I don't know if they're all influenced by each other. I don't know if there's someone above them all. I don't know.
"But when they go to cancel you, ladies and gentlemen, it comes hard and fast. You lose your Facebook and your Instagram and your Gmail and your Discord and your website hosting and your domain name, then your payment processor, then your bank. Then like it's just like in real time you're watching your phone and apps just exploding," he said.
Newsweek reached out to TikTok for additional comment.