Andrew Yang Asks Crowd to Applaud 2016 Trump Voters in Packed Des Moines Rally Ahead of Iowa Caucus
Democractic presidential candidate Andrew Yang asked the crowd at a rally in Iowa on Saturday to applaud voters who backed President Donald Trump in the 2016 election, as part of a final bid to win votes in Monday's caucuses.
At his last rally in the pivotal state, Yang urged the crowd at the Des Moines Marriott Downtown to show support to those who voted for Trump just over three years ago. The businessman, who went on a 17-day bus tour to meet voters across the state, has positioned himself as a candidate who has appeal across the political spectrum.
The businessman told his supporters, dubbed the Yang Gang, that last week he spoke to a voter in Iowa who showed him a Trump/Pence inaugural membership card. Yang claimed the man said, "I will not be needing this anymore—you have my support."
"In Iowa that happens to me at every single event," the 45-year-old continued. "Every single day someone comes to me and says 'I voted for Donald Trump.'
"Sometimes they say it like a secret, they lean in, they whisper it. But when they say it I, like, jump for joy. I clap them on the back."
Yang then asked his audience, "I don't want to put anyone on the spot here, but if you're willing to share, how many people here in this room voted for Donald Trump?" with one member of the crowd heard shouting back "I did."
"Let's give them a round of applause," Yang said.
The presidential hopeful then went on to argue his campaign was drawing in disaffected Trump voters, independents, libertarians, Democrats, and progressives because "many people who voted for Donald Trump see that I'm laser-focused on solving the same problems that Trump points out, but I have actual solutions that they will see and feel."
He added, "And a lot of it is just that they know that I see the problems and care about them every single day, because I do. These problems are going to destroy us if we do not start addressing them."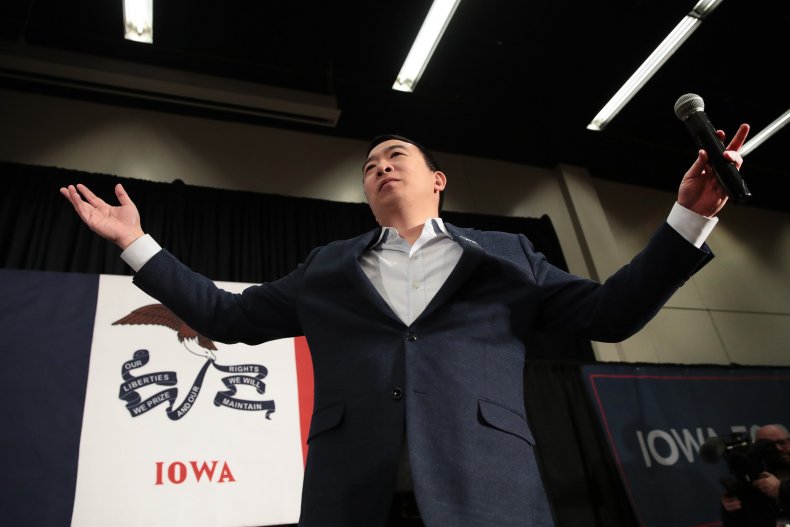 Yang has campaigned on a platform which focuses on the idea that Americans are losing jobs to automation. In response, he has proposed the introduction of a universal basic income of $1,000 a month for all American adults which he calls the "Freedom Dividend."
On Monday, Iowa Democrats will take part in the country's first contest to decide their presidential candidate, which will be followed by contests next month in Ohio, Michigan, and Pennsylvania. Since 1972, Iowa has been the first state to vote in the Democratic Party presidential primaries.
Despite his efforts, Yang has been lagging in the polls with his longshot campaign. Last week, a poll showed Biden in the lead in key swing and early voting states including Iowa. Data from the Morning Consult saw the former vice president on 26 percent, followed by Senator Bernie Sanders, hedge fund manager Tom Steyer, Senator Elizabeth Warren, former mayor Pete Buttigieg, and lastly Yang.
But the widely anticipated Des Moines Register/CNN/Mediacom poll of the Iowa caucus was scrapped at the last minute on Saturday night after complaints from candidate Pete Buttigieg's campaign team. The presidential campaign office of the former mayor of South Bend, Indiana learned he was not named in at least one phone call to a potential Iowa Democratic caucus-goer. The decision led to consternation on social media, with thehashtag #ReleaseThePoll to trend on Twitter.