Andrew Yang Accused of Firing Woman Who Raised Pay Gap Complaint
Andrew Yang has been accused of firing a woman who complained about getting paid less than male colleagues while he was the chief executive of a tutoring firm.
The unidentified woman who worked under Yang at Manhattan Prep claimed in documents seen by BuzzFeed News that the Democratic primary candidate hired two men on salaries of $125,000 while she was on $87,000 in comparison.
She also said that the two men were offered a further $50,000 each in "relocation bonus" fees, and alleged in a letter to parent company Kaplan, which acquired Manhattan Prep in 2009, that they were in similar jobs to hers.
When the two men were hired by Yang on significantly higher wages than the anonymous woman, she had been with the company for two years, BuzzFeed News reported.
Speaking to the website, the woman said: "I believe Andrew fired me as retaliation for asking to be paid a salary that was still significantly less than what he was paying my male counterparts."
She also told the website that Yang had "always spoke positively" of her work before the alleged disparity between her pay and that of "male colleagues in similar roles" was broached.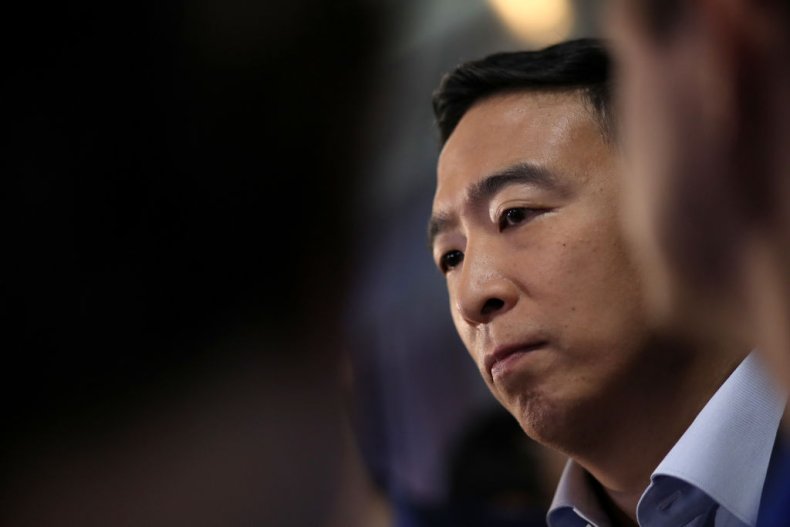 In a statement to Newsweek, Yang spokesperson S. Y. Lee said: "Like many CEOs, Andrew Yang has had the unfortunate task of letting staff go who did not meet the organization's standards. The information provided by the letter-writer does not reflect the reality of the situation."
The Yang campaign also put BuzzFeed News in touch with a female employee still working at Manhattan Prep, formerly known as Manhattan GMAT, who said she "never saw or experienced" the discrimination described by the former employee and suggested the woman was not working at the same levels as the two men.
Kaplan reportedly paid a settlement fee to the former female employee of Manhattan GMAT who complained about her treatment and termination.
Another ex-employee at the test preparation company alleged in September that Yang had fired her because she decided to get married.
In an article for the Gotham Gazette, Kimberly Watkins claimed the entrepreneur let her go just three days after she returned from her honeymoon. Watkins also said she had hit "growth targets" and performed well while at the firm.
Speaking to The View about those allegations in September, Andrew Yang said there was "zero truth" to Watkins' claims and said her being fired "nothing to do with her marital status."
The second woman to publicly allege that she was wrongfully fired by Yang while working at Manhattan GMAT further said that it was "disheartening" to see the businessman running as a "feminist candidate."
At the time of writing, an average of Democratic 2020 primary polls by Real Clear Politics puts Andrew Yang in sixth place with 3.2 percent support among party voters.