Andrew Yang Announces New York Mayoral Run on His Birthday
Former Democratic presidential candidate and former tech executive Andrew Yang announced his intention to run for mayor of New York City on Wednesday—his 46th birthday.
"I moved to New York City 25 years ago," Yang wrote in a Twitter message announcing his candidacy. "I came of age, fell in love, and became a father here. Seeing our City in so much pain breaks my heart. Let's fight for a future New York City that we can be proud of—together."
In the video announcing his candidacy, Yang highlighted his support of racial justice police reforms, the need to reopen the city's businesses in an intelligent way during the ongoing pandemic, and his support of universal basic income.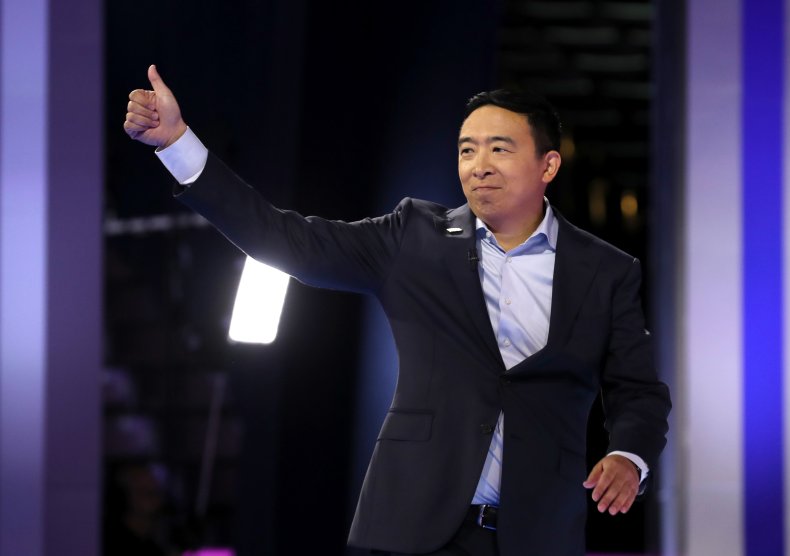 "We'll bring New York City into the 21st century by getting everyone high-speed internet, so our kids can learn, hire more teachers and reduce the class sizes. I think that makes a big difference. It's hard to know when you have a class of 30 kids," Yang said in the video. "We'll take back control of our subway, and create a People's Bank so it stops being so expensive to be poor."
On November 6, 2017, Yang entered the 2020 Democratic presidential primary as a newcomer with no political experience. Nevertheless, he gained an enthusiastic following and qualified for all the Democratic debates. His slogan was MATH: "Make American Think Harder," and his best-known proposal was giving every American adult a $1,000 a month universal basic income.
He dropped out of the presidential race in November 2019 before endorsing President-elect Joe Biden, however, he outlasted both de Blasio and former New York City Mayor Michael Bloomberg. Yang will be among 33 candidates running to become New York City's next mayor, according to data from the New York City Campaign Finance Board.
The campaign website for Yang's mayoral run outlines his plans to revitalize the city's nightlife scene by supporting recreational cannabis legalization, developing technological systems to track which city residents have gotten a COVID-19 vaccine, and allowing local arts organizations to use public parks as performance venues.
Additionally, Yang wants to subsidize rent and establish collaborative art spaces for the city's resident artists, as well as to establish a Deputy Mayor of Entertainment, Nightlife and Culture to help with these efforts.
Under his educational reform efforts, Yang said he wants to create "bridge learning" summer and after-school tutoring sessions to help students learn what they missed during COVID-related school shutdowns, subsidize broadband and other school technologies, expand schooling for children as young as age 3, streamline regulatory approval for daycare businesses, and provide expanded teacher training and recruiting opportunities.
His platform also lists a goal of opening 15,000 small businesses in 2022, passing the Small Business Jobs Survival Act—which would lock business owners into 10-year-long property leases without raising rents—and passing a vacancy tax to punish property owners who maintain vacant storefronts in hopes of attracting higher-paying tenants.
Yang's site also says he'd like to change the city government's contract bidding process to help minority- and women-owned business enterprises, create a permanent low- or no-interest loan program for local entrepreneurs, and create various local commerce services and incentives to help support local businesses, including ones that would challenge Amazon and food delivery apps which have fees which can eat into a restaurant's profits.
His website does not yet have comprehensive plans for addressing homelessness, increasing affordable housing, reforming police, addressing climate resiliency, improving transit or other economic, jobs, labor and environmental issues.
Newsweek contacted the Yang campaign for comment.
Correction 01/13/21 10:03 pm ET: A previous version of this story reported that Yang will be running against Bill de Blasio. de Blasio is unable to run for a third term due to term limits. We regret the error.