Andrew Yang Becomes Eighth Former Democratic Presidential Candidate to Join Joe Biden's Team
Former Democratic presidential candidate Andrew Yang has joined Joe Biden's campaign team as a member of an advisory council on small businesses and entrepreneurship as part of Biden's push to highlight his economic goals.
John Hickenlooper, another former Democratic presidential candidate, will also join the advisory council, Bloomberg reported. The Biden campaign is narrowing its focus on appealing to small businesses, which have been hit particularly hard by the coronavirus outbreak.
"The fact is that we're in a situation where right now an awful lot of small businesses, 50 or fewer employees, are going out of business because the $2 trillion in the acts that are passed by the Congress aren't getting to them at all," Biden said at a fundraiser Tuesday.
Yang, who suspended his presidential campaign in February and formally endorsed Biden the following month, has helped lead and launch several startups. Hickenlooper, who is running for the U.S. Senate in Colorado, opened Wynkoop Brewing Co. in 1988, one of the first brewpubs in the country.
Yang spoke on the importance of a Biden presidency in a statement to Newsweek.
"Small businesses are the backbone of our communities, and 2020 has been a nightmare year for them. We need leadership that will prioritize the recovery of shops on Main Street, not the nation's wealthiest corporations," Yang wrote.
He added, "A Biden presidency will help our auto body shops, bakeries and hometown restaurants keep their doors open and bring back workers, which would be vital to our nation's comeback."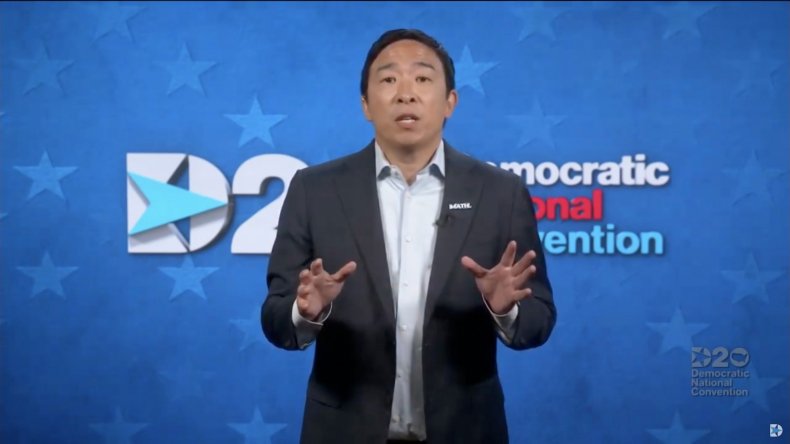 Yang and Hickenlooper are two of at least eight former Democratic presidential candidates who joined Biden's campaign team after suspending their own this year. In August, Biden announced that California senator Kamala Harris would be his running mate.
Vermont senator Bernie Sanders, long considered a front-runner in the race, teamed up with Biden earlier this summer to create joint "unity" task forces to discuss the Democratic Party's agenda on key policy issues such as climate change, criminal justice reform, education, the economy, health care and immigration, Vox reported.
During an appearance earlier this month on PBS' Firing Line, Sanders acknowledged that members of their teams had come together to hammer out a "series of programs on the major issues facing this country."
Elizabeth Warren, who suspended her campaign in March, was rumored to be one of Biden's top picks for his running mate. Now, the Massachusetts senator has become one of Biden's top policy advisers.
Richard Cordray, a close ally of Warren and one of Biden's advisers, spoke to Intelligencer about the "close working relationship" between the two politicians. "Both health care and ­consumer protection issues—economic ­vulnerability—are very much up her alley," Cordray said.
Tom Steyer, the billionaire environmentalist who ended his presidential campaign in February, serves as co-chair of Biden's Climate Engagement Advisory Council, Politico reported. And Julián Castro, a member of President Barack Obama's Cabinet and the only major Latino candidate to run for president in 2020, joined Biden's team earlier this summer to help address police reform, according to NBC News.
Cristóbal Alex, one of Biden's senior advisers, tweeted his excitement. "So proud to join forces with Secretary @JulianCastro," Alex wrote. "As a leader for civil rights and a champion for police reform, Julián bring so much to this urgent national crisis, our campaign and the work that is needed to win in November and beyond. Welcome to #TeamJoe!"
And Pete Buttigieg, the former mayor of South Bend, Indiana, has become one of the newest additions to Biden's team, CNN reported. The former vice president tapped Buttigieg to join his transition team—part of laying the groundwork for staffing the White House if Biden wins in November, according to Mother Jones. Buttigieg will serve on an advisory committee on key issues.
"The co-chairs, advisory board and senior staff are a diverse group of experts who are committed to helping a possible Biden-Harris administration beat the public health crisis and put Americans back to work in good-paying jobs," Biden adviser Ted Kaufman told CNN in a statement.
This story has been updated to include a statement from Andrew Yang.