Andrew Yang Calls for Impeachment Proceedings After Donald Trump's Alleged U.S. Election Interference Talks With Ukraine
Presidential candidate Andrew Yang this week came forward in support of launching impeachment proceedings against President Donald Trump just one hour before House Speaker Nancy Pelosi is expected to announce a formal impeachment inquiry.
"Given the President's latest actions I think impeachment is the right path forward," Yang tweeted on Tuesday afternoon. "Asking foreign leaders for political help in return for aid and then suppressing your own agency's inquiry is egregious. There have to be limits and Congress is right to act."
According to unnamed officials, Pelosi's announcement will come after a closed-door meeting with the Democratic caucus. The House Speaker has previously been hesitant in impeachment talks but in recent days has appeared to change her mind after the emergence of the whistleblower scandal.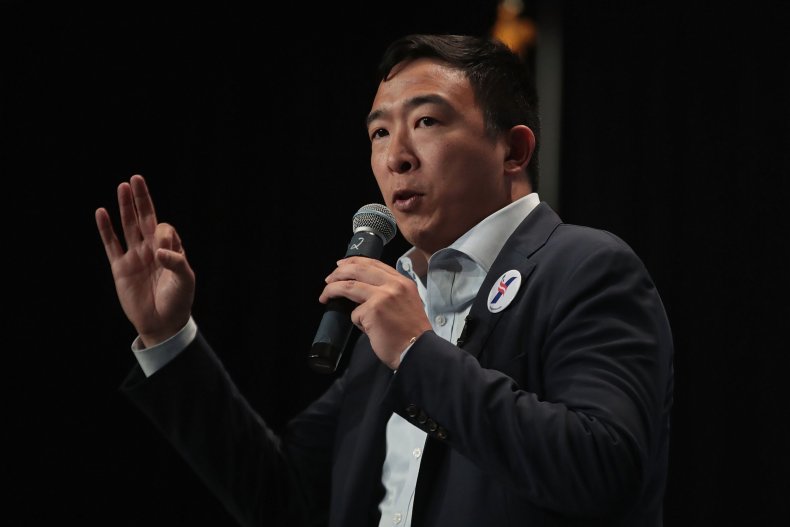 The Trump administration has been accused of pressuring the newly-elected Ukrainian president, Volodymyr Zelensky, to opening an investigation into the business dealings of presidential candidate and former Vice President Joe Biden's son, Hunter Biden. An unidentified whistleblower subsequently filed an official complaint reportedly over concerns about a phone call between Trump and Ukraine.
The emerging reports, coupled with Trump's contradictory statements on the matter has strongly renewed impeachment calls among Democrats with some moderates joining progressives in their calls for the president's removal from office through an impeachment inquiry.
Pelosi initially believed that impeachment may be too divisive for the country and a failed attempt to get Senate approval could leave Trump in a better position to win reelection in 2020, but now the Democratic leader says she has reconsidered her stance.
"The president is making lawlessness a virtue in our country," she said on Tuesday afternoon. "We don't ask foreign governments to help us in our elections. That's what we tried to stop with Russia. It's wrong."
Pelosi noted that she's always asserted that "as soon as we have the facts, we're ready" to launch proceedings. "Now that we have the facts, we're ready," she added.
In a series of tweets after Pelosi announced an official impeachment inquiry on Tuesday afternoon, Trump lashed out at the decision, calling it "PRESIDENTIAL HARASSMENT!" and a "total Witch Hunt!."
Yang has risen to the second tier of Democratic 2020 candidates in recent weeks. his signature policy is a universal basic income (UBI) of $1,000 a month to every American citizen. When asked by USA Today whether he's surprised he's roughly in sixth place earlier this month, Yang said: "I'm genuinely not. And I'm not going to be surprised when I win, either."