Andrew Yang Calls Rise in Anti-Asian Violence 'Painful' as New Yorkers Rally Around Community
New York City mayoral candidate Andrew Yang described the rise in anti-Asian violence as "painful," as New Yorkers came together to rally around the community over the weekend.
The Asian American Federation (AAF) organized a rally of hundreds of demonstrators in Manhattan on Saturday, following the stabbing of a 36-year-old Asian man in Chinatown on Thursday. That attack was just the latest in a series of assaults targeting Asians across the city in recent months.
Speaking to Gothamist at the rally, Yang told the media outlet that the attacks were "painful and heartbreaking." The Democrat mayoral hopeful added: "As an Asian American and son of immigrants myself, and as a parent to children in the city, it really hurts."
Although Yang said he approved of the new Asian Hate Crime Task Force launched by the NYPD, he cautioned that "it's not a good idea for that task force to be made of volunteers who are doing it in addition to their other responsibilities."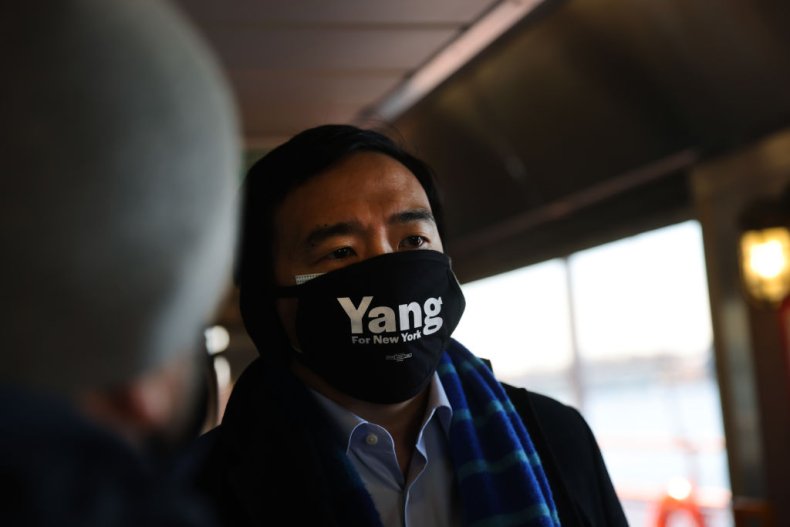 In a statement emailed to Newsweek, Yang praised the AAF for raising awareness and organizing the rally.
"AAF has been at the forefront of this struggle from Day 1, and [Saturday's] 'Rise Up Against Asian Hate' rally is the exact type of people-powered activism we need to ensure leadership does everything possible as fast as they can. I am humbled to join with community leaders from across the City to come together, lock arms, and urge the City to expand and accelerate its efforts into an all-hands-on-deck approach to combat hate and racism," he said.
Top New York lawmakers, including Mayor Bill De Blasio, Senate Majority Leader Chuck Schumer, and Representative Grace Meng were all in attendance at the rally.
"Anyone who commits an act of hatred against the Asian American community will be found, will be arrested, will be prosecuted," De Blasio said at the event. Yang is running to succeed De Blasio, who is barred from running again due to term limits.
Meng, who represents a Queens district, tweeted on Saturday: "Our AAPI [Asian American Pacific Islander] communities are in pain. Listen to us -- and stand with us. #StopAAPIHate"
"I'm proud to stand with the @AAFederation at today's #RiseUpRally in New York City to stop hatred against Asian Americans. The surge in attacks against Asian American communities is alarming, ignorant, and dangerous," Schumer tweeted on Saturday following the rally. "We cannot and will not tolerate racism and discrimination."
In 2020, the NYPD received 27 hate crime reports motivated by anti-Asian bias. That marked a dramatic surge from just one report the previous year. Last spring, as the COVID-19 pandemic broke out in New York City and across the country, the U.S. saw a rise in reports of anti-Asian attacks as some people associated Asians with the novel virus due to it first being discovered in Wuhan, China.