Andrew Yang's presidential campaign thrived on his quirky stunts and while it was a way to show his human side, a tactic more traditional politicians tend to shy away from, it was also a means of "survival" for him.
Yang struggled early during his campaign to garner attention for universal basic income and other key platforms for his bid for office. In a crowded field with more than 20 candidates, Yang wrote in his book that the most attention he received was when he showcased his personality by crowd surfing, dancing or creating another viral moment that would eventually get picked up by news outlets.
"It was like a reality show that needed you to assume a role in order to survive," Yang wrote in his new book, Forward. "In my case, I became the MATH-hat-wearing, cash-giving, crying, dancing, crowd-surfing, basketball-shooting, skateboarding candidate in part as a means to compete."
When Yang first announced he was running for president, he sent an email to several thousand contacts he had in his personal email. The response, according to him, was lackluster but believing he could fundamentally change the course of the country, he continued vying for the Democratic nomination.
Although he believed in his ideas being the cornerstone of a campaign, he learned that people, rather than concepts, garner the most attention. A t-shirt with his high school yearbook became a best seller, his tears after hearing a mom's story about losing her child to gun violence went viral and a video of him doing the Cupid Shuffle in South Carolina became a "defining" image of his campaign.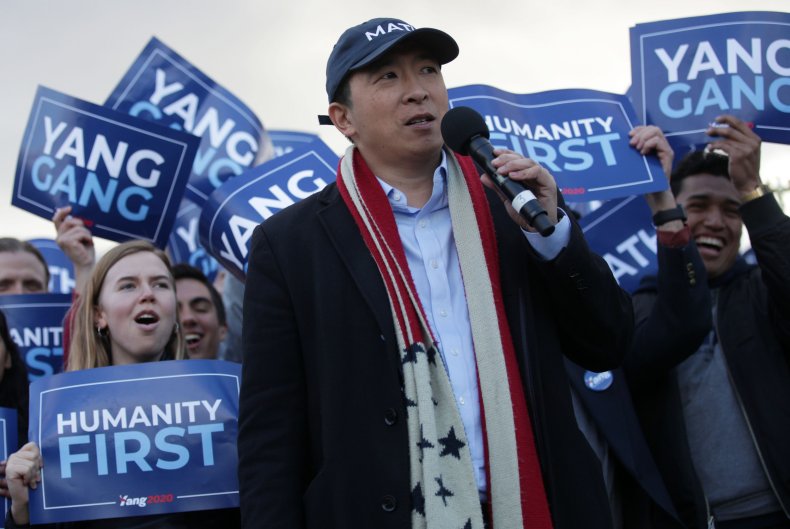 After a forum in California, Yang didn't have time to take selfies with every supporter, so instead, he crowd-surfed to the exit. It went viral, turned Yang into a meme, and taught him that he could "pierce through the noise" and garner mainstream press if he did something that would make someone click a link and watch a video.
"I was running a substantive campaign on big ideas like universal basic income. But the campaign required attention as oxygen, and the mainstream media would not cover ideas so much as characters," Yang wrote. "In a campaign process that was largely formalistic and mechanical, it turns out everyone, including the press, craved a human being having fun on the trail."
One of the biggest personalities on the campaign trail was an actual reality television star, former President Donald Trump. Although Yang was marketing himself as a counterpoint to Trump, he acknowledged that Twitter fueled the former president's rise, hammering home the need to utilize the "powerful tool."
However, Yang decided to keep his Twitter feed positive, often posting casual or seemingly outrageous messages like, "I'm literally trying to give everybody money." Part of the strategy was to keep showcasing his personality, but Yang wrote in his book he also actively didn't react to Trump's tweets because he thought it was "playing into his hands."
"My Twitter following became one of the major drivers of attention and coverage to the campaign," Yang wrote. "It became a theme for the campaign: we were humans running against the machine and needed to embrace our humanity in order to get noticed."