Andrew Yang Says Sanders and Warren's Wealth Tax Plans 'Somewhere Between Problematic and Disaster'
2020 Democratic hopeful Andrew Yang, a tech entrepreneur who has proposed giving all American adults $1,000 per month, criticized his political rivals' wealth tax plans as "somewhere between problematic and disaster."
"I think the wealth tax is an idea, in spirit, that makes sense, given the wealth distribution. But in practice it would have massive implementation problems," Yang said during a Tuesday interview with CNBC's John Harwood.
Fellow 2020 Democratic candidates Bernie Sanders and Elizabeth Warren have each released their own tax plans that include taxing the richest people in the country.
Warren was the first candidate to introduce a proposed wealth tax in January. She called for a 2 percent annual tax on households making between $50 million and $1 billion and a 3 percent tax on households bringing in over $1 billion per year.
The senator's plan is estimated to bring in $2.75 trillion in tax revenue over a ten-year period. With that money, Warren argued she could help rebuild the nation's middle class and still have nearly $1 trillion left over. The tax revenue would go toward Warren's other goals like universal childcare, student loan forgiveness and universal free public college.
Sanders released his tax plan earlier this month that would cut the wealth of billionaires in half over 15 years and raise an estimated $4.35 trillion over 10 years. The Vermont senator's plan includes eight different taxes based on net worth for both married couples and single filers, starting at a 1 percent tax on net worth for couples making above $32 million.
"To me there are better ways to make this economy fair, though I understand the spirit of it and the intent of it," Yang told CNBC. "But I agree that it would be somewhere between problematic and a disaster in practice."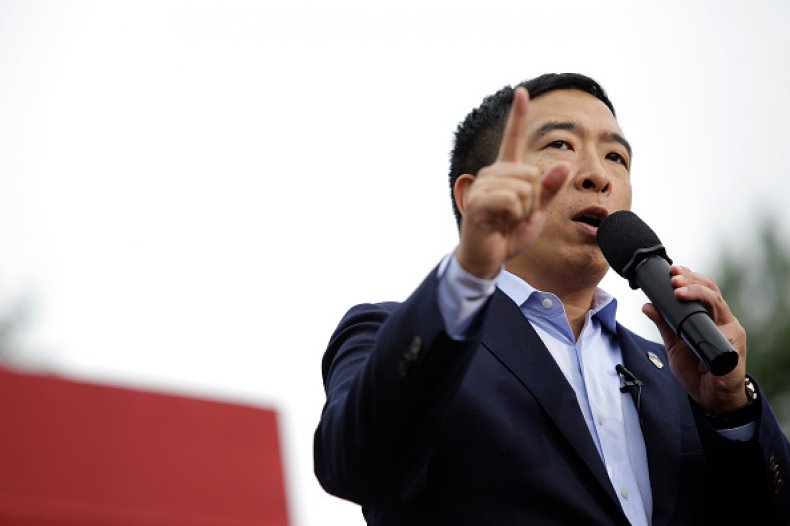 Yang launched his White House bid in late 2017 but has become known for a singular aspect of his presidential platform: the "Freedom Dividend." The proposal would give every American $1,000 in basic income each month to combat job loss to automation.
The "Freedom Dividend" would be paid for by taxing tech giants like Amazon and Google as well as consolidating existing welfare programs. The total cost of the program would be about $1.8 trillion each year. The taxed money, Yang argues, would be spent in local communities and help stimulate the economy. He also pointed out that it would likely reduce incarceration costs and the cost of poverty assistance programs.
Yang told CNBC's Harwood that the "Freedom Dividend" would not replace existing poverty programs and other government programs. Instead, Americans would have to choose between the two.
While both Republicans and Democrats have criticized Yang's plan, polls show that voter support for universal basic income is growing. A nationwide Hill-HarrisX poll released last week showed 49 percent of respondents were in favor of the government-issued stipend — a 6 point increase from a similar survey conducted in February.