Andrew Yang Defends Dave Chappelle Amid Criticism of His Visit to Former High School
Former presidential and New York mayoral candidate Andrew Yang on Friday defended embattled comedian Dave Chappelle after he was jeered by some students during a recent visit to his former high school.
In a series of tweets, Yang spoke appreciatively of Chappelle supporting him during his failed presidential bid and how the stand-up star "helped a lot of people" during the COVID-19 pandemic.
Yang also called media coverage of Chappelle's visit to his alma mater, Washington, D.C.'s Duke Ellington School of the Arts, a "press hit job."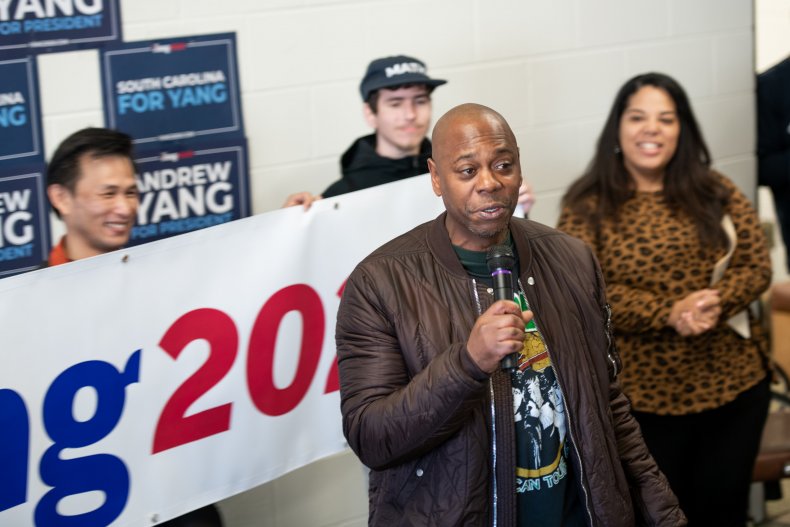 "I was endorsed by a number of celebrities. Dave Chappelle is the only one who came to Iowa and South Carolina to perform on my behalf—with proceeds going to the campaign—and even made phone calls and hung out with staff," Yang wrote on Twitter Friday. "He did it because he wants to help people. Great guy."
A photo of Yang and Chappelle standing together and laughing accompanied the post.
A follow-up tweet read: "The press hit job on his visiting his high school is awful...But of course in 2021 an obvious positive gesture is framed negatively in the media."
Chappelle appeared at the school for a Q&A session with staff and 580 students. While there, he gave out 600 Thanksgiving meals and tickets to a screening of the new documentary Untitled, which was directed by the Oscar-winning duo Julia Reichert and Steven Bognar and covers comedy shows Chappelle held near his home in rural Ohio last summer during the height of the COVID-19 pandemic.
Politico reported that Chappelle's arrival was met with "a raucous reception of cheers and some boos." The website claimed eight students directly questioned Chappelle, including a 16-year-old who called Chappelle a "bigot" and said: "I'm 16 and I think you're childish, you handled it like a child."
Politico wrote two students who were present at the session said Chappelle responded: "My friend, with all due respect, I don't believe you could make one of the decisions I have to make on a given day."
Chappelle's spokesperson Carla Sims confirmed the exchange occurred with Politico. The back-and-forth between the comedian and the student reportedly centered on the controversy surrounding jokes in the Chappelle Netflix special The Closer that many people have deemed to be transphobic.
Sims also responded to claims that some parents were unhappy about language the comedian used at the event.
"They are complaining that he talked and said the n-word," Sims told the Politico. "If anything, Dave is putting the school on the map."
In Yang's tweets on Friday, the businessman encouraged those who question Chappelle's character to see Untitled, which he said shows "what Dave did through COVID" in helping his local community.
"The the kind of person he is," Yang wrote.