#CouldaHadYang Trends as Andrew Yang Supporters Criticize 'Flaming Garbage Pit' Democratic Debate
After the Democratic debate in South Carolina, fans of former presidential contender Andrew Yang have taken to social media to lament the absence of the entrepreneur who dropped out of the primary race earlier this month.
During his run in the primaries, Yang generated a lot of attention especially among young voters, liberal Democrats, and libertarians, many of whom were attracted to his plan to give every adult American $1,000 a month as a universal basic income, in what he called the "Freedom Dividend."
Last September, the entrepreneur tweeted a video of himself crowd surfing at the AAPI Democratic Presidential Forum in Costa Mesa, California, carried along by his supporters known as the "Yang Gang." Videos were also shared of him on the campaign trail dancing and even singing at a church choir.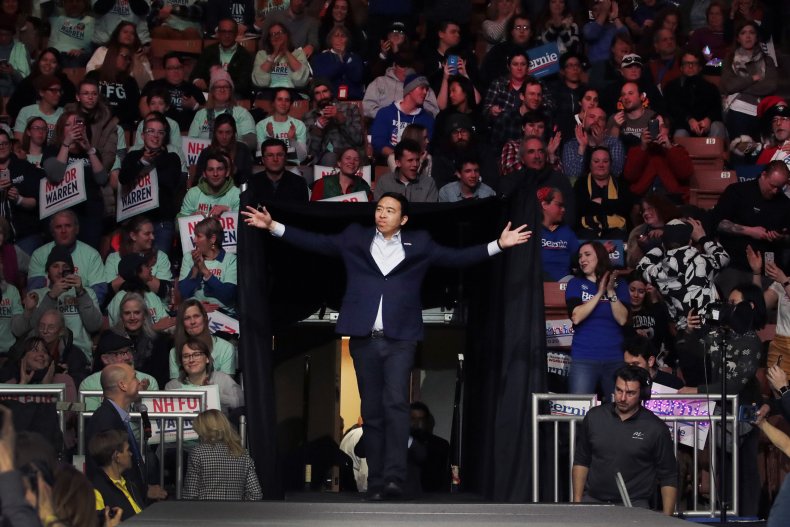 In December, Yang managed to gain more Twitter followers than any of his Democratic rivals following the debate in Los Angeles, according to Politico. But in February, he dropped out of the race after trailing behind the other top candidates in the Iowa caucus and New Hampshire primary. In Iowa his campaign spent millions but he only ended up with one percent support, according to CNN, where he has joined as a political commentator.
After he quit the race, the 45-year-old told his supporters that being a candidate "has been the privilege of my life," and that "we will continue to do the work and move this country forward, because the Yang Gang isn't going anywhere."
This appeared to be true, with #CouldaHadYang trending on Tuesday night and Wednesday morning, as his supporters remarked on the chaos of the two-hour Democratic debate in Charleston on Tuesday in which the moderators could not keep the candidates to their speaking times or stop them them from talking over one another.
Caroline McCarthy tweeted, "I turned off the debate for 20 minutes to take a call. Scrolling through Twitter, I couldn't even tell what were actual quotes and what were jokes, so I decided not to turn that flaming garbage pit back on. Also, #CouldaHadYang."
Manik tweeted, "We #CouldaHadYang but everyone still wanting to elect dinosaurs that don't believe in universal basic income."
Paget Kagy tweeted, "We #CouldaHadYang, but instead we ended up with the clown show we saw at tonight's #DemDebate2020.
"I'm sad that America is going to miss out on bold 21st century solutions that would ACTUALLY help millions of Americans and would ACTUALLY get passed."
Another supporter referred to his relative youth compared to the other Democratic contenders, writing, "We #CouldaHadYang but it's impossible for @TheDemocrats to escape their old ideas. The #gerontocracy has to go. It's time for new voices and new ideas in the party. #AmericaNeedsYang"
Others praised Yang and missed his contribution to Democratic debates. "We #CouldaHadYang who NEVER said a bad word about the other candidates and ONLY wanted to talk about the SOLUTIONS to our problems and is #HumanityFirst," tweeted one supporter.
Another wrote, "Tonight Debate is total chaos & I don't care if any of them do well. Because what most of America don't realize is #CouldaHadYang."
Newsweek has contacted Yang's campaign team for comment.