Andrew Yang is The Only Person of Color to Qualify For The Democrats' December Debate
As of Friday morning, tech entrepreneur Andrew Yang is the only candidate of color who will appear in the Democratic Party's December debate.
The Democratic National Committee (DNC) has undergone the enormously scrutinized process of winnowing the field from its unwieldy 10-candidate performances of months prior.
In doing so, the DNC has inadvertently eliminated some of the diversity that had been celebrated within the party's ranks. Several candidates leading historic campaigns—such as those of Congressman Julián Castro and Senator Kamala Harris—have either been abandoned by the party's heightened standards or have been forced to shutter due to financial constraints.
The Democratic Party's sixth presidential primary debate will take place on December 19 at Loyola Marymount University and will be co-hosted by the PBS NewsHour and Politico.
For his part, Yang, who is Taiwanese-American, celebrated the news on Tuesday, announcing to an audience that his campaign had just achieved the fourth-qualifying poll needed to appear on stage in December after having previously secured the minimum amount of donors.
As he breaches the finish line, Yang's unique inclusion is also casting a harsh light on the process that deprived other candidates of the opportunity to carry forth their historic campaigns. Many are asking how similarly situated candidates, but for their race, could not achieve similar outcomes.
"I don't think you can look at [the hurdles] without also looking at the fact that, as a woman of color, [Kamala Harris] also faced unprecedented sexism compounded by racism as well, as a female candidate of color," The View co-host Sunny Hostin said during a recent episode. "And I think it's just surprising that there are people who are still in the race facing issues, [and yet they're] still in the race."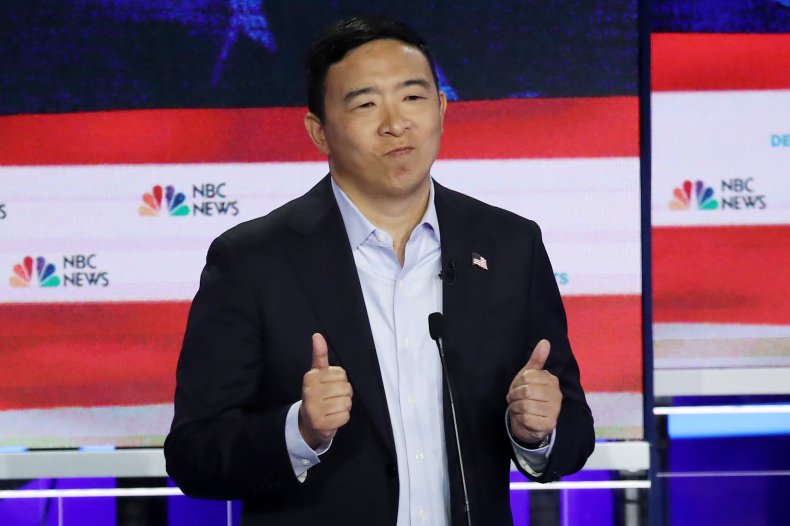 But those seeking to cast blame on the DNC alone for the absence of minority candidates on the debate stage may be missing key dynamics within the race that paint a more complex picture of their failure to break through.
A recent survey from The Economist and YouGov found, as have many surveys throughout the race, that the leading 2020 Democrat, Joe Biden, is earning substantial support from minority voters. Nearly half of black Democrats and over one-third of Hispanic Democrats prefer Biden. No other candidate attracts a comparable share of support from minority voters.
On the other hand, a disproportionately small share of white Democrats, at 19 percent, prefer the former vice president. Senators Elizabeth Warren and Bernie Sanders are the other candidates who receive a substantial share of the minority vote.
The support of black and Latino voters for white candidates, often to the exclusion of candidates more representative of their own backgrounds, is not a function of a lack of options.
When Gallup surveyed Democratic voters in late September, 73 percent of non-whites reported that they were generally pleased with the selection of candidates running, as opposed to desiring another entrant in the race.
Former Senator Carol Moseley Braun, the first black woman to serve in the U.S. Senate, endorsed Biden for the 2020 race.
"We've always known what so many in the national media are now saying: Women of color will be key to that [primary] decision," Braun explained in an op-ed. "Joe Biden has always known that, too, and his record proves that he'll work hard for us now, as he always has."
The graphic below, provided by Statista, illustrates who has qualified for the sixth DNC debate.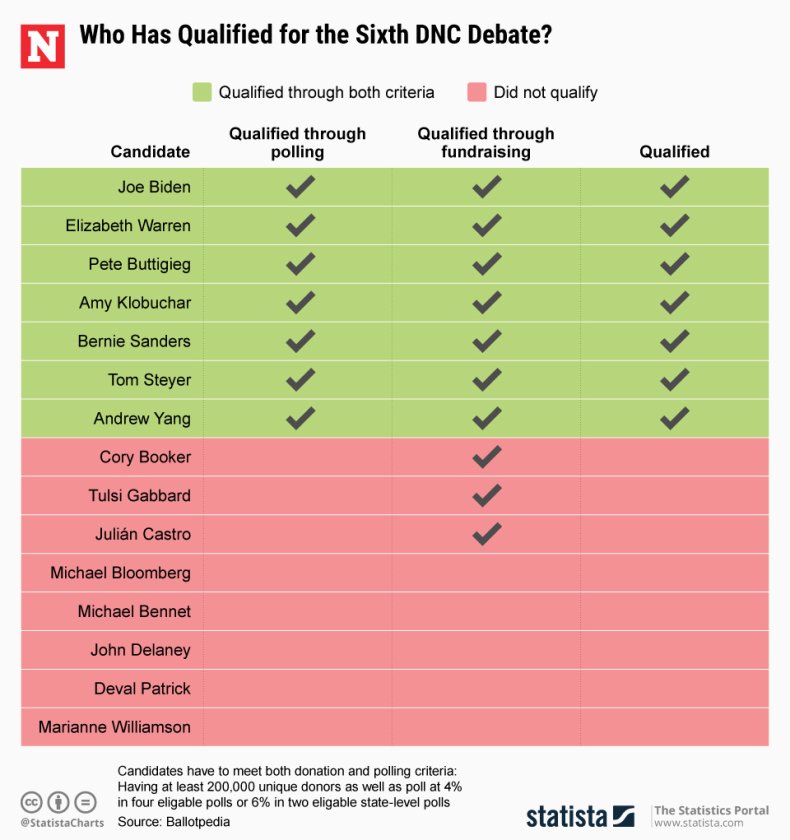 This article has been updated to change the debate venue. An earlier version of this article relied on an out-of-date press release from the DNC.
This article was updated to include an infographic.