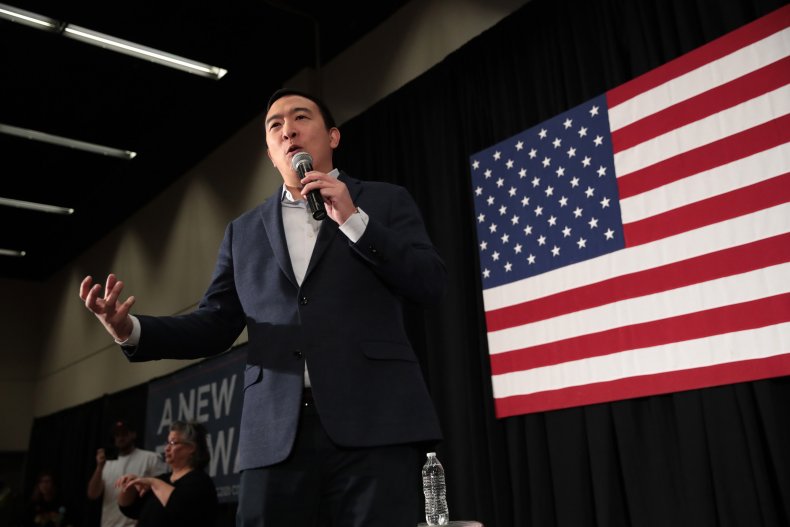 Tech entrepreneur Andrew Yang is not appearing on Tuesday's debate stage in Des Moines, Iowa, meeting the threshold in just two of the four required polls as of Friday night, when the qualification window closed.
However, on Monday Yang reached 5 percent in another poll that, but for Friday's deadline, would have brought him nearly to the finish line. Save for the deadline, he would only have needed one additional poll to be able to appear on stage, where there are now no candidates of color appearing for the first time this primary season.
Senator Cory Booker, until recently one of the lone black voices in the race, suspended his campaign for failure to gain traction, partially a result of failing to make the debate-stage qualification thresholds in December.
Facing similar hurdles, former Secretary of Housing and Urban Development Julián Castro suspended his campaign to endorse Senator Elizabeth Warren, a friend and collaborator.
Despite the setbacks, Yang's campaign has continued to gain steam throughout the holidays. The campaign reported that it raised more than $16.5 million in the fourth quarter of 2019, its best quarterly period so far.
During the third quarter of 2019, an analysis by Data Bits shows that Yang received more money from Asian American donors than any other candidate.
Like many other candidates, Yang's campaign has expressed frustration with the Democratic National Committee's debate-stage selection process, and how less popular candidates may be squeezed out by the relative dearth of polling before January.
"If the DNC had only done their due diligence and commissioned polls in the early states, Andrew Yang would certainly be on the debate stage," campaign chief Nick Ryan said in a statement on Saturday. "We are not going to allow the DNC to dictate who they wish to see as the nominee and deny the will of the people. The issues that will decide this election, and the future of our country, are too important to ignore for the sake of staged political bickering."
The DNC, however, has declined calls to commission its own polling and has urged poll sponsors to field additional surveys.
As the February 3 Iowa caucus—the first primary vote in the nation—approaches, Yang has earned some key celebrity endorsements that may allow him to raise his profile in a way that the January debate might have provided him. Comedian Dave Chappelle and former March For Our Lives organizer Cameron Kasky both threw their support behind Yang in the last week.
Yang wrote on Twitter that he believes he "earned" placement on the Drake University stage Tuesday, citing polls his campaign commissioned, which give him more support than qualifying polls suggest.
"Now let's make sure we make the next one in February," he added. "It's yet our time. Let's show that this campaign cannot be stopped."