Andrew Yang Says Trump's 'Kung Flu' Slur Is That of a 'Losing Candidate'
The former Democratic presidential candidate Andrew Yang says that President Donald Trump's description of the coronavirus as "kung flu" is a diversion from his administration's "botched" response to the disease and his lagging in the polls.
Yang, an Asian-American entrepreneur who dropped out of the Democratic primary race in February told CNN that Trump's use of the disparaging term in his rally in Tulsa on Saturday, which he repeated on Tuesday at an event in Arizona, was putting the Trump team in the tough position of defending the indefensible.
White House counselor Kellyanne Conway, who said in March that the phrase was a "racist and offensive term" this week defended Trump's use of the expression because she said the president "wants everybody to understand... that the virus originated in China."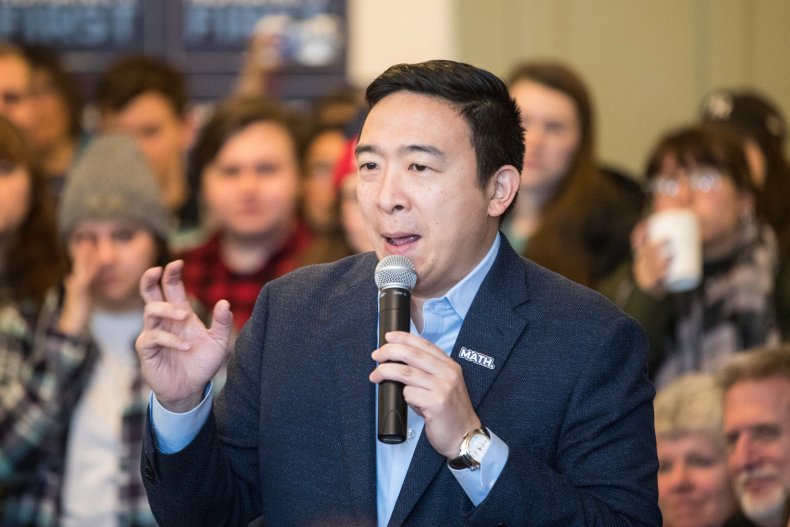 White House Press Secretary Kayleigh McEnany also defended Trump, saying he "does not believe it is offensive to note that this virus came from China."
Yang told host Anderson Cooper: "This is the bind that Trump supporters find themselves in. They have to defend something that they themselves criticized a number of days or weeks ago."
He said that Trump was trying "to distract attention from the fact that the administration is completely botched and mishandled the coronavirus pandemic."
Yang's progressive agenda on the campaign trail this year included universal basic income. His fresh approach appealed to many young voters and he attracted supporters dubbed the "Yang Gang." He told CNN that Trump's rhetoric towards China which his administration accuses of covering up the extent of the pandemic, was a reaction to recent polling which puts him trailing behind Joe Biden.
"This is like the desperate thrashing around of a losing candidate," Yang said.
"He shows up to a rally that has a very small fraction of the people they are projecting and he's somewhat desperate, in my opinion. He can see the polls. He's losing to Joe in all of the crucial swing states. I think this is a losing path for him.
"He's just degrading himself and the office of the president further by grasping at straws that aren't actually keeping him afloat.
"I wish he could figure out a path that did not involve racist comments that end up throwing millions of Americans under a rhetorical bus, but here it is and hopefully we can get him out of there and call an end to this presidency in four-and-a-half short months," he added.
Newsweek has contacted the White House for comment.