Andrew Yang Endorses Joe Biden for President
Former Democratic presidential candidate Andrew Yang has endorsed former Vice President Joe Biden.
"The math says Joe is our prohibitive nominee; we need to bring the party together," Yang said, as he publicly threw his support behind Biden during an appearance on CNN Tuesday night.
Erick Sanchez, Yang's former traveling press secretary, told Newsweek that the endorsement comes after Yang "made several pledges to support the democratic nominee to defeat Donald Trump" from "the start of his campaign."
"After decisive victories in tonight's primaries, it's clear that Vice President Biden is our prohibitive nominee," Sanchez said. "Andrew will certainly keep his promise and fight with the Vice President in every capacity possible to take back the White House in November."
Yang, a former entrepreneur, ended his presidential campaign in February after a disappointing finish in the New Hampshire primary.
"While it is clear that there is great work left to be done, you know I am the math guy, and it's clear by the numbers that we are not going to win this race," Yang told a group of his supporters in Manchester, New Hampshire at the time. "I am not someone who wants to accept donations and support in a race that we will not win."
"Endings are hard and I've always had the intention to stay in this race," he added "I am the math guy, and it's clear from the numbers we're not going to win this campaign."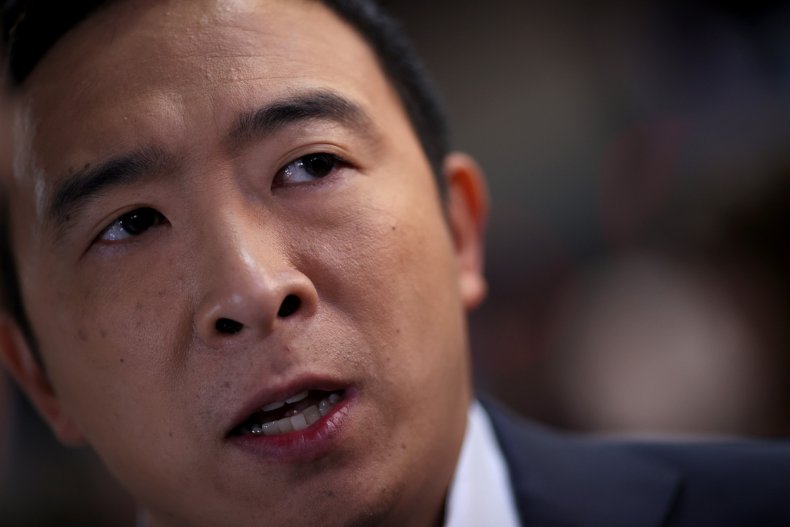 After launching his presidential bid in November 2017 with no political profile, Yang transformed himself from completely anonymous to a rising competitor throughout his campaign. In the weeks before he dropped out, the former entrepreneur, who ran on the idea that automation is displacing American jobs and the answer lies in a $1,000 universal basic income, managed to rise to the second tier of candidates.
While the final results for Michigan's primary won't be released until Wednesday afternoon, Biden was projected to secure the state's primary by The New York Times and Associated Press on Tuesday evening. During Super Tuesday 2, Biden was also projected to win both the Missouri and Mississippi primaries.
Biden's strong showing tonight will likely put pressure on Sanders to end his presidential bid, although staff from the Vermont senator's campaign have indicated he will continue regardless of the results.
Biden dealt a humbling blow to Sanders in the Super Tuesday voting contests last week. The former vice president has recently experienced a comeback sparked by the endorsements of former South Bend, Indiana Mayor Pete Buttigieg, Senator Amy Klobuchar and former Texas Congressman Beto O'Rourke. Tonight's results have further solidified his position as the Democratic frontrunner.