Andrew Yang Expects 'Many' of His Supporters to Back Sanders in Iowa: We 'Have a Lot of Overlap'
Andrew Yang told an Iowa roundtable of reporters Wednesday that he would not be surprised if his supporters went over to Senator Bernie Sanders' camp during the Iowa caucus.
While a Monmouth University poll released Wednesday showed Senator Sanders in a virtual tie with former Vice President Joe Biden, with 21 and 23 percent respectively, Yang only garnered 3 percent of the poll.
"I think that Bernie and I do have a lot of overlap in support so it wouldn't be surprising to me if many of our supporters head in that direction," Yang said.
"I frankly think I'd have a hard time getting them to do anything that they're not naturally inclined to do," Yang said of his supporters. "I think most people are going to show up on Caucus Night with a few top choices in mind and I imagine if I'm not viable at their caucus that they know exactly who they're going to go to."
Iowa's caucus is structured in such a way that candidates must receive 15 percent of the vote. Any candidate who does not hit that benchmark must throw their support to a candidate who did receive at least 15 percent of the vote or align themselves with a non-viable candidate in order to boost that candidate's final ranking.
Yang said that the campaigns of other presidential candidates have asked him for his support.
"I think some campaigns have reached out to our team," Yang said. "My team will sort out what the heck is being conveyed."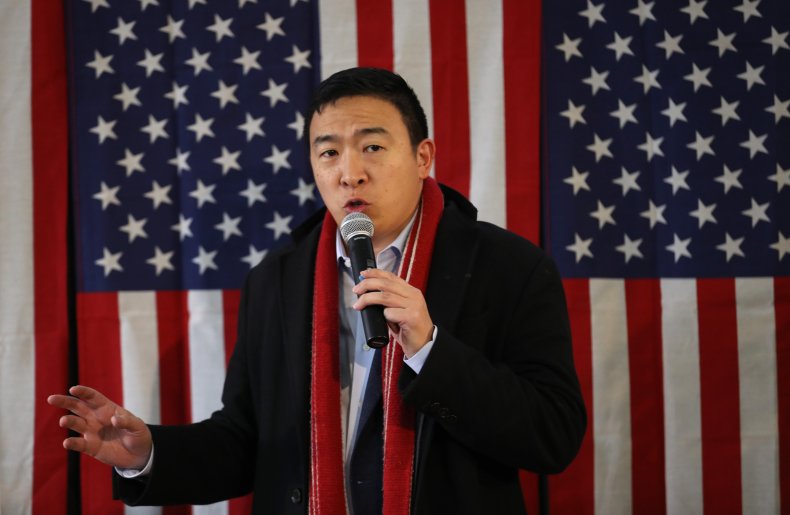 Newsweek reached out to Yang's campaign for comment but did not receive a response in time for publication.
Like Sanders, Yang's campaign platform presents some progressive policies. Yang is a proponent of Medicare for All and an aggressive stance on combating climate change.
Sanders has been critical of Yang's proposal of a universal basic income which would give every American adult $1,000 per month. Yang's basic universal income would allegedly be paid for by the implementation of a value added tax of 10 percent. That tax would be levied on "the production of goods or services a business produces," according to Yang's website.
"We take a very different approach from Mr. Yang and that is I believe in a jobs guarantee," Sanders told The Hill in August 2019. "There is an enormous amount of work that has to be done all the way from child care to health care to education to rebuilding our infrastructure to combating climate change to dealing with our growing elderly population."
Part of Sanders' jobs guarantee would depend on the enactment of the Green New Deal, which would allegedly help rebuild the U.S. infrastructure and build a new energy system that would be 100 percent sustainable.
Yang's climate change plan calls for moving away from fossil fuels and creating a 100 percent emissions-free electric grid for the country by the year 2035. His proposals also aim for a methane recapture rate of 85 percent, the activation of new nuclear reactors and passing a "constitutional amendment that creates a duty on the federal and state governments to be stewards for the environment," said his website.