Andrew Yang Expresses Concern Over Walmart's Plans to Increase Robot Labor
Andrew Yang is concerned that Walmart's plans to increase use of robot labor could "crush" American jobs, according to a Friday report from Fox Business.
Walmart customers may have already seen the machines cleaning floors or stocking shelves, as the company has been testing automated machines in stores since 2017. The retail giant hopes to add thousands more of the robots to stores by February.
Democratic presidential candidate Yang thinks that this is a mistake, and part of an overall trend that could end up causing serious damage to the U.S. labor force.
"We are in the midst of the greatest winner-take-all economy in world history," said Yang to Fox. "This will only accelerate as artificial intelligence leaves the labs and transforms industries and companies. The best path forward is to make us all shareholders in the progress and innovation of the 21st century through a Freedom Dividend for all American adults."
The "freedom dividend" is Yang's version of universal basic income, which has been a central pillar of his campaign. The plan involves giving every U.S. citizen 18 or older $1,000 per month. Yang claims it would boost the economy and "enable all Americans to pay their bills, educate themselves, start businesses, be more creative, stay healthy, relocate for work, spend time with their children, take care of loved ones, and have a real stake in the future." Critics have dismissed the plan for a variety of reasons. Some argue it would be far too expensive, potentially costing around $3 trillion per year.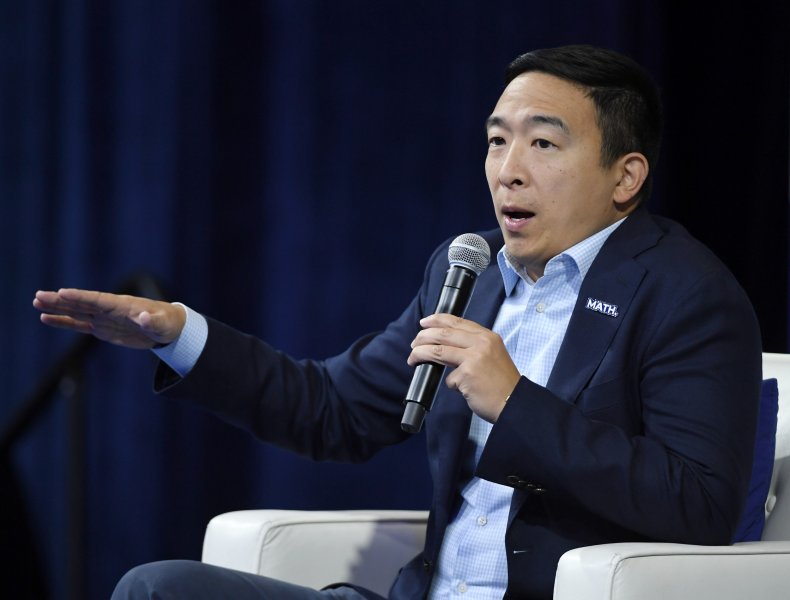 Walmart claims that the automated technology is not threatening human jobs, but instead allows workers to place a greater focus on tasks the machines can't do.
"The technology is automating pieces of work or tasks, rather than entire jobs. As that's happening, we have been able to use many of the hours being saved in other areas of the store—focused more on service and selling for customers," said a Walmart spokesperson to ZDNet in April. "The result so far: we've seen our US store associate turnover reduced year-over-year. We expect—and are actively managing—to also absorb any reduced hours through attrition. We think that's a good approach for our associates and the customers they serve."
Researchers appear to disagree with any suggestion increased robot labor won't cause damage to the human workforce. A study by McKinsey predicts that up to 33 percent of all American workers could lose their jobs to increased automation by 2030, and other studies also claim that the technology will have a large impact.
And it seems the damage will not be felt equally across society. A January 2019 analysis from the Brookings Institute suggests that the lost jobs could disproportionately hit minorities, and a 2018 study claims that smaller cities are likely to bear a greater burden.
Aside from any detrimental impact to workers, companies and corporations probably won't be concerned about their bottom line, as available evidence suggests increased automation cuts costs and increases profit margins significantly.