Andrew Yang Expresses Disappointment At Being Left Off List Of Speakers For Democratic National Convention
Entrepreneur and former presidential primary candidate Andrew Yang said he's disappointed about not being invited to speak at next week's virtual Democratic National Convention.
Yang, whose upstart candidacy brought ideas such as a universal basic income to the national stage last year, is not included on the official list of speakers at the DNC event Monday through Thursday next week. Despite there being a crowded field of Democratic hopefuls who announced running in 2019, Yang and Tulsi Gabbard are the only candidates who were still in the race through at least January 2020 and not set to speak next week. Mike Bloomberg, who announced his short-lived campaign in 2020, is also not on the list of speakers.
Vermont Senator Bernie Sanders, Minnesota Senator Amy Klobuchar, Massachusetts Senator Elizabeth Warren, California Senator Kamala Harris, New Jersey Senator Cory Booker and former South Bend, Indiana Mayor Pete Buttigieg are all scheduled to speak during one of the four DNC event days. Several members of his supporters labeled the "Yang Gang" shared unconfirmed rumors Yang had been added to the speaker list. Newsweek was unable to independently confirm this Tuesday afternoon.
"I've got to be honest I kind of expected to speak," Yang tweeted in response to the DNC Tuesday afternoon. "Maybe I endorsed against one too many incumbents."
"Asian Americans are the fastest increasing group in America, including in multiple swing states. The gross underrepresentation of Asian American speakers in the four days of the DNC Convention is tone deaf and a slap in the face," tweeted California congressman Ted Lieu, in remarks which were retweeted by Yang Tuesday.
On Tuesday afternoon, former vice president and presumptive Democratic presidential nominee Joe Biden announced his running mate as Kamala Harris. Biden announced last month he would not personally attend convention events in Milwaukee, where the DNC has been scheduled for months.
Yang, founder of the New York-based Venture for America entrepreneurial nonprofit program, endorsed Biden's candidacy back in March saying, "we need to bring the party together" to defeat President Donald Trump. Biden is set to deliver his acceptance speech for the party's nomination on Thursday.
Yang's primary candidacy shook up a race which was ultimately dominated by four longtime political figures: Sanders, Biden, Warren and Bloomberg, the billionaire former New York City mayor. Yang touted a "trickle-up economy" and warned Americans of an automated future economy in which human workers become unnecessary. Yang dubbed this one of the primary "challenges of the 21st Century economy."
Newsweek reached out to representatives with Yang's former campaign for additional remarks Tuesday.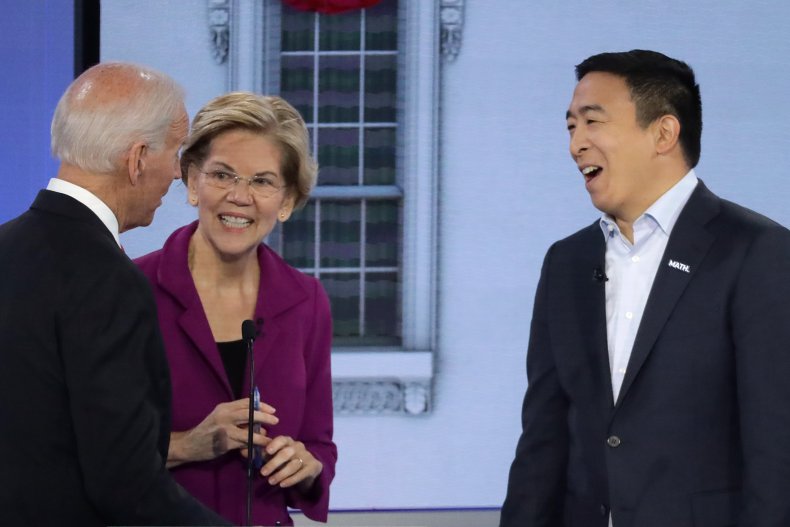 He touted the benefits of taxing multibillion dollar tech corporations like Amazon, Facebook and Alphabet which have benefited from automated functions and algorithms rather than human work.
"If we put a mechanism in place where we get our fair share, a tiny of slice of every Amazon sale, every Google search, every Facebook ad, and eventually every robot truck mile and AI work unit, we can generate hundreds of billions of dollars off the bat," Yang proposed last December.
Yang suspended his campaign in February 2020, ultimately reducing the field to Biden, Sanders, Warren, Klobuchar and Bloomberg.