Andrew Yang Fans Cry Foul Over Candidate's Lack of Media Coverage
Issuing more than 34,000 tweets on Thursday, fans of Democratic presidential candidate Andew Yang took to social media to denounce the lack of coverage his campaign has received from network news.
Using the hashtags #YangMediaBlackout and #LetYangSpeak, which trended on Twitter throughout the day, supporters shared images that purported to display the entire field of Democratic candidates but which omitted Yang. The outcry was ignited by an image on CNN, Yang 2020 Press Secretary Randy Jones told Newsweek.
Yang, a former corporate lawyer and social entrepreneur, distinguished himself in the crowded primary field by promising universal basic income (UBI) for all adults. Under his "Freedom Dividend," all United States citizens aged 18 years and older would receive $1,000 a month from the federal government, "no questions asked," according to his campaign website. The campaign is part of a growing movement, that sees the social security measure as necessary to counter disappearing jobs as technology automates aways many professions.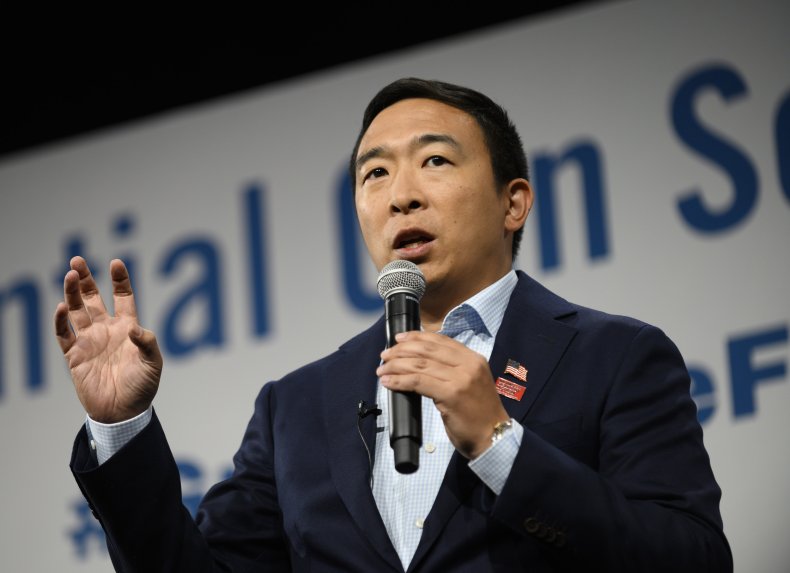 Supporters point to to what they see as a startling gap between public interest in Yang and the coverage he receives. While TV news recently cited a poll that placed Yang with 3 percent of the popular vote, he seems to fare better online. On August 5, Axios published a matrix showing that Yang received more Twitter mentions than Mayor Pete Buttigieg after the second Democratic debates, landing in fourth place just shy of former California attorney general Kamala Harris' numbers.
Twitter users also shared a bar graph published by The New York Times showing that Yang has been mentioned just 790 times this year across CNN, Fox News, and MSNBC combined. For comparison, front-runner Joe Biden has been mentioned more than 40,000 times on the networks.
Yang's campaign maintained a diplomatic tone amid the outrage, with Jones calling the CNN image that excluded their candidate "inexcusable" in a statement to Newsweek, but acknowledging that the network "responded quickly, pledged to remove the incorrect graphics and offered a sincere apology. We have had a productive working relationship with the network thus far and expect that to continue."
Jones continued, offering a warning to anyone ready to count his candidate out:
"With that being said, our supporters consistently highlight any inaccuracies from the media or elsewhere and we are proud to have the strength of our numbers. If an outlet or group intended to work against Andrew in a calculated or organized way without reprisal, I would simply say good luck and tread lightly."