Andrew Yang's Former Employee Claims He Fired Her Because She Got Married
A former employee of Democratic presidential candidate Andrew Yang claimed the entrepreneur turned politician fired her because she got married.
Kimberly Watkins, a former employee of Manhattan GMAT, a test preparation company, made the claim in an essay published by Gotham Gazette on Friday. In the article, she explained that after Yang took over as president of the company, he promoted her. According to her version of events, she performed well and "hit all" of her "growth targets."
"Imagine my surprise, then, that on the third day that I was back to work after my honeymoon in 2007, Andrew Yang fired me," Watkins wrote. "Our private discussion, in his office with the door closed, began with Andrew's remarks that because I was married, I wouldn't want to continue working as hard as I had been. That as a wife, I'd be focused on my new life."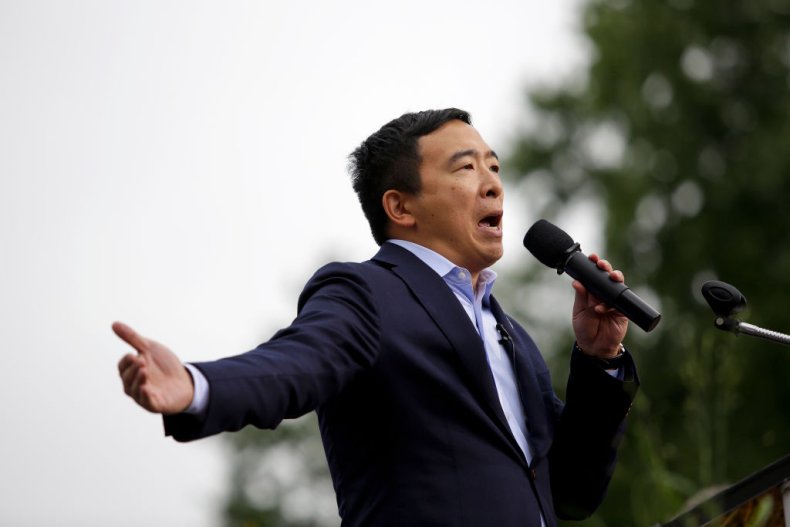 Newsweek reached out to Yang's presidential campaign's press team for comment. That request was not immediately returned, but Yang previously told Huff Post that Watkins' claim was "inaccurate."
"Kimberly Watkins' facts about her break from Manhattan Prep are inaccurate. During my more than a decade as CEO, I have worked with many women, married and otherwise, and value their work and dedication as important to the success of any institution," the presidential candidate said.
"If I were the kind of leader who would do the sort of thing described by Ms. Watkins I would never enjoy a whiff of success," he continued. "Women leaders are vital to any company or organization and I have been very fortunate and grateful to have worked with many of them in my career."
Watkins went on to claim in her article that she "didn't even realize at the time how unethical" Yang's alleged reason for firing her was.
"Andrew must have calculated that I would work less, travel less, put in fewer hours as a married woman, yet still earn my six-figure bonuses. He had seen how seamlessly my staff had performed while I was on my honeymoon. He probably thought that they would do the work cheaper," she wrote.
Speaking at a public hearing on pay equity in New York on Thursday, Watkins also said: "He treated me unjustly and he violated me economically." She also told Huff Post that Yang's denial was "just patently false."
"I had nothing in my file about lowered performance. I met every single revenue mark that was ever set for me at the company," she said. "So it is simply false to call me a liar. l am telling the truth."
On the campaign trail, Yang has publicly addressed treating women fairly in the workplace.
"We have to give women the economic freedom to be able to improve their own situations and start businesses," he said during the Democratic presidential debate back in July. "We know that women do more of the unrecognized and uncompensated work in our society. It will not change unless we change it."
Yang is currently ranked seventh in the race for the Democratic presidential nomination, according to an average of national polls by Real Clear Politics. He has polled at an average of 3 percent, just ahead of Senator Cory Booker of New Jersey, who is polling at an average of 2.8 percent, and just behind former Representative Beto O'Rourke of Texas, at 3.2 percent. Former Vice President Joe Biden still leads the pack, with an average of 30.2 percent, trailed by Senator Elizabeth Warren of Massachusetts at 19.8 percent.