Andrew Yang has slightly overtaken Pete Buttigieg in the 2020 Democratic primary net favorability rankings following the sixth debate between party candidates, a new poll has found.
The entrepreneur's net favorability score—the share of potential Democratic primary voters who view him positively minus those with unfavorable views—jumped seven points after the Los Angeles debate, according to Morning Consult.
As a result of the post-debate boost, Yang now has a net favorability score of 34 percent, putting him in fourth place and a point ahead of Pete Buttigieg on 33 percent.
Prior to the debate, Morning Consult polling between December 9 and 15 found Buttigieg three points ahead of Yang on favorability, with a 30 percent net positive rating.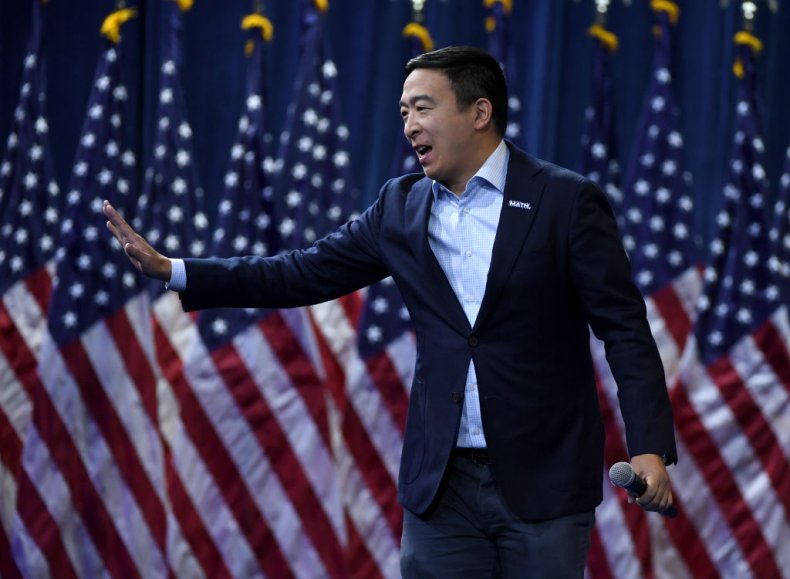 Morning Consult's first survey since the final televised primary head-to-head of 2019 also revealed that lower ranking candidates Sen. Amy Klobuchar and billionaire Tom Steyer have both enjoyed five-point boosts to their favorability scores since December 19.
Former Vice President Joe Biden and Sen. Elizabeth Warren were the only candidates on the debate stage last Thursday to see their favorability ratings fall after the showdown.
The poll found Biden's net ranking drop from 57 percent to 54 percent while Warren's dipped by just one point to a score of 44 percent.
Away from the debate platform, Hawaii Rep. Tulsi Gabbard's profile took a big knock after her vote of "present" when articles of impeachment were put before the House on December 18.
Among respondents to the Morning Consult survey, the veteran is the "most-disliked" candidate, with a net unfavorable score of 12 percent.
The shift in favorability rankings has had little impact on who Democrat voters intend to support in primaries and caucuses, the pollster reported, noting that Biden still came in first with 31 percent support.
He is trailed by Sen. Bernie Sanders in second place with 21 percent support, and third-place Warren, who has 15 percent of Morning Consult respondents backing her.
Yang is also still two places behind Buttigieg on overall support, despite overtaking the South Bend Mayor in favorability rankings.
The Real Clear Politics average of 2020 Democratic primary polls puts candidates in much the same positions as the latest Morning Consult survey.
The pollster collected interviews with 7,178 registered voters who said they may vote in the Democratic primaries and caucuses between December 20 and 22 for its latest "State of the Democratic Primary" poll. Its margin of error stands at 1 percent.
A graphic on Morning Consult's blog about the new survey says there is a 2 percent margin of error on the pre- and post-debate favorability polling comparison.