Democratic Candidate Andrew Yang Says It'll Be Tough For Republicans to Kill Universal Basic Income: 'Cash is a Hard Thing to Demonize'
2020 Democratic hopeful Andrew Yang asserted that it won't be as difficult as many think for Republicans to jump on board with his universal basic income proposal, arguing that "cash is a hard thing to demonize."
The 44-year-old tech entrepreneur launched his White House bid in late 2017 but has become known for a singular aspect of his presidential platform, the "Freedom Dividend." The plan would give every American $1,000 in basic income each month to combat job loss to automation.
The proposal would be paid for by taxing tech giants like Amazon and Google. The total cost of the program would be about $1.8 trillion each year. The taxed money, Yang argues, would be spent in local communities and help stimulate the economy. He also pointed out that it would likely reduce incarceration costs and the cost of poverty assistance programs.
The idea of universal basic income has been widely criticized, especially by Republicans. Even other 2020 Democratic candidates have said they'd only support the policy as a last resort.
But Americans are warming up to the proposal, according to polling. A Gallup survey conducted in February 2018 showed that 48 percent supported the plan while 52 percent did not. Polling from a decade earlier showed just 12 percent of Americans approved of universal basic income.
Yang addressed concerns about universal basic income in an "Ask Me Anything" forum on Reddit on Wednesday. He said Democrats in Congress will be "thrilled" to have defeated President Donald Trump and will want to get the Freedom Dividend passed right away. He also has a plan to convince Republicans — or at least enough of them for the legislation to pass in the Senate.
"For the Republicans, they'll be like, 'Wait a minute. Do I really want to sabotage the Dividend that will help my constituents in rural areas and areas that have been devastated by automation?'" Yang wrote online.
Yang added: "Imagine their offices back home and phone lines. Cash is a hard thing to demonize. It's tough for Mitch McConnell to argue, 'The money will hurt you.'"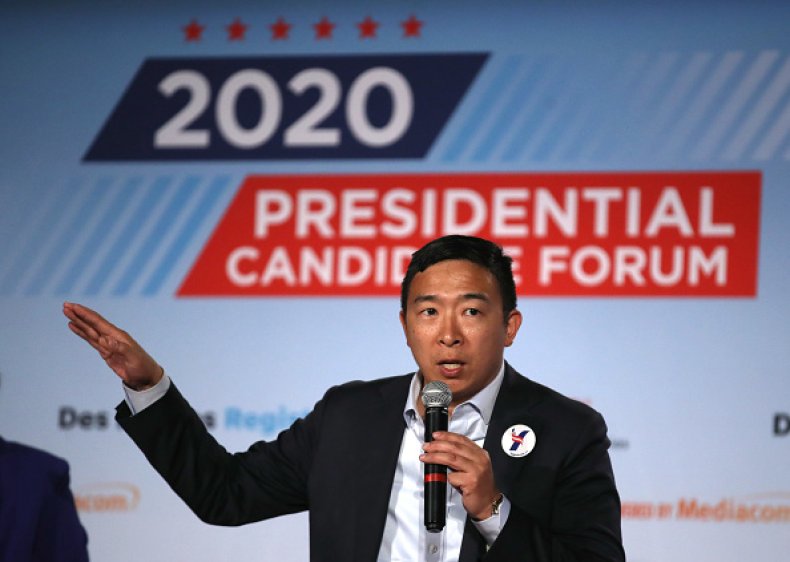 McConnell is currently blocking nearly all the bills passed by the Democratic House of Representatives. As of late May, there were more than 100 bills passed by the House awaiting action in the Senate.
So many pieces of legislation have been stalled that the Senate has been jokingly referred to by certain lawmakers as "McConnell's graveyard." It has become such an issue within the party that 2020 Democrats are being asked on the campaign trail how they would combat McConnell if elected president.
Yang added in his Reddit forum on Wednesday that he's not "naive about the realities of obstruction" in the chamber but he remains optimistic Republicans will come around.
"Philosophically Republicans who are for small government should not mind resources being channeled directly to people," he wrote. "It doesn't create a new bureaucracy. It truly returns power to the people."