President Andrew Yang Would Charge Harvard at Least $300 Million a Year to Establish a University in Ohio
If entrepreneur Andrew Yang wins the presidential election, it could come with a $300 million-plus price tag for Harvard University.
As a presidential candidate vying for the Democratic nomination, Yang isn't a frontrunner, but the underdog has had huge fundraising success and polls show his rank improving. Like the other presidential hopefuls, part of the candidate's platform addresses the cost of higher education.
But Yang has something on his education agenda that no other candidate does.* The 2020 hopeful talked to Newsweek about a proposal that's entirely unique: making Harvard fork over millions to open another campus in the United States.
Yang's plan would have any university with an endowment of more than $30 billion contribute one percent of its endowment to found and operate a new university in Ohio. Once that university is self-sustaining, the higher education institution would then establish a university in another community.
For some time, Harvard was in a league of its own when it came to the $30 billion mark. The school continued to dominate when it comes to financials through the 2019 fiscal year, which bumped Harvard's endowment up to $40.9 billion. One percent of $40.9 billion, the amount Yang would make them pay, is $409 million.
"Instead of opening outposts in China, Harvard could be opening campuses in the Midwest and using the new locations to expand and experiment with new models of education," Yang told Newsweek.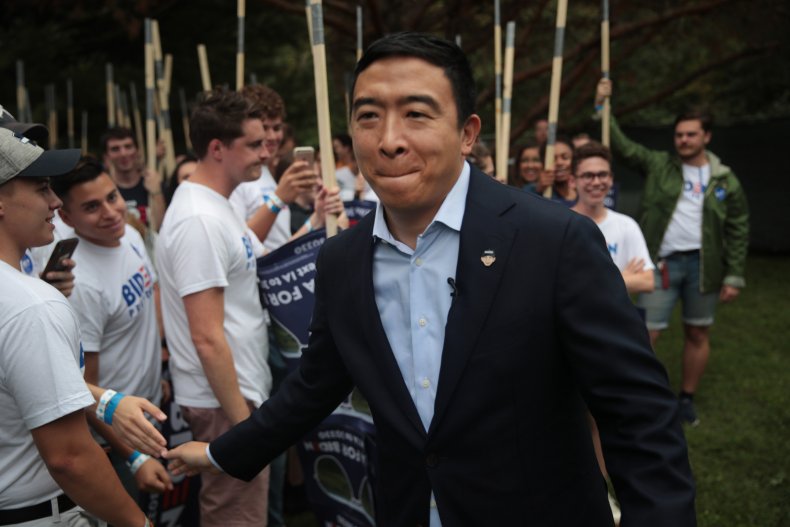 He added that the current state of education incentivizes the richest universities to maintain their exclusivity instead of exploring new ways to "further their mission and serve the public."
Details of the university that Harvard would be required to establish still have to be ironed out. Yang said it would be up to the Ivy League university to decide how it wanted to approach the higher education institution, including how it would be branded. Harvard told Newsweek it had no comment on Yang's proposal.
Yang added that if Yale University was "fortunate enough" to join the "$30 billion club," that school could also help finance additional universities.
On Friday, Yale announced that its endowment earned a 5.7 percent investment return for the fiscal year ending on June 30. This increase brought the value of the endowment from $29.4 billion in 2018 to $30.3 billion. Newsweek reached out to Yale but did not receive a response in time for publication.
"Someone joked that Yale is a hedge fund with a university attached," Yang said. "That is not an ideal use of funds."
(With a $4.2 billion endowment, Yang's alma mater, Brown University, is unlikely to feel the effects of the policy anytime soon.)
For Yang, the appropriate use of funds would be to increase the number of slots in each class and expand access. He's also advocated for additional support for Historically Black Colleges and Universities, reducing student loan debt and free or significantly reduced costs for community college, falling in line with other candidates.
University endowments are made up of donations made to the school, which are intended to help fund certain aspects of the institution while being invested in a way that grows the principal amount. Given that the money is meant to both help the university and be an investment fund, many universities have strict guidelines on how the money can be spent.
At both Harvard and Yale, money from endowments is used to fund a variety of things, including faculty salaries, scholarships and research. Although allocated spending fluctuates annually, each year, Harvard aims to keep spending from the endowment to between five and five and a half percent, while Yale stays between four and six and a half percent.
So, why Ohio for a new university? It has the "right blend" of existing infrastructure and need, Yang said. Although, said Yang, one of a dozen locations, including Michigan, Florida and Missouri, would "make sense."