Andrew Yang Responds to High Polling in Colorado: 'Must Be The Weed'
Democratic presidential candidate Andrew Yang pointed to legalized pot as a potential factor behind a Colorado poll released Tuesday showing him far higher than in other primary states.
The 2020 Democratic hopeful who often advocates for the national legalization of marijuana joked Tuesday on Twitter it "Must be the weed :)" after hitting 4 percent in the most recent Emerson Polling data -- which was released coincidentally on the 20th day of the month. Yang, who typically pulls in between 1 and 2 percent in primary polls conducted in other states, rose to 6th place behind frequent frontrunners including Vermont Independent Bernie Sanders and former Vice President Joe Biden.
Colorado is one of 11 states and the District of Columbia where recreational marijuana use is legal, in addition to 33 states which have legalized medicinal marijuana. Yang's "Freedom Dividend" of $1,000 each month to Americans has garnered national attention and support among many who see it as a fair way of having massive corporations such as Amazon pay their fair share to average, hard-working residents across the country.
"4% in Colorado," Yang tweeted Tuesday, showing a thumbs up emoji. "Must be the weed," he added with a smiley face.
Yang's official campaign policy calls for the full federal legalization of marijuana and he particularly cites how people of color are overwhelmingly targeted for prosecution in marijuana-related crimes.
"Marijuana is still considered a controlled substance by federal law. Thousands are in jail for marijuana-related offenses, particularly people of color. We need to resolve the ambiguity and legalize marijuana at the federal level. This would improve safety, social equity, and generate tens of billions of dollars in new revenue based on legal cannabis businesses," reads Yang's official policy on marijuana via his website.
Yang has repeatedly referred to the criminalization of marijuana as "deeply racist" and has placed its removal from the Drug Enforcement Agency's controlled substance list on his 2020 presidential platform. The entrepreneur and economic opportunity advocate has also touted marijuana legalization for the tax revenue it would bring into local and state governments.
"Our criminalization of marijuana is stupid and racist, particularly now that it's legal in some states. We should proceed with full legalization and pardon of those in jail for non-violent marijuana-related offenses," Yang tweeted in December 2018.
One response to Yang showed a college campus flyer looking for "Cannabis, Health and Young Adults (CHAYA) Study" participants just above a "Yang Gang" campaign poster. "Love this guy," replied YouTube celebrity Casey Neistat.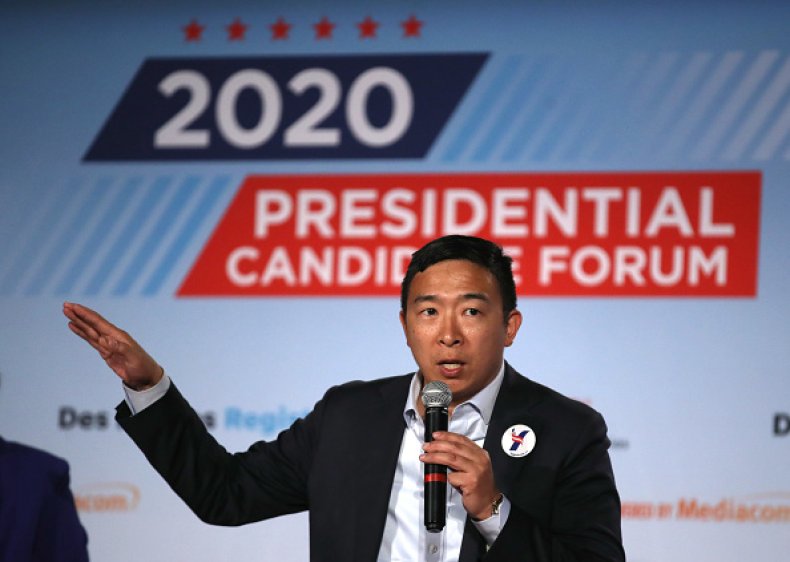 The 2020 Colorado Democratic Primary polling data released Tuesday showed Sanders in the lead of all candidates with 26 percent of support and Biden just behind him with 25 percent. Rounding out the top five in front of Yang are Massachusetts Senator Elizabeth Warren, California Senator Kamala Harris and South Bend, Indiana Mayor Pete Buttigieg.
Speaking at an ACLU event in Concord, New Hampshire Saturday, Yang vowed to mass pardon any American imprisoned for nonviolent marijuana offenses, should he be elected president in 2020.
"Americans now recognize just how broken our mass incarceration system is and how much progress we need to make," he told the crowd.