Democratic presidential candidate Andrew Yang had more to say during Thursday night's debate, but claims he was unable to do so because his mic was not turned on.
Speaking to a group of supporters following a debate, in addition to a series of tweets posted Friday morning, the entrepreneur said his lack of airtime was the result of his muted mic.
"There were also a few times, FYI, where I just started talking, being like, 'Hey, I want to add something there,' and my mic was not on," Yang said, according to a video of him answering supporters' questions. "And it's this sort of thing where—It's not like if you started talking, it takes over the convo. It's like I was talking, but nothing was happening. And it was like, 'Oh f---.'"
NBC News, which managed the debate, disputed Yang's claims in a statement to Newsweek. "At no point during the debate was any candidate's microphone turned off or muted," they said.
Yang's campaign did not immediately respond to Newsweek's inquiry into whether the candidate has contacted NBC about the matter.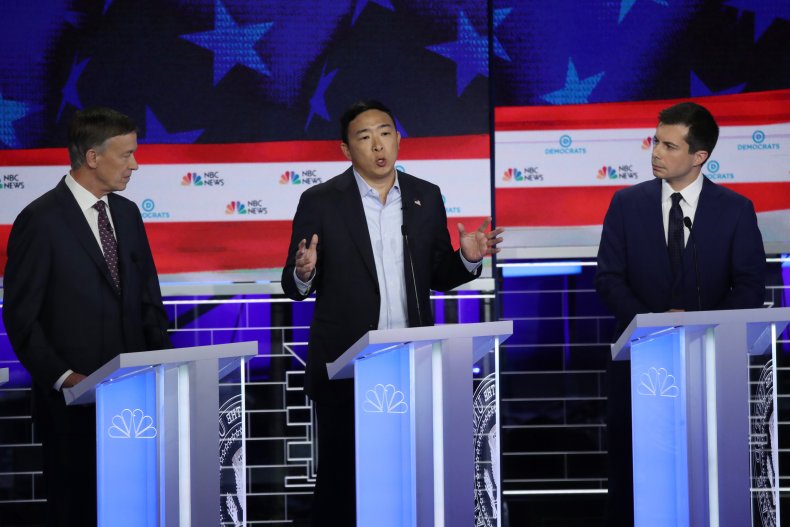 Of the ten Democrats on stage, Yang received the shortest speaking time, according to statistics of the debate compiled by The New York Times.
Former Vice President Joe Biden topped the list, receiving more than 13 minutes of speaking time. California Senator Kamala Harris, South Bend Mayor Pete Buttigieg and Vermont Senator Bernie Sanders trailed Biden with approximately 12 minutes, 11.5 minutes and 11 minutes, respectively.
The remaining candidates all spoke for less than 10 minutes each, with Colorado Senator Michael Bennet receiving approximately 9.5 minutes, New York Senator Kirsten Gillibrand 7.5 minutes, former Colorado Governor John Hickenlooper 5 minutes, Author Marianne Williamson 5 minutes and California Representative Eric Swalwell a little more than 4.5 minutes.
Yang clocked in at 2 minutes and 58 seconds, according to The Times.
"It was a little bit jarring to stand and watch that ping pong ball between two people," Yang told his supporters of the passionate exchanges he watched play out between several of the candidates.
Due to the two dozen Democrats vying to unseat President Donald Trump in 2020, the candidates were split into two groups of 10 to debate on separate nights. Yang was not the only candidate or campaign thus far to gripe about the lack of airtime on stage.
Tulsi Gabbard had one of the shortest speaking times with roughly 6.5 minutes during Wednesday night's debate, according to The Times. Her sister accused NBC of playing favoritism with more liberal candidates.
"It's clear who MSNBC wants to be president: Elizabeth Warren," Vrindavan Gabbard tweeted from the congresswoman's Twitter account. "They're giving her more time than all the other candidates combined. They aren't giving any time to Tulsi at all. -V (Tulsi's sister)."
Warren received the third most speaking time Wednesday with about 9.5 minutes, trailing former Texas Representative Beto O'Rourke at 10.5 minutes and New Jersey Senator Cory Booker with 11 minutes.
This story was updated to include a statement from an NBC News spokesman.