Andrew Yang Is Getting Called Out for Quote About Quarantine Life in a Two-Bedroom Apartment
Andrew Yang might soon formally announce his campaign to become the next mayor of New York City—except some folks are claiming that his candidacy is doomed because of some recent quotes he gave to the New York Times.
Yang, an entrepreneur and Democratic hopeful in the 2020 presidential primary, is reportedly on the cusp of announcing his mayoral candidacy, according to the Times. However, in that same Times story, published on Monday, Yang made some remarks that many people are criticizing as tone deaf. When discussing the difficulties of managing life in New York City during the coronavirus pandemic, he said, "We live in a two-bedroom apartment in Manhattan. And so, like, can you imagine trying to have two kids in virtual school in a two-bedroom apartment, and then trying to do work yourself?"
A number of people have called him out for the comment, noting that many New Yorkers have been forced to balance family and work life while being holed up in small apartments because of the pandemic. To no one's surprise, there have also been memes popping up online (both from people based in New York and not), mocking Yang for complaining about something that tons of people are forced to deal with on a daily basis.
"Andrew Yang: cAn YoU iMaGiNe slumming it in a 2 bedroom Manhattan apartment???" one person tweeted.
"I can't believe Andrew Yang said it sucks to deal with kids in a tiny NYC apartment during a lockdown!" another wrote.
Meanwhile, others argued that Yang has effectively sabotaged his mayoral campaign before it's even officially begun.
"I hope everyone enjoyed the Andrew Yang mayoral campaign because it is now over," one Twitter user wrote.
Another tweeted: "RIP Andrew Yang's mayoral run. Lasted about 7 minutes."
And as if the quote about the two-bedroom apartment wasn't enough, Yang also admitted to the Times that he and his family have been spending the majority of their time at their upstate home in New Paltz, and not at their Hell's Kitchen apartment.
"We've spent more time upstate than in the city over the last number of months, but I also spent time in Georgia, as you know, I spent time in Pennsylvania campaigning for [President-elect Joe Biden] and [Vice President-elect Kamala Harris]," Yang said.
Needless to say, all of this hasn't exactly charmed New Yorkers.
"I simply do not understand why someone who has never really engaged with New York City government think they are the right person to be in charge of it," writer and editor Amy Plitt tweeted on Monday.
Even with the backlash, though, some people jumped to Yang's defense, and suggested that his comments are being taken out of context.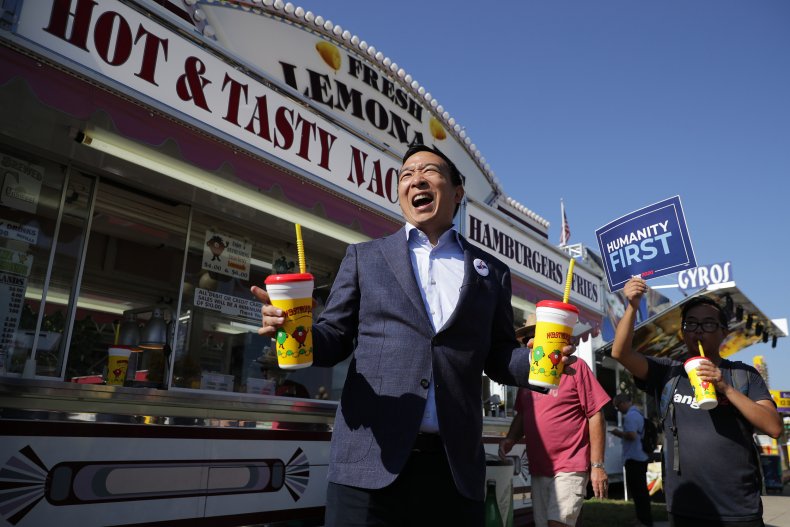 "So we're going to take the one quote out of context and run down the street with it and ignore all the real tangible work he's done for our country nationally and in the city itself?" one person tweeted.
"He said that in context of being on national television, that his two sons are doing online school and hence they can be loud at times when he's on TV," another wrote.
Newsweek has reached out to Yang for comment, but did not hear back in time for publication.