Andrew Yang NYC Rally: Watch Live Stream of 2020 Presidential Candidate's 'Humanity First Tour'
Among the crowded pool of 2020 Democratic presidential candidates sits Andrew Yang, an entrepreneur running on a very different core platform than his competitors. The New York native is holding a rally in Manhattan Tuesday evening that he expects will be his biggest yet.
Yang is the founder of the nonprofit Venture for America, which helps entrepreneurs create jobs in cities that would most benefit from the economic growth, and is running a "Humanity First" platform that leans on that experience to highlight threats posed by automation technology. For example, Yang frequently discusses how artificial intelligence could remove a third of American jobs.
His platform includes a "universal basic income" proposal which would hand all U.S. citizens over 18 years of age $1,000 monthly in an effort to encourage spending and stop opportunities from shrinking as more tasks are performed by software and robots. His proposal has gained popularity online among vocal Reddit and Twitter users.
"If you're here today, you've probably heard this: There's an Asian man running for President, and he wants to give everyone $1,000 a month," Yang, 44, has said at recent campaign rallies. "The first time you heard that, you were like, wow, that sounds like a gimmick."
Yang's rally kicks off at Washington Square Park at 6 p.m. It can be live streamed on Twitch, Facebook, Instagram, Twitter or YouTube below.
The entrepreneur and philanthropist tweeted several teasers to his New York City rally.
Earlier Tuesday, he tweeted a video of the crowd at a recent rally and commented, "Let's beat Seattle New York!!"
"Apparently we made the @nytimes crossword puzzle this morning - the #YangGang has arrived," Yang tweeted, using his campaign hashtag.
On Monday, Yang tweeted: "Over 5,000 #YangGang have RSVPed for Tuesday in NYC! Going to be a rally to remember!!"
Yang also tweeted that he was polling at three percent and had raised more than $3 million.
"And only a small percentage of people have heard of us," he tweeted. "As more people find out about this campaign and the trickle-up economy there will be no stopping us. We can go all the way."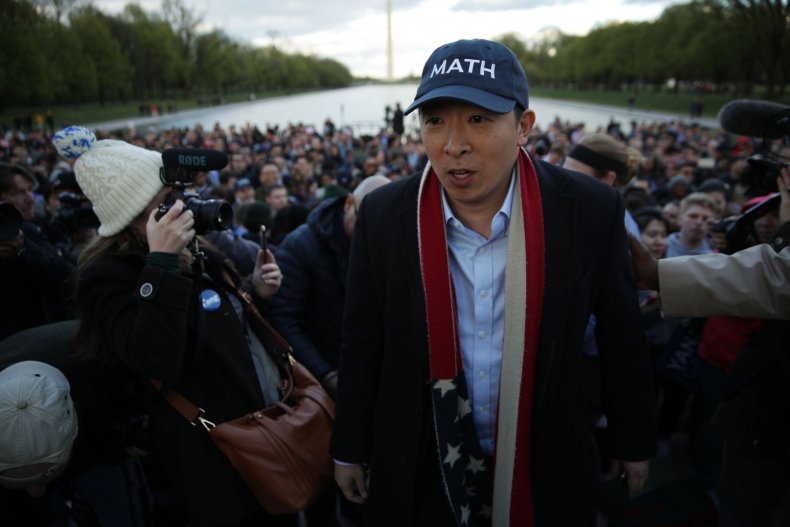 Based on his fundraising and his polling along side more well-known Democrats, Yang qualified for the first Democratic debate taking place in June.
Yang is proud of FiveThirtyEight founder Nate Silver's assessment in March that he "remains a long shot for the Democratic nomination. But we can no longer say with confidence that he is any more of a long shot than several other candidates. That's an accomplishment in and of itself."