Andrew Yang, Pete Buttigieg End 2019 With Big Fundraising Spikes Heading Into Primary Voting
The campaigns of South Bend, Indiana Mayor Pete Buttigieg and tech entrepreneur Andrew Yang both saw end-of-2019 fundraising spikes which make it clear that their candidacies will push well into the 2020 primary elections.
Yang's campaign announced Wednesday, New Year's Day, they had raised $4,000,429 in the final week of 2019, outdoing the $3 million goal his campaign set on December 23 to increase staff, prepare for upcoming debates, and to purchase advertising. Buttigieg's campaign, which has been widely derided by progressive Democrats for holding traditional big-dollar, closed-door fundraisers, put out a memo Wednesday highlighting nearly $25 million in the fourth quarter of 2019.
The Yang campaign reportedly raised $10 million in the third quarter, well below the top Democratic front-runners, but more than enough to build on and entice new donors moving into the new year.
"This is YOU #YangGang! Nothing can stop us! I am pumped for the days ahead and you are giving us the chance to change the course of history. Let's do it!" Yang remarked on Twitter Wednesday morning.
Buttigieg has managed to pull in large contributions despite beginning his campaign without the benefit of a national network of online donors like those of former Vice President Joe Biden, Vermont Senator Bernie Sanders or Massachusetts Senator Elizabeth Warren. Buttigieg out-raised Biden in both the second and third quarters despite Biden's overwhelming advantage in terms of name recognition and Washington experience. On Wednesday, Buttigieg's campaign put out a memo touting his fundraising and taking a veiled swipe at Warren, Sanders and Biden.
"This quarter, Pete solidified himself as a top tier presidential candidate, not by tapping into the fundraising list or bank account of a sitting senator or someone who had run for president before, but by speaking to voters who for too long have been let down by politicians in Washington and are looking for a better path forward," campaign manager Mike Schmuhl wrote in a memo Wednesday morning.
The Buttigieg campaign noted to Newsweek Wednesday afternoon that the average contribution amount they received in Q4 was $33.
Buttigieg recorded 2 million donations from around 733,000 people since entering the race. About 326,000 people donated to Buttigieg in just the fourth quarter, the campaign announced this week.
During the last Democratic debate, Buttigieg was criticized for holding a fundraising event in a Napa Valley wine cave, prompting Warren to remark: "Billionaires in wine caves should not pick the next president of the United States."
Buttigieg responded by saying "purity tests" are bad for the party as they face off against President Donald Trump's reelection campaign, who he said do not have "one hand tied behind [their] back."
The only other 2020 Democratic presidential candidate to preview their fourth quarter fundraising was that of Warren, who sent an email to supporters last week after raising $17 million since the start of October, still shy of their $20 million goal. The Sanders campaign hinted to reporters it had 5 million individual donors.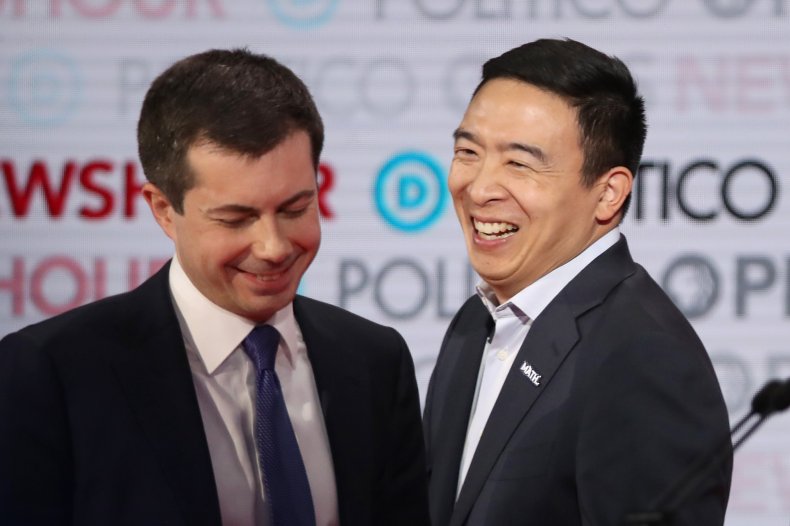 The Yang campaign told Newsweek Wednesday they had no further details to provide until they release the final 2019 numbers.
Updated 2:26 PM ET, to include Buttigieg's tweet, stat from campaign.