Andrew Yang Calls for Psychologist in the White House: That Much Power Needs 'Mental Health Professional Monitoring'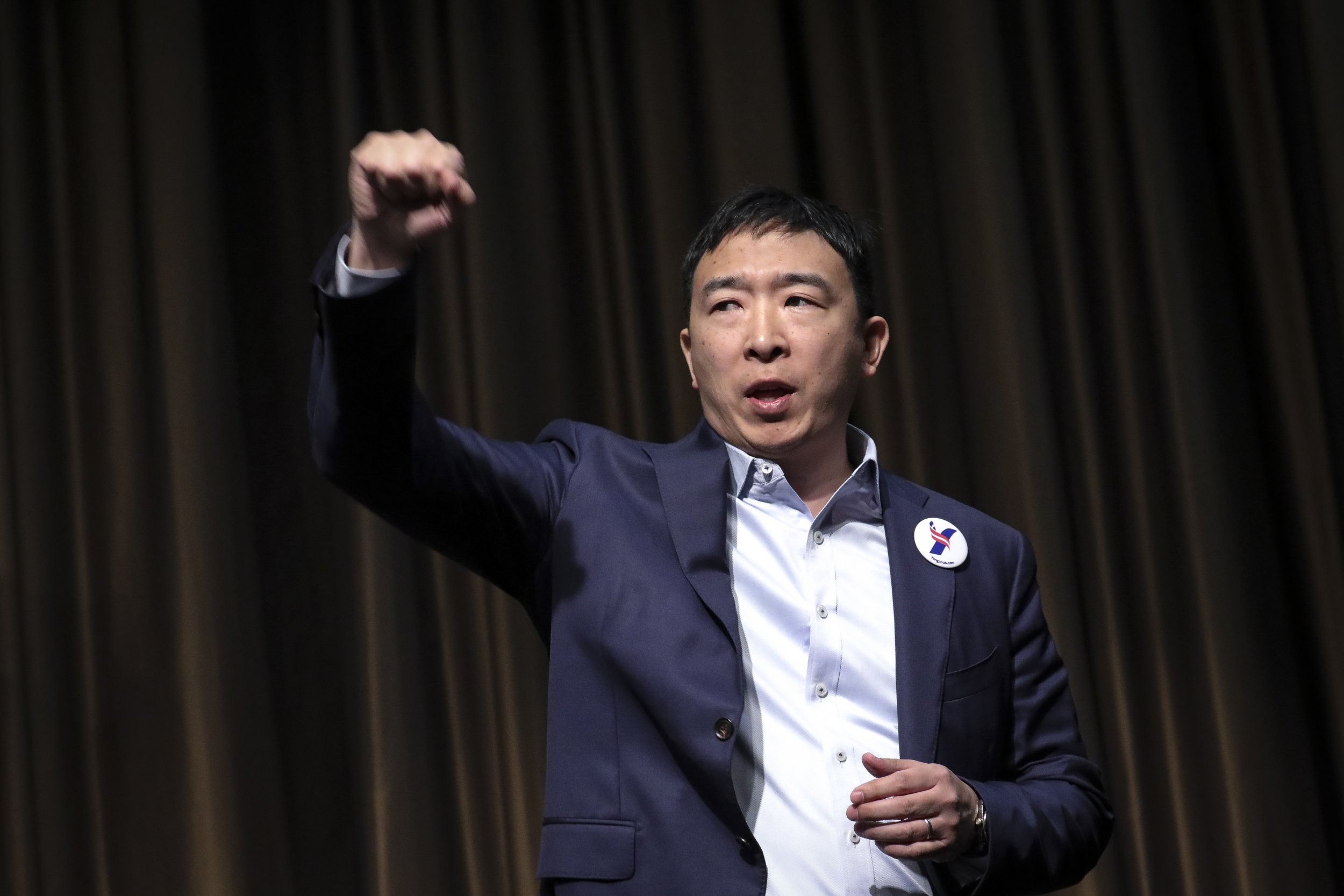 Entrepreneur and Democratic 2020 presidential candidate Andrew Yang has said that he would like to see a mental health professional embedded within the government.
Yang—who announced in November 2017 that he was throwing his hat into the ring for the presidency—made the comments in an interview with Stephen Dubner on Freakonomics Radio.
"We should have a psychologist in the White House that's looking in on the mental health of the executive branch, because it doesn't make any sense to me to have that much power and responsibility without some sort of mental health professional monitoring," Yang said during the interview.
Dubner then asked Yang if he had come up with the idea before the current presidency, to which he responded: "You know, I always thought so. I mean, my brother's a psychology professor. And so I think it would also help destigmatize mental health issues and anxiety and depression around the country. And just say, look, we all have struggles—that includes people at the top of government."
While considered to be an outside shot by many, Yang's unorthodox campaign has garnered attention recently, notably for his signature universal basic income (UBI) policy, which he describes as the "Freedom Dividend."
According to his campaign website, Yang says he will implement "'The Freedom Dividend,' of $1,000/month, $12,000 a year for every American adult over the age of 18. This is independent of one's work status or any other factor. This would enable all Americans to pay their bills, educate themselves, start businesses, be more creative, stay healthy, relocate for work, spend time with their children, take care of loved ones, and have a real stake in the future."
The campaign site claims that such measures would "permanently grow the economy by 12.56 to 13.10 percent—or about $2.5 trillion by 2025—and it would increase the labor force by 4.5 to 4.7 million people. Putting money into people's hands and keeping it there would be a perpetual boost and support to job growth and the economy."
Yang says that this UBI program could be paid for through four main sources, specifically, consolidating some welfare programs and implementing a Value-Added Tax (VAT) of 10 percent, which would, in turn, put money in the hands of American consumers and help save hundreds of billions of dollars which are usually spent on health care, incarceration, homelessness services, and other costs.
"Current welfare and social program beneficiaries would be given a choice between their current benefits or $1,000 cash unconditionally—most would prefer cash with no restriction," Yang's campaign site states.
"VAT is a tax on the production of goods or services a business produces. It is a fair tax and it makes it much harder for large corporations, who are experts at hiding profits and income, to avoid paying their fair share. A VAT is nothing new. 160 out of 193 countries in the world already have a Value-Added Tax or something similar, including all of Europe which has an average VAT of 20 percent," according to Yang.