Andrew Yang Puts in Bid to Replace Bill de Blasio, Registers to Run for NYC Mayor
The New York City mayoral race is continuing to shape up ahead of its June election next year.
New York City Campaign Finance Board (NYCCFB) confirmed to Newsweek on Wednesday that Andrew Yang, founder of nonprofit Humanity Forward, has officially registered his campaign to run for mayor and fill incumbent Mayor Bill de Blasio's seat. De Blasio is unable to run for a third term due to the city's term limits.
Yang, an entrepreneur with no previous political experience, entered the 2020 Democratic presidential primary as a newcomer but developed an enthusiastic and fiercely loyal following and managed to qualify for all of the 2019 Democratic debates.
He gained attention on the campaign trail with his MATH ("Make American Think Harder") slogan and became well-known for his proposal to give every American adult a universal basic income of $1,000 a month.
Despite dropping out in November before endorsing President-elect Joe Biden, Yang managed to outlast some of his more experienced political opponents, including de Blasio and former New York City Mayor Michael Bloomberg.
On the evening that Yang dropped out of the presidential race in New Hampshire, he told reporters he would consider running for NYC mayor, saying "I wouldn't rule anything out."
Yang is poised to do well in the race, even though he has yet to officially announce his candidacy.
A new poll released by Public Policy Polling on Monday found that he would receive 17 percent support in a Democratic primary, with a lead over other likely favorites who have held elected office for years. These include Brooklyn Borough President Eric Adams and New York City Comptroller Scott Stringer, who were both tied for 11 percent of likely voters' top choice.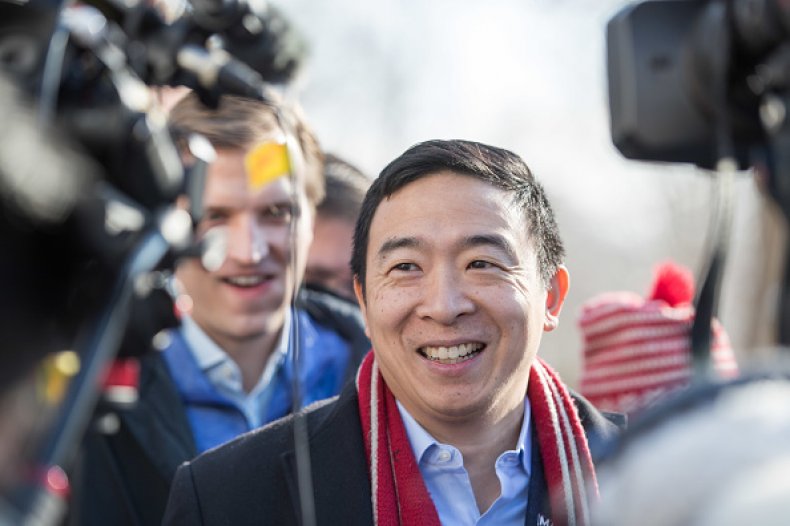 Yang, who was born and raised in New York state, is the son of Taiwanese immigrants and has lived in New York City for nearly 25 years. He is the second Asian American candidate to ever run for mayor of the nation's largest city. State Senator John Liu ran for the position back in 2013.
His identity as an Asian American was catalyzed in his bid for the Democratic presidential nomination. In response to calls for greater representation at the virtual Democratic National Convention in August, Yang was invited to speak at the event after initially being snubbed.
There are currently 33 candidates running to be the next mayor of New York City, according to data from the NYCCFB.
Aside from Adams and Stringer, other Democratic candidates include Maya Wiley, the former counsel to de Blasio; Shaun Donovan, former director of the Office of Management and Budget; Representative Max Rose; Kathryn Garcia, former city Sanitation commissioner; City Council Member Carlos Menchaca; former nonprofit executive Dianne Morales; and former city Veterans Services Commissioner Loree Sutton.
Yang is currently in Georgia stumping for Democrats Jon Ossoff and Reverand Raphael Warnock, who are both facing runoffs on January 5 for Senate seats.
Newsweek reached out to Yang's team for comment but did not hear back before publication.