Andrew Yang Says DNC Should Have Accepted Fox News Debate to 'Bring the Country Together': 'What Are You Doing?'
Democratic presidential candidate entrepreneur Andrew Yang told an audience at a campaign event that he disagreed with the Democratic National Committee's (DNC) decision not to hold a debate on Fox News.
In a March 2019 statement, DNC Chairman Tom Perez said that Fox News was "not in a position to host a fair and neutral debate for our candidates." Yang expressed his belief that the DNC made the wrong choice in a video shared Friday by CBS News.
"One thing I think Democrats should do, I think we should go on Fox News and talk to the American people," Yang said. "Because how can you win an election and bring the country together if you literally won't talk to 40 or 50 percent of the population?"
"And this is something I would say as critical of the DNC," Yang added. "There was a decision early on in the process where Fox News said, 'We would like to host a DNC debate.' And to me, if you're the DNC, you jump at that. You're like, 'Let me show my candidates to people who generally watch Fox News.'"
"But the DNC turned it down," Yang added. "I was like, what are you doing?"
Newsweek reached out to the DNC for comment but did not receive a comment in time for publication.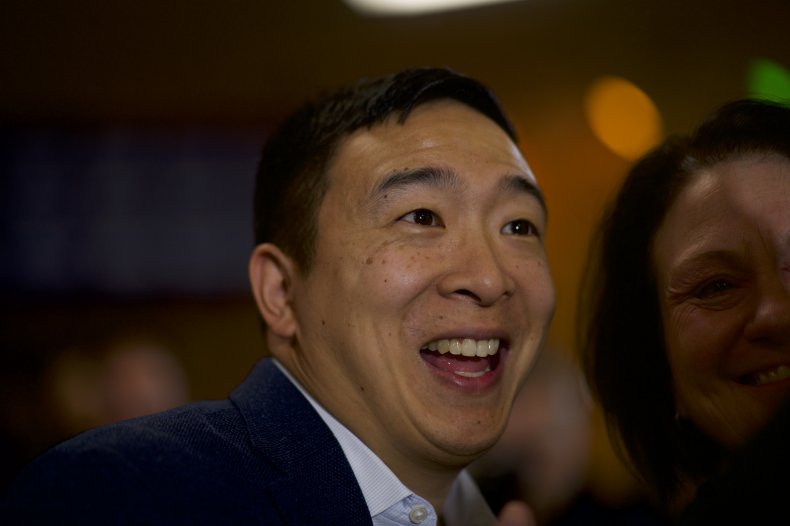 Perez cited a March 2019 article in The New Yorker as a deciding factor in his choice to exclude Fox News from the debates, saying the piece related "the inappropriate relationship between President Trump, his administration and Fox News."
"As the President has been beset by scandals, congressional hearings, and even talk of impeachment, Fox has been both his shield and his sword," the article said. "The White House and Fox interact so seamlessly that it can be hard to determine, during a particular news cycle, which one is following the other's lead."
Former DNC Chairman Ed Rendell told Fox News in March 2019 he believed a debate on Fox News would be a good idea.
"I'd be confident it would be fair." Rendell said. "If we could pick the commentators and the moderators, I think we should have the debate on Fox. Because let me tell you, even if you persuade 3 percent of Fox viewers, 3 percent last time out carries Michigan."
Democratic debates relating to the 2020 presidential elections have so far been shown on CSPAN, PBS and CNN.
Yang was absent from the January Democratic debate after failing to meet the DNC's thresholds for qualifications for poll ranking and fundraising.
But Yang has been steadily building a groundswell of supporters, especially on the internet. On Twitter, the hashtag #YangGang is the mark of Yang's proponents.
Yang has also been gaining in the polls, with recent data from Emerson Polling putting him in fourth place among Democratic candidates. That ranking placed him ahead of billionaire Michael Bloomberg, former South Bend, Indiana mayor Pete Buttigieg, and ‌Minnesota Senator Amy Klobuchar.