Andrew Yang Says He Helped New Yorkers by Moving to Georgia to Deliver Senate to Dems
Democratic New York mayoral candidate Andrew Yang said that voters should support him because he moved to Georgia to help Democrats win two seats in the Senate during Georgia's special January 5 election.
Yang made his comment as one of eight candidates in a two-hour mayoral debate televised Wednesday night. In the debate's second half, the candidates were allowed to ask each other questions.
Brooklyn Borough President Eric Adams prefaced his question to Yang by saying Yang's company discriminated against people of color and that Yang himself has never voted in New York City's municipal elections.
"You left the city during a very difficult time, even during the time when I did not see my son over two months during COVID," Adams told Yang. "I just don't know how the hell do we have you become our mayor with this record like this? How do you govern a diverse city like this? I just can't get it."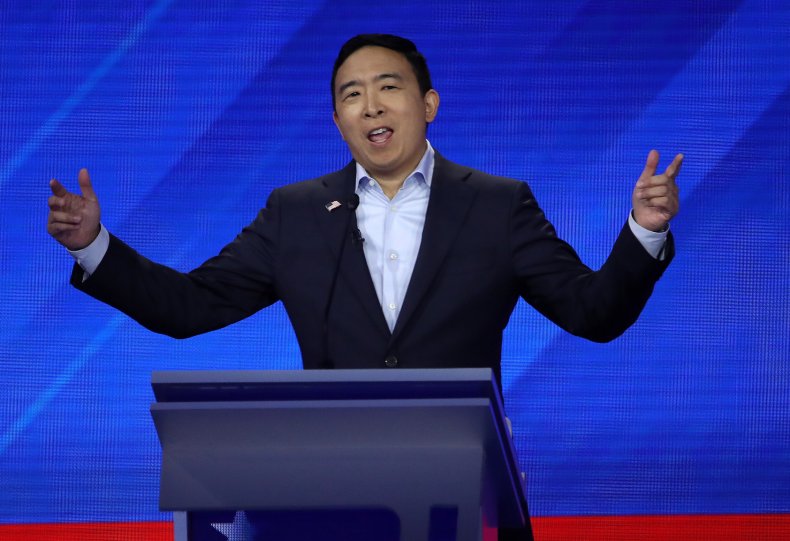 Yang replied, "New Yorkers know exactly what I've been up to the past several years." Yang said that he began an anti-poverty movement to help "millions of New Yorkers in our time of need."
"And I moved to Georgia to help win the Senate," he continued. "Can you all imagine what we'd be facing right now if Mitch McConnell were still the Senate Majority Leader instead of New York's own Chuck Schumer? That has given us a lifeline and opportunity to actually get out of this crisis. I'm proud of that work."
Yang and his family temporarily relocated to Georgia in December 2020. Yang moved to help Democratic U.S. Senate candidates Jon Ossoff and Raphael Warnock of Georgia win their races against the state's Republican incumbents, Senators David Perdue and Kelly Loeffler.
The races were closely watched because they would determine party control of the Senate. Since Ossoff and Warnock won, it divided the Senate with each party holding 50 seats. Despite the split, the Senate's Democratic caucus still retains a slight majority because Democratic Vice President Kamala Harris can cast tie-breaking votes in the Democrats' favor.
Later during their exchange, Adams criticized Yang for fleeing the city "during a difficult time" and for generally being out of touch with the city's issues. Yang responded by saying that Adams had been investigated for corruption by city, state and federal officials. Adams defended himself by saying that the investigations never declared wrongdoing on his part.
Newsweek contacted Yang and Adams' offices for comment.