Andrew Yang Says He Wouldn't Be Only Non-White on Debate Stage If We Had Universal Basic Income
PBS news correspondent Amna Nawaz asked Democratic presidential candidate and entrepreneur Andrew Yang why he was the only person of color participating in Thursday's Democratic debate.
Yang said the answer to that question lay in the concept of Universal Basic Income, a central component of his platform.
"The Democratic Party relies on black, Hispanic and Asian voters but you are the only candidate of color on stage tonight and the entire field remains overwhelmingly white," Nawaz said to Yang. "What message do you think this sends to voters of color?"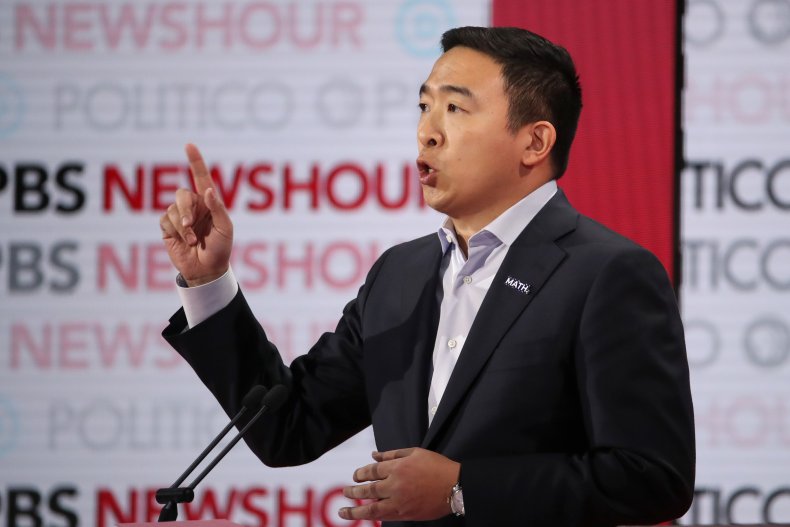 "Fewer than five percent of Americans donate to political campaigns," said Yang. "You know what you need to donate to political campaigns? Disposable income."
"The way we fix it is we take Martin Luther King's message of a guaranteed minimum income, our Freedom Dividend of $1,000 a month for all Americans," Yang continued. "I guarantee if we had a freedom dividend of $1,000 a month, I would not be the only candidate of color on this stage tonight."
Yang took the opportunity to talk about the difficulties people of color face in the U.S.
"The average net worth of a black household is only 10 percent of that of a white household," Yang said. "For Latinos, it's 12 percent. If you're a black woman, you're 320 percent more likely to die from complications in childbirth. These are the numbers that define race in our country. And the question is, why am I the lone candidate of color on this stage?"
"It's both an honor and disappointment to be the lone candidate of color on the stage tonight," Yang said. "I miss Kamala [Harris, who dropped out of the race]. I miss Cory [Booker]—although I think Cory will be back."
Yang's plan would give "a certain amount of money to every citizen within a given governed population, without having to pass a test or fulfill a work requirement," according to Yang's website.
Under Yang's universal basic income plan, known as the Freedom Dividend, would be paid for by the consolidation of certain welfare programs and the implementation of a 10% Value Added Tax (VAT), which taxes businesses on the goods or services they produce.
"160 out of 193 countries in the world already have a Value Added Tax or something similar," reads Yang's website, "including all of Europe which has an average VAT of 20 percent."